Tired of staring blankly when wingnuts talked about "Going Galt", I finally read Atlas Shrugged. Sunday I posted Part 1 of this review. It discussed how Rand and AS become the public face of libertariansism in the 50s/60s and her misrepresentation of libertarian philosophy.
Today we get to the fun stuff: Her epically bad writing.
A Very Short Synopsis Of A Very Long Book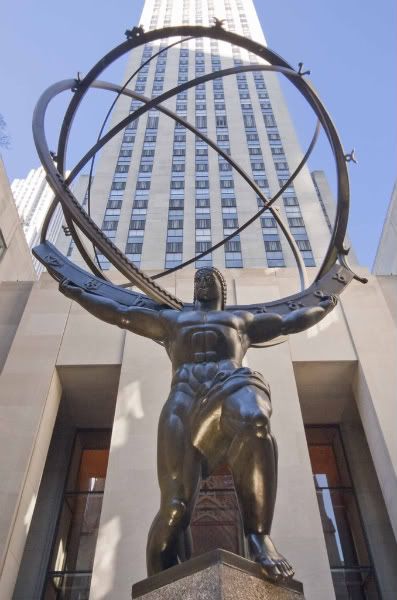 In case you haven't read Atlas Shrugged, here's the plot. Except for America, every country in the world has been taken over by Commies. America is teetering on the edge, about to go Commie itself. Suddenly all the smart men start disappearing. Since these are the men who know how to build and operate the systems that make modern life possible, the world quickly falls apart.
For reasons that aren't clear until 600 or 700 pages in, people moan "Who is John Galt?" every time something goes wrong.

Railroad executive Dagny Taggart suspects that a conspiracy is behind the disappearances. With her lover, steel magnate Hank Rearden, and her ex-lover, copper magnate Francisco d'Anconia, she tries to uncover the plot by sitting in offices listening to people talk on and on about the virtues of greed. Along the way loathsome slime balls with names like Balph, Tinky and Mouch heap power and prestige on themselves while hastening America's fall.
Over a thousand pages later, we find out who John Galt is, get a 56 page long introduction to Objectivism and witness Dagny's accent in to paradise.
To get a taste of the quality of Rand's writing, go here.
Ms. Rand, Your Pot Is Boiling.*
Atlas Shrugged has a reputation as a horribly written book and Ayn Rand has a reputation as a horribly bad writer. This reputation is well deserved. It's not that any given paragraph is so bad. Taken one at a time, they're no worse than a Dean Koontz book I once trudged through. To her credit, Rand is a master of melodrama and has a flair for the language (though I'm still trying to figure out how molten steel can pour itself "arrogantly").
The problem is that Rand never stops at one paragraph. She is famously long-winded and pounds at her points like she's driving rail road spikes. This gives the whole book a combative stance which might explain why certain types of people are so combative after reading it.
It also makes it very difficult to take Rand seriously when she does have a good point. By the time Galt gets to his climatic-as-a-glacier speech, we've already heard other characters recite the same ideas at least a dozen times. The repetition and verbosity blunts any impact her ideas could have had. If she had used a scalpel instead of a 2x4, Atlas Shrugged would have been a much better book.
For example, at the wedding of James Taggart (Dagny's worthless brother and titular head of Taggart Transcontinental) Francisco d'Anconia makes a five page long speech defending capitalism and the honor of selling your goods and services for a profit. Nothing wrong with that. I sell my goods and services for the highest profit I can get. It's how I feed and house my family. But after 5 pages of Rand's purple prose and chest thumping, I just want to go join a commune somewhere.
Compare that to the speech given by Malcolm "Mal" Reynolds, hero of Joss Whedon's made-of-awesome, crypto-libertarian, sci-fi Western Firefly. After a gun fight with a cheat trying to steal his pay-day, Mal points his gun at the cheat's head and takes what is due him:
Whedon says in four lines what takes Rand five pages. And he does an infinitely better job.
* It is unfair of me to imply that Rand wrote potboilers. A true pot boiler is written quickly, just for a pay check. Rand took 6 years to write AS and after the success of The Fountainhead, she certainly didn't need the money. Galt's speech alone took her
two full years
. I was surprised to learn she had taken so long on that speech. Knowing Rand took amphetamines while writing, I had assumed the length was an effect of manic writing under the influence.
Romanticism Isn't An Excuse
Rand's defenders say that the overblown prose, mighty heroes and grand gestures are part of her style and her message. Anyone who thinks her writing is bad simply doesn't understand her Romantic Aesthetic.
This is obviously wrong. It's not that we don't understand her Aesthetic. The Romantic style is a staple of fiction and has given us many classic stories and unforgettable characters. People love larger than life characters. One of the archetypes of American fiction is literally named Superman.
The problem is with Rand, not with her readers.
Compare billionaire playboy (and my favorite whipping boy) Francisco d'Anconia with billionaire playboy Bruce Wayne. Both are scions of old, rich and respected families. Both are dedicated to a life-consuming mission. Both lead secret lives. Both pretend to be worthless, idle bums to conceal their true nature. Both cultivate reputations as ruthless womanizers, yet never indulge in the pleasures of the flesh. Both run fabulously wealthy industrial firms and both are preternaturally gifted mentally and physically.
They are, in every detail, the exact same character. The only difference is that Bruce Wayne never suffered under the pen of Ayn Rand. Bruce Wayne/Batman is an enduring character who has remained relevant through 7 decades. Competent storytellers like Tim Burton, Chris Nolan, Frank Miller, Ed Brubaker and Greg Rucka have used the modern Bruce Wayne/Batman to tell deep and penetrating stories.

Francisco d'Anconia just inspires wanna-be geniuses to waste their youths on Objectivism.
Did She Get Anything Right?
No book could lasted over 50 years if it had nothing to offer. Some parts of Rand's opus really do shine.
Take the title, Atlas Shrugged. It's powerful. It's evocative. It invokes dread. With just two words it delivers a very potent image of upheaval and danger. It has the concise punch so lacking in the rest of the book.
Rand also knows her communism. Growing up in post-revolution Russia, Rand lived through the horrors of forced collectivization. Her father, a druggist, lost his pharmacy to soldiers of the people. Rand had her clothing confiscated and redistributed in Soviet schools and suffered other indignities. By the time she had escaped to America, her hatred of collectivism was genuine and hard-earned.
When writing from these first hand experiences, Rand's prose takes on an entirely different tone. The story of the decline of the newly socialized 20th Century Motor Company rivals Orwell. The plotting of her "Aristocracy of Pull", the powerful men who control the increasingly feeble US economy, captures the cold calculation and horse trading the elite engage in when there is no check on their power. "You help me screw this bunch today and I'll help you screw that bunch tomorrow."
Corrupt union boss Fred Kinnan and Cuffy Meigs, the first overt gangster to join the Aristocracy , have more depth than most of Rand's secondary heroes. Meigs, who carries a rabbit's foot and a gun, embodies the combination of force and stupidity Rand hates so much. With their banal evil, these two do more to drive home Rand's message about collectivization than all the multi-page long speeches in the book.
Since the fall of the Soviet Union, we may have lost some of our revulsion to the ideology of the "looters". But in Rand's time, half the world lived under the looter's rule. In America, only two decades had passed since the National Recovery Administration had arrested people for selling chickens the wrong way and New Dealer Rex Tugwell had set up a real collective farm in Arizona (a collective farm which worked every bit as well as its Soviet counter-parts did). As several commenters pointed out commenting on Part 1, reading Rand in this context explains a lot of what we may see as hyperbole today.
Even the speeches, though often mocked (including by me), have their high points. Galt would have been smarter to have started his long treatise with "A Man owns himself" instead of "A is A", but the other messages in that 56 pages are worth repeating. It's OK to sell your skills at a profit. Competency should be rewarded. The lure of personal gain makes our modern lives possible.
The Plight Of The Little Guy
Commenting on Part I, Kossak Jay Elias made a very good point: The reader is suppose to identify with Eddie Willers. Eddie is Dagny's hard-working and competent assistant. He does a journeyman's job filling in for her when she's away from the railroad and is in every way her right-hand man.
But he's not a genius. He's merely good. He's too pure to become a looter himself but not great enough to deserve elevation into Rand's pantheon. He strives and suffers for what he thinks is right throughout the book and ends up prostrate on the tracks in front of the corpse of Taggart Transcontinental.
While reading AS, I made exactly the mistake Jay exposes. I found Eddie to be an irritating plot device. He'd show up when Rand needed to make a statement or have someone to talk with the brilliant but unnamed track worker in the Taggart cafeteria (one guess who that turns out to be).
But if you read the story from Eddie's point of view, Atlas Shrugged becomes much clearer. Pull him out of the background and you see the fate of the common man in the world Rand warns us of. He can't advance through his own ability and labor because this world has no opportunities for an honest, hardworking man. To get by, you have to be a genius or a looter and there are way more looters.
If Rand had writen AS without her Romantic heroes, Eddie Willers could have been her Winston Smith. That could have been a much better book.
Am I Too Old To Read Ayn Rand?
In one obvious way, I am. I had to borrow my wife's reading glasses to even attempt the book (plastic horn rims with a pink lizard skin pattern. I made those look good.). To keep Atlas Shrugged from ballooning to 1,500 or 2,000 pages every standard edition uses a tiny typeface. If there's a large print edition, I couldn't find it.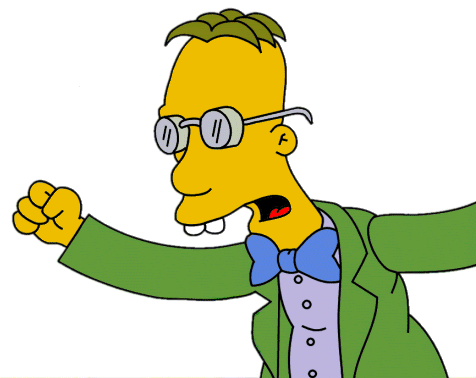 The typeface aside, I wonder if there is a brief window between late adolescence and early adulthood when people are most open to Atlas Shrugged and Rand. When I was a Trek obsessed 15 year old who wanted to be a Vulcan, Objectivism's illusion of a perfectly rational way to live and a world ruled by logic would have been very attractive.
Given what high school is like for 15 year old, Trek obsessed, faux-Vulcans, having all the smart people abandon the world for Galt's Gulch would have been a beautiful dream. 15 year old VACL would have probably been quite taken by Atlas Shrugged and may even have become an Objectivist ass himself.
Thankfully, that was not to be. It took another 32 years before that VACL finally cracked open Atlas. In that time, I've out-grown Vulcans, gotten over high school and settled into the very practical concerns of making a living and raising a family. I may still have a bit of Professor Frink in me, but I'm no longer Comic Book Guy. Rand's attraction has fallen away sharply as I grew-up.
My libertarianism is grounded in the Mid-Western farm values of independence and hard-work I was raised on. Experiences working with the Federal government soured my naïve believe in modern liberalism. After soaking in the left-leaning libertarianism of Playboy, Wired and Silicon Value through the '90s and a chance encounter with the Cato Institute, I realized that my "fiscally conservative, socially liberal" politics were the mainstream of "respectable" libertarianism.
I hope this more mature path to libertarianism has made me a better advocate for it than the Randians.
Was It Worth It?
Yes, with a big "but" .
If for no other reason than to understand why Atlas Shrugged is still such an influential book, after 50 years, politically active people should read it. It can still sell 200,000 copies a year. Whether those purchasers ever finish it or not, that's a lot of people. If you want to engage with them, you owe it to the debate to know what Rand really said, instead of depending on second hand accounts of her writing.
Should you try to read it as a valuable political book in its own right? No, there just aren't enough good ideas here to make it worth the time and too many other, more talented writers have covered the same territory better.
You want a cautionary tale about how well intentioned socialism can spin out of control? Rand can't touch Orwell's Animal Farm. Want a visceral feel for the terrors of living in a totalitarian state, 1984 is still the best. (Orwell again, of course). Worried about the effects of hammering down the "nail that sticks up"? Vonnegut's Harrison Bergeron tells that tale well and it won't take you 8 days to read.
If Rand had had a bit more talent and a better understanding of how a good editor can improve a book, Atlas Shrugged could have been a very good story. At 400 or even 500 pages, Rand could have still indulged her Romantic Aesthetic and laid-out the roots of her philosophy. Without the sledge hammer philosophical repetition and relentless parade of human vermin, the story would have been better and her message would have been much clearer.
Unfortunately, not everyone gets to be Tolstoy.