Welcome, New Users, to Daily Kos. This Diary is intended to help you orient yourself to the site and ask questions about how to use it.
In the Body of this diary you will find some links intended to get you participating more effectively. Also in the Body this week is a discussion of the Trusted User Privilege.
After that you can ask me any question you want. I don't know all the answers so if you stump me, you do. I invite those wiser than I to contribute and correct (or raise a ruckus, just don't scare people).
No permission slips needed, join us at the deep end of the pool for adult swim.
To begin, a brief word from our sponsor:
Everyone is encouraged to review some of the previously written goodness that survives here in the DKos archives.

* Other diaries in the Welcome New Users Series.
* The Welcome New Users dKosopedia page.

And finally, as DarkSyde eloquently stated:

With the exception of trolls, we're glad you're here!
Note: The realm of Welcome New Users has evolved. For now, it will be hosted alternately by smileycreek and myself, LaughingPlanet. We hope that any attempt to revive this effort is appreciated by those who got the ball rolling, and especially the person who wrote literally dozens of such entries over the years.

So..."New Users"..."Trusted User Privilege"...I'm missing something, right?
Well, not exactly. It takes only a few months to acquire/earn the mantle of Trusted User. Many times I've seen the newly-anointed DKos insider freak out when their comment recommend boxes have changed to little circles and have a neighboring Hide. Also, this might be useful info for someone to help them decide if they care enough to try and become a Trusted User or not.
Below the date & time of every comment on DKos, the Trusted User (TU) sees the following:
For those times you are not logged in at all, there is nothing below the date & time of the comment. If the comment begins a new comment thread, the word "Parent" is omitted. (Hitting "Parent" merely shows you the comment to which someone has replied. I'm a bit embarrassed to admit that I at 1st thought it meant the admins would babysit [i.e.: monitor] someone if I clicked Parent below their comment.)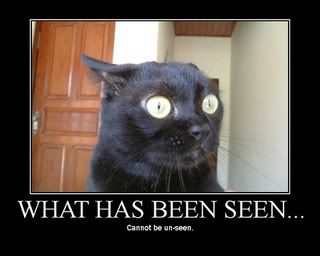 If you are new, or have lost your TU Privilege, you see a box instead of a circle, and there is no option to "Hide". Do not despair. In fact, consider yourself lucky. It is a privilege, but not a luxury. Sometimes I wish I could not see the things my TU eyes have seen.
If you continue to post comments on a regular basis, and do not draw the ire of the rest of us to the point of receiving too many Hide Ratings yourself, you too will be amongst those of us in the TU community, and you'll see what I'm talking about.

OK, what the heck are you talking about?
Good question!
Without going into a treatise on the history here, a system has evolved wherein comments receive a "score" from zero to four. The funny part of that system is that you can only score a comment zero or four. There is no middle ground when grading comments; it's either Pass or ! (The truth is there are actually two other options: Ignore or Reply/Inquire further)
If you are new to the world of the 4th dimension, TU status is both an honor & a privilege that should not be taken lightly. Nothing irks a person more around here than a misplaced Hide Rate (also commonly called hydrate, donut, zero, or palin; OK, I made that last one up.)
First and foremost, clicking Hide does not - does - just mean the opposite of recommend. As we see 1st what a Comment Recommend is from an earlier Welcome New Users:
Comment Recommends

I think what you had to say was highly intelligent, well reasoned, and beautifully put. I can't write a Comment in Reply saying so because I don't have time and ek hasn't taught me how to do that yet. What can I do to express my opinion?

You put a check in that 'Recommend' box, in fact, it's the perfect reason to do so.

Aside from just feeling that a Comment is excellent in every way, there are some other 'Do-Bee' reasons to 'Recommend' one-

* "Very witty."
* "Good Effort."
* "I agree."
* "I don't agree, but I don't want you to take what I'm going to say next (which is going to devastate your specious argument- Bwahhahhahhahhah!) personally."
* "I read what you said, but I don't have anything to add to it (optional 'now')."
And since I cannot better explain what the hide-rate is, only to say one more time that is it most surely NOT merely the opposite of any of the above reasons to recommend a comment (such as "I do not agree"), without further ado, here is an excerpt from the long-standing masterpiece on the topic by Hunter, posted right around the time both smileycreek and I signed up for Daily Kos, coincidentally:
To Troll Rate something has exactly one meaning. When you Troll Rate something, as a trusted user, you are stating that the comment should be made invisible to all site users. You're saying that the comment is so bad -- so disruptive or damaging to the community -- that it isn't worth even a debate, but should be deleted from the discussion as being simply inflammatory, simply off-topic, or simply a lie.

Remember that, because that is the only use of the troll rating. It is an editorial vote to delete a comment from the conversation.

Conversely, there is one particular reason troll ratings should never be used: to express disagreement with a poster's opinion.

There you go. Simple and to the point. Unfortunately, there are always "interpretations" and "degrees" involved with things like this (see Christianity, etc.), and so simple rules always require a latticework of caveats, clarifications, etc., etc., etc.
There are lots of good nuggets in that diary, so it's worth reviewing even if you've seen it before. And if you haven't, consider it .
Today #7 stands out to me:
...one troll rating does not matter. If you get troll rated by one person, know that you will continue to walk this earth. It's not the end of the world. Unless a second person rates the same comment (either with a recommend, or another troll rating), it doesn't even count.
On that note, I learned something recently due to my sponge-like quest for knowledge about all things meta. The hide ratings beyond those that cause the comment to be hidden also do not matter as far as the auto-ban function is concerned anyway. The auto-ban responds to the number of hidden comments someone has made, not the number of donuts those comments have received. However, there is of course, another way for someone to get banned. Our community overlord moderator and his co-editors may be affected by a massive number of hide ratings in the tip jar of a trollish diary. I merely point this tidbit out so that you can use your precious 5 arrows/day to slay the most pernicious of demons and not lament the absence of hide rates when you later need them most.
Again, on that note, there's a little trick I like to employ we'll call donut retrieval. If you notice that one of the posters whose comment you have hide rated has already (or since) been banned, you are able to un-hide rate the comment and keep that last arrow in your quiver just in case.


I try to post
<<======= this image, <br>created by another Kossack around a year ago, to let other TUs know the person in question is history, toast, kaput.

What the heck does that thing say?
It merely shows the Gift Subscription tab in the profile of someone who can no longer receive gift subscriptions. It is generally agreed to be the definitive way to learn if someone is banned from Daily Kos. I'm not 100% sure that it's bombproof, but it's good enough for me.
If you go to my Gift Subscription tab, you'll see (I hope) that I'm not (yet) banned and that I can still receive gift subscriptions. Just sayin'...
If you go to the Gift Subscription tab of the founder of the series, you will see the opposite.

Is that all? You have been blathering for a long time already.
Yes, have been blathering for a long time, and no, that's not all, folks.
There is one other aspect of TU status....
Anyone?
I ask merely because it seems to me to be quite commonly overlooked and/or forgotten. It is the ability to Add/Edit Tags to this Diary. If you are a TU right now, you could click that link above and add "This guy talks too much" as a tag to this diary if you wanted.
However, this action would be technically against the rules. So sorry.
In general, it is a good idea to not mess too much with the tags in a diary. People are shockingly touchy about such things. As a rule, I mostly only add the Recommended and Rescued tags. The former is rather important, IMO, and is considered "an honor" to add by some folks.
I think of it as more of a duty, myself. When a diary appears on the Rec List that I hadn't noticed there before, I generally look to see if the Recommended tag is there or not right away. (You would not believe how many hours into being on the rec list I have found diaries without the Recommended tag added. It boggles the mind.)
Whereas some people instead look to quickly post a mojo-gathering "OMG LOL You the MAN!" comment, or conversely, the "You're a moron I can't believe this POS diary is on the rec list" comment, I dutifully see if the tags are correct before getting too deep into the diary itself or the comments section. I'll also add the first name Barack to about 10 diaries per week when the author has merely put Obama. There are still eleventy bazzilion diaries incorrectly tagged merely Obama instead of the proper method of tagging (first AND last names, people) Barack Obama.
Even a certain front pager has had an ongoing issue with the tagging rule about first & last names. I won't name any names, but that n00b better get his act together!
;-)
Since it is kinda considered the duty of the Trusted User and not the diarist him/herself to add the Recommended tag (an unwritten rule, of sorts), please try to keep an eye on that in particular.

Are we done yet? I've been sleeping for the last 10 minutes, .
Yes, we're done.