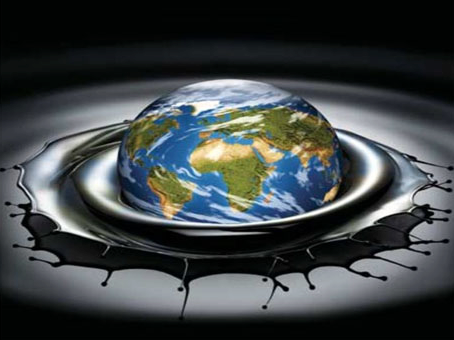 Ideologically shaped skeptics on climate change – the deniers – have a goal: Avoiding regulation of the fossil fuel industry by attacking global warming as a myth based on lies that climate science is invalid. The liars' misinformation campaign to decrease public support for climate change legislation and a treaty has been successful. During the past 18 months alone, deniers have sufficiently confused the public resulting in decreased support for the belief in global warming, as shown by two recent polls in October and November.
We need to nix now what deniers hope will be a downward trend ...with a few facts that debunk their dribble.
Climategate Conspiracy
Deniers conjure up a massive global conspiracy to prevent regulating greenhouse gases, pointing to hacked emails of climate scientists as the smoking-gun evidence that global warming is mere fabrication. If this were true, then the global warming conspiracy started in 1824 when the greenhouse effect was first described by a French scientist and continued throughout the intervening years with the conspiracy passed from one generation to the next perpetuating the fraud through 2009. The conspiracy would include a Swedish chemist in 1896 who wrote about "man-made greenhouse," a British engineer who in 1938 showed temperatures were hotter than the prior century, a US oceanographer and a chemist in 1957 who showed that oceans will not absorb all the CO2, a US scientist that in 1958 commenced "systematic measurements of atmospheric CO2," the U.S. President's advisory committee in 1965 that warned about the greenhouse effect, James Hansen of NASA who warned in 1988 that global warming had commenced, and Margaret Thatcher who warned in 1989 that a global treaty on climate change was imperative. In short, this global conspiracy would include all the scientists, governments, and international bodies that have researched or warned about global warming since 1824. What are these guys a scientific Knights Templar?
The reality is that the emails do not alter the substantive scientific findings.
Lack of Scientific Consensus

How many times must the scientific community state its consensus on the reality of anthropogenic climate change? A Rasmussen poll this month shows that 52% of Americans believe that the scientific community significantly disagrees over global warming. Yet, distinguished prominent scientists have consistently reaffirmed a consensus: In 1997, "more than 1,500 senior scientists signed a landmark consensus declaration; in 2007, more than 200 of the leading climate scientists issued the Bali Declaration, and in 2009, more than 3,000 earth scientists globally agreed that human activity is a significant contributing factor to rising mean global temperatures.
Last October, 18 worldwide scientific organizations advised the U.S. Senate that the "consensus scientific view" is that "climate change is occurring" and "rigorous scientific research demonstrates that the greenhouse gases emitted by human activities are the primary driver." One of the signatory organizations was the American Association for the Advancement of Science, which "represents an estimated 10 million individual scientists through 262 affiliated societies."
No Anthropogenic Global Warming?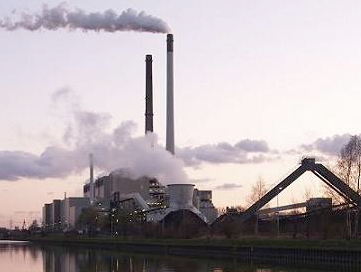 It is fitting that Senator Inhofe's fictional claim that we are simply experiencing a natural warming trend is based on the work of novelist Michael Crichton. Unfortunately, we can't ignore the deniers' claims because "more Americans believe in guardian angels" than anthropogenic global warming. Only 36% of Americans believe that global warming is caused by human activity, yet 55% believe "they are protected by guardian angels."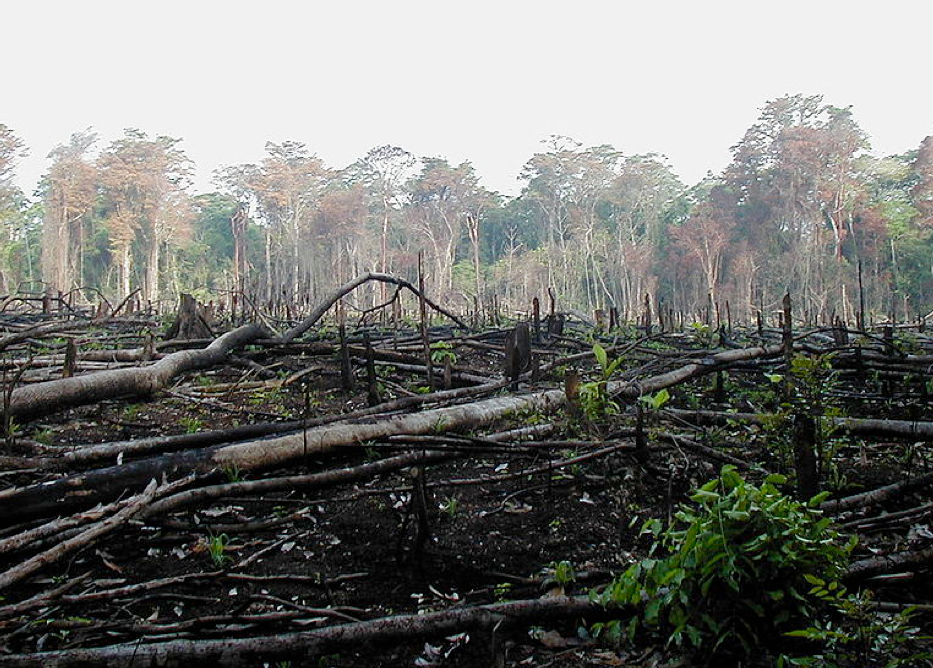 The reality is that scientists have reached a consensus that the earth is warming due to man-made activity and if greenhouse gas emissions continue, the warming will continue at an accelerated rate. This human activity of fossil fuel burning and deforestation are the two primary sources of atmospheric carbon dioxide.
So, how do scientists know that CO2 increases are due to human activities? The answer is that "many independent observations show that the carbon content has also increased in both the oceans and the land biosphere (after deforestation). If the oceans or land had contributed to the rise in atmospheric CO2, they would hold less carbon." Review of historical records of human activities of burning fossil fuels and clearing and burning forested lands shows that people are producing CO2 faster than carbon sinks like the ocean can absorb it.
Another independent assessment is the measurement of carbon isotopes because "CO2 produced from burning fossil fuels or burning forests has quite a different isotopic composition from CO2 in the atmosphere." And, another study released this month by 26 climate scientists shows that "global temperatures had increased at a rate of 0.19 degrees Celsius per decade over the past 25 years, parallel to increases in greenhouse gas emissions."
Several scientific bodies have reaffirmed that anthropogenic global warming is happening now: A 2007 Intergovernmental Panel of Climate Change report, National Academies report, and the U.S. Global Change Research Program report. The EPA agrees that "science overwhelmingly shows greenhouse gas concentrations at unprecedented levels due to human activity."
There is a scientific consensus on the fact that Earth's climate is heating up and human activities are part of the reason. We need to stop repeating nonsense about the uncertainty of global warming and start talking seriously about the right approach to address it.
There are differences among scientists about various details regarding climate change. And there are even more differences when it comes to predicting exactly what the future will bring. The Intergovernmental Panel on Climate Change itself has altered its views in the past 15 years. In its most recent Fourth Assessment Report, published in 2007, the IPCC said the impact will be greater than the panel had concluded earlier. In the two years since then, many scientists have pointed to even further accelerations. How fast these accelerations will occur is disputed. But that does not change the underlying fact that anthropogenic climate change is under way and that limiting its effects requires action.
Arctic Sea Ice Is Recovering
Deniers claim that the Arctic ice is no longer shrinking. NASA disagrees, finding that the "decade-long trend of shrinking sea ice cover is continuing." In March 2008, the ice cap rebounded in extent to almost normal winter level, but it was thin one-year ice that melted in August to its second smallest extent on record.
The Catlin Arctic survey conducted an expedition in 2009 to measure the ice, finding evidence that the ice is thinner than expected and more vulnerable to summertime melting. The survey found that most of the area is "comprised almost exclusively of first-year ice" rather than the traditional "older, thicker multi-year ice." This means the ice floes are too thin to "survive the next summer's ice melt season." Indeed, the Copenhagen Diagnosis report (November 2009) found the ice is melting faster than even projected by the IPCC only 2 years ago. No comfort can be found in the fact that the summer ice melt in 2009 was the third-lowest level on record but "up slightly from the seasonal melt of the past two years" because it shows a continual "overall decline symptomatic of climate change," rather than a recovery.
Cold Weather Shows Global Cooling, Not Global Warming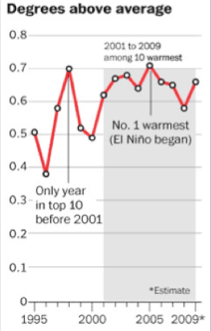 Some deniers like to focus on the past decade to claim that there has been a global cooling proving that global warming is a fraud. While there were "superhot years" in 1998 and 2005, last year was cooler than prior years and skeptics claim there has been a cooling trend since 1998. As A Siegel noted, "this graphic shows bluntly that temperatures seem to have been relatively flat."
However, taking a narrow window really does distort the reality: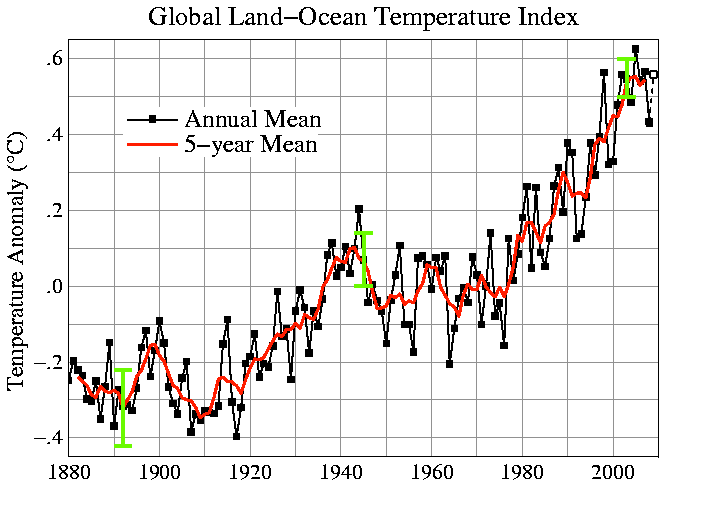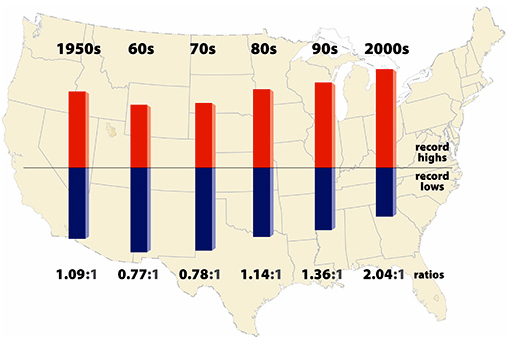 The National Center for Atmospheric Research reported last month that the daily record high temperatures "occurred twice as often as record lows over the last decade across" the U.S. If the temperatures were not warming, then the number of record daily highs and lows would be approximately even. However, during 2000-2009, the record highs occurred twice as often as record lows because the US "experienced unusually mild winter weather and intense summer heat." The U.N. World Meteorological Organization's temperature analysis "based on three independent sets of data" concluded that "the current decade likely ranks as the hottest since temperature records began in the 1850s."
Even an analysis by independent statisticians of "30 years of satellite-measured temperatures preferred by skeptics" showed that the earth is warming, not cooling.
Statisticians who analyzed the data found a distinct decades-long upward trend in the numbers, but could not find a significant drop in the past 10 years in either data set. The ups and downs during the last decade repeat random variability in data as far back as 1880.
One thing is clear, people around the world agree that climate change deserves a higher priority by their government...
...because we can see now the grave impacts that will only worsen.