Hello and welcome to the weekly Open Thread that is called Got A Happy Story? There are no boundaries here but this is a place to share the good things in life for others to enjoy.
Tonight I have a few photos to show, what else is new, and a story of feeling a little less old. My story starts out with many weeks of unemployment and not staying physically active during that period. Two weeks ago I hooked up with a string of free lance work and the atrophy that has been bothering me went away pretty rapidly. There were a few Celebrex days but in no time I was feeling almost young again.
This story is not so much about the physical and more about the mental because I was working on young peoples' music and really getting into it. So I have a little Rock n' Roll story below.
But first, it's beginning to look a lot like Christmas, everywhere I go.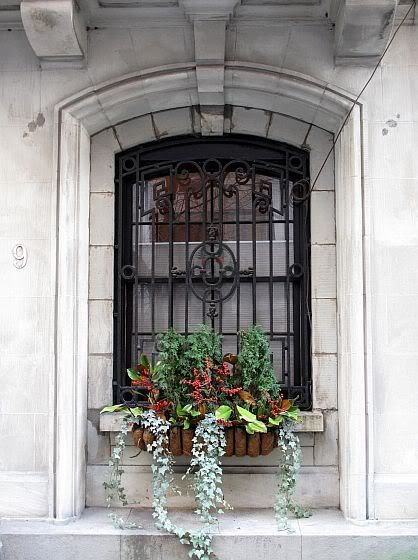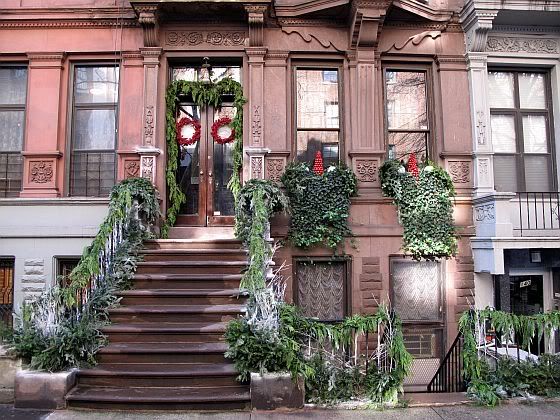 That's always a Happy Story and Christmas Greeting to everyone here. I hope you have a very Happy Holidays.
Two weeks back I worked three shows in a row. The first band I know because they go way back, The Pixies. Any band celebrating the twentieth anniversary of an album, than I'm all jacked into their music. The second band I only knew a little bit with a few of their songs on my hard drive, 311. Another perk to get happy about, free food! 311 is totally organic with an emphasis on the herb.
The third act was an amazingly beautiful vocalist that I had seen before in the MTV music Awards but had almost no experience with her music, Rihanna. I was surprised at my age that I enjoyed each show and the least familiar was the one I enjoyed the most. I mean I still haven't gotten over Led Zeppelin breaking up and I'm bopping to Rihanna. And by the way, her show was free. Holiday season and Rihinna was in a giving mood, a fan appreciation show.
Now this past week I was all over the place and having the grandest time. During a sound check I got to meet two down to earth young ladies in a band called Ke$ha. All the young guys told me how they were not any good because "You can't be Rap and Pop at the same time" but when they went on I laughed so hard and enjoyed their sound so much. Not that I wasn't jealous of all that youthful energy but serious fun.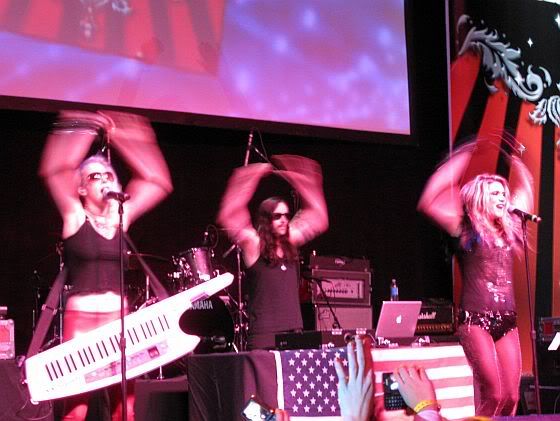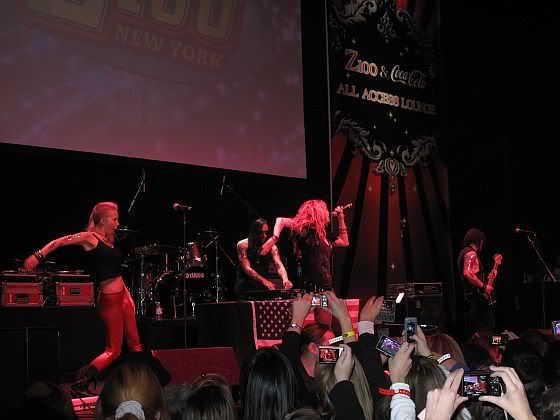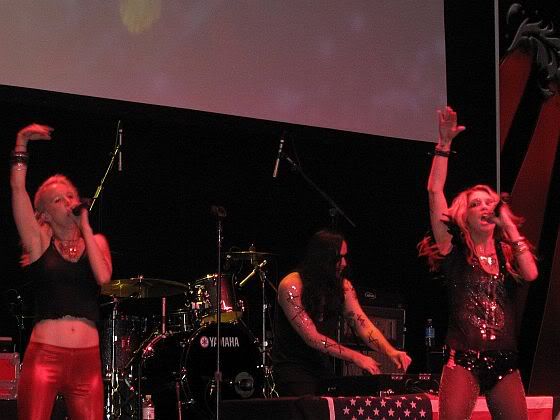 Check out this video of good clean fun like brushing your teeth with a bottle of Jack;
Such lyrics, what's the world coming too? (snark)
After that I survived three hours of DJ's. What was I thinking all these years when I wasn't listening. Very entertaining. But I think it was the atmosphere. I just can't see myself buying a CD from some DJ. Actually I can't see myself finding a place to buy a CD. Things change.
The headliner at this Christmas Show was a beautiful young Australian lady. I never heard of her and asked one of the young guys "She's a Shredder." I asked "What's a Shredder?" Apparently now a shredder is someone that really knows how to whale on a guitar. Orianthi's claim to fame is that she was going to be Michael Jackson's lead guitarist and when I saw her I was really surprised that she did not shred those guitar strings.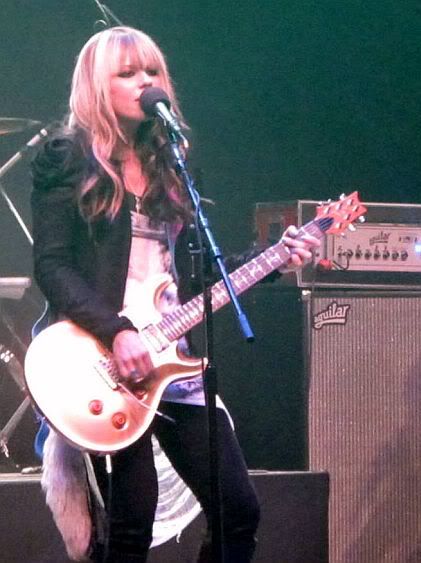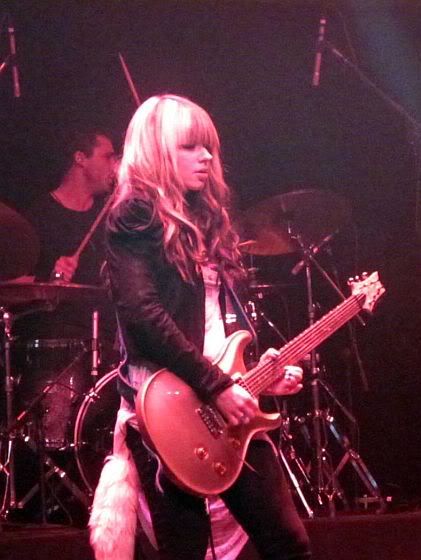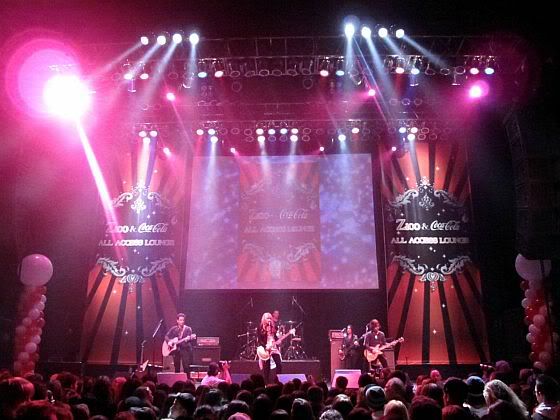 If I were a younger man Orianthi would have been way too Pop for my taste but I went home humming "According to You" and this video sort of captures the very "unpop" sound check I got to witness.
On Saturday I got to work a Young Peoples' Concert. There was no photographs allowed but I got a few shots from the outside looking in.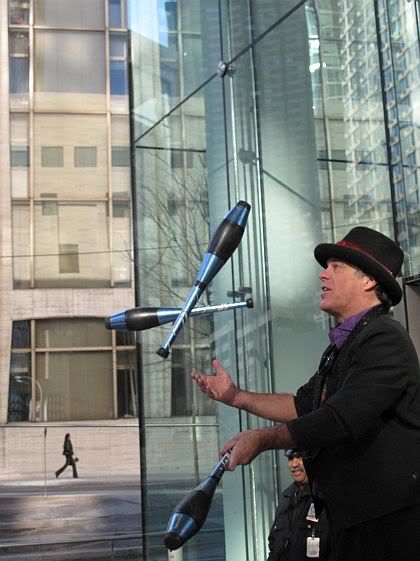 With the weather turning so cold, across the street the Hot Apple Cider Lady at the Lincoln Center farmer's market was extremely popular.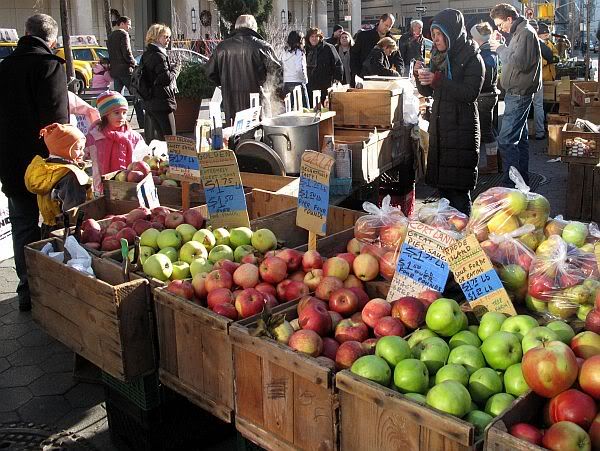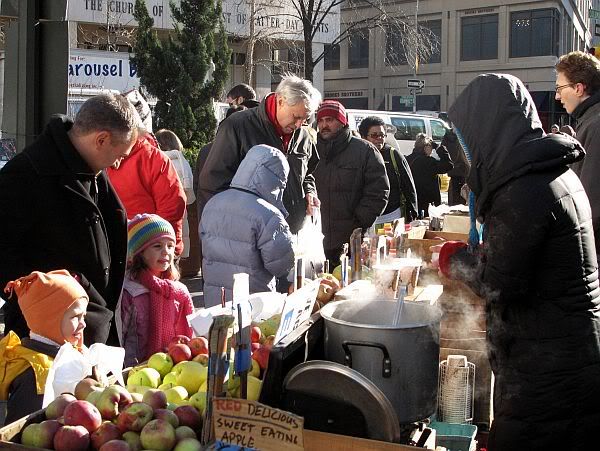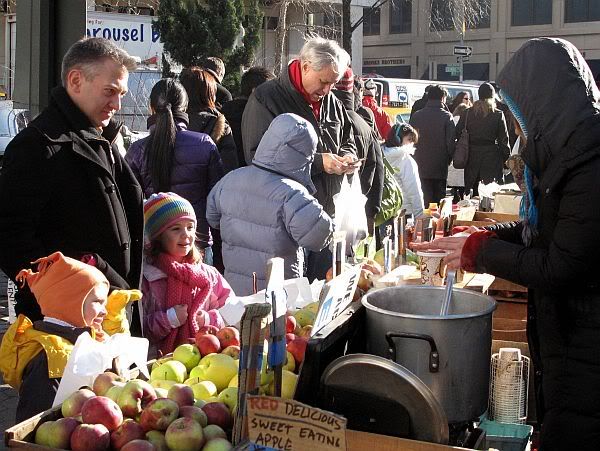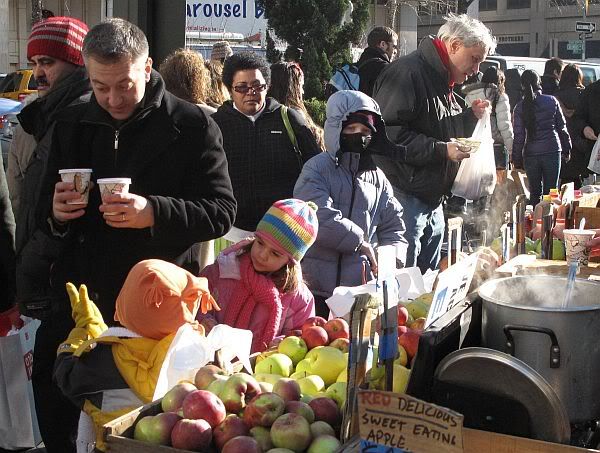 And swordfish sold out early for the prettiest fishmonger I've ever seen.
So I went home Monkish, I mean with the Monk-fish.
Okay I saved the best for last, a little blast from the past. My week actually started with a little bit from m-m-my generation. They paid me to watch Sting play Christmas music at St. John the Divine. It was a really good show.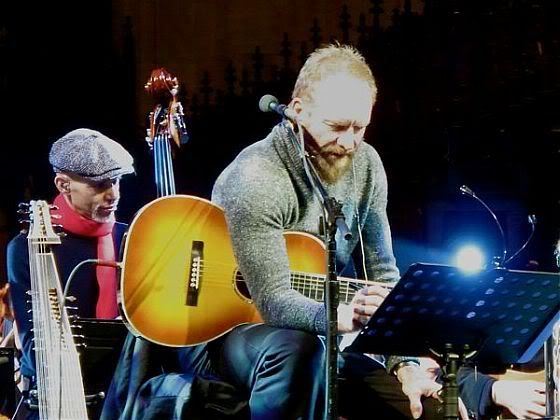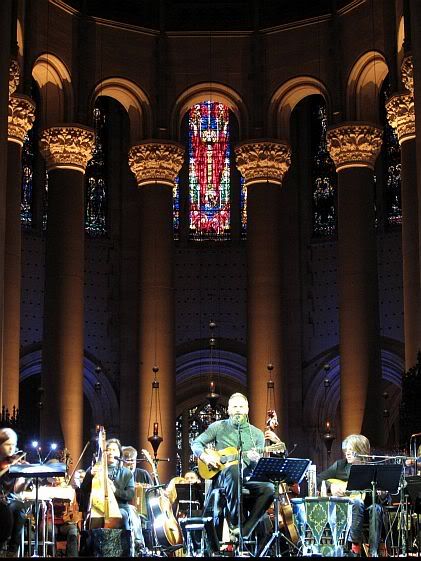 Ah what a good two weeks I had and I was home for an early sunset tonight.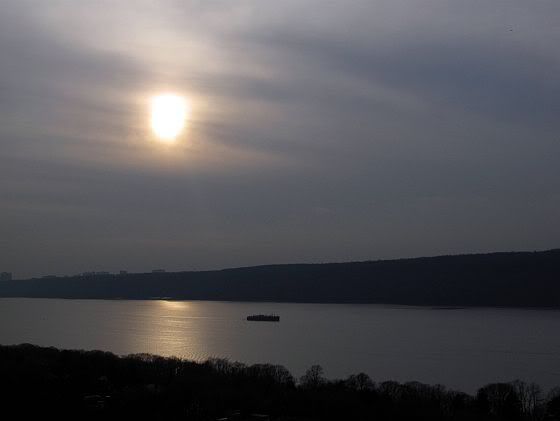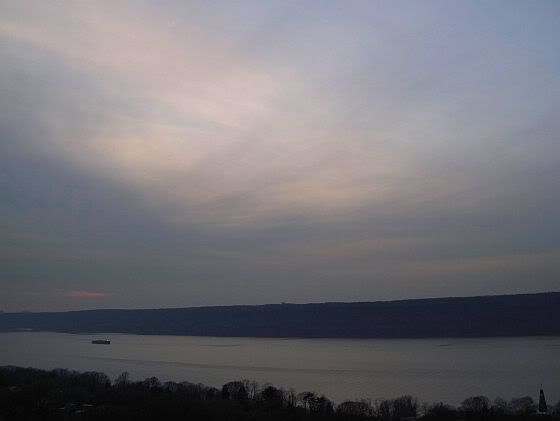 Sunsets from home sweet home are always a happy story for me. With a gig to go to in the morning, things are looking up.
That's my happy story in photos. Do you have a happy story to share? How about would you like to write a Happy Story diary? Here are the upcoming participants;
Dec 21...Yasuragi
Dec 28...teacherken

Jan 4... Spedwybabs
Jan 11...Eddie C
Jan 18...
Jan 26...

Feb 1... Spedwybabs
Feb 8... kimoconnor
Feb 15...
Feb 22...

Mar 1...Spedwybabs
Mar 8...
Mar 15...
Mar 22...
Mar 29...
If you would like to share a Happy story just reply to the tip jar or you can look up my address anytime and drop me a line.
Once again I hope everyone here will have a great holiday.