This diary has been a couple years in the making. Once, I had hope there would be no need to write it. Once, I had hope that things would change just enough, in a timely manner, so I would not have to take these steps. Unfortunately things are not going as well as hoped.
I am in a same-sex relationship. My girlfriend, a UK citizen, is here on a limited work visa. For various reasons she is not eligible for a green card. Her visa was recently renewed for 2 years. When those two years are over we are faced with a horrible dilemma. We either break up, start a long distance relationship, or I leave the country with her. Given that life without her is unimaginable at this point I'm leaning towards leaving the country. Simply put: If we were a hetero couple we could get married and resolve the situation fairly quickly. But we can't because we're two women.
Yesterday, amid all of the drama surrounding the health insurance, Rep. Luis Gutierrez, D-Ill. quietly introduced a much-needed immigration reform bill to the House. Called The Comprehensive Immigration Reform for America's Security and Prosperity Act of 2009 (CIR ASAP) it would:
—Require the Department of Homeland Security to meet detention condition requirements to ensure adequate medical care and to avoid unnecessary detainee transfers;

—Establish a strong presumption against detention of families with children and prohibit expedited removal of families;

—Provide access to immigration counsel during enforcement actions and for disabled individuals unable to fully participate in deportation hearings;

—Require timely notice and service of immigration charges, as well as timely bond hearings for people detained more than 48 hours;

—Limit the use of immigration detainers to confirmed removable aliens; and

—Pre-empt any state or local law that discriminates against people based on immigration status.
(from http://www.windycitymediagroup.com/... )
No doubt immigration reform will prove controversial in these times, when the priority of many US citizens is finding or keeping work. Perhaps for that reason Rep. Gutierrez has chosen at this time not to attach yet another controversial issue to the package.
The Uniting American Families Act (UAFA), currently sitting in committees in the House and Senate, is the only possible solution on the table at this point for couples in my situation. It would:
amend the Immigration and Nationality Act to eliminate discrimination in the immigration laws by permitting permanent partners of United States citizens and lawful permanent residents to obtain lawful permanent resident status in the same manner as spouses of citizens and lawful permanent residents and to penalize immigration fraud in connection with permanent partnerships.
(from Wikipedia http://en.wikipedia.org/... )
Let me say that again: the UAFA is currently the only remedy remotely available to bi-national couples like myself and my partner and it is once again being sidelined. This country has proven time again that LGBTI issues will languish in limbo, too poison to touch at the federal level. And so I start to make my plans to leave.
This is us, in happier times on vacation in Hawaii. Like any couple in love, we just want to stay together, to avoid heartbreak. But the rules of this country set in motion another kind of heartache.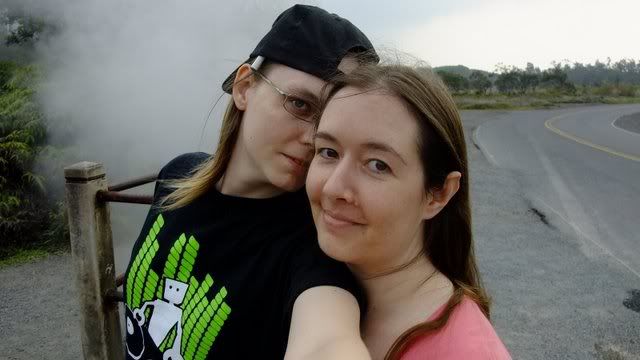 Goodbye family. Goodbye career, goodbye friends. How is this fair? How is this just?