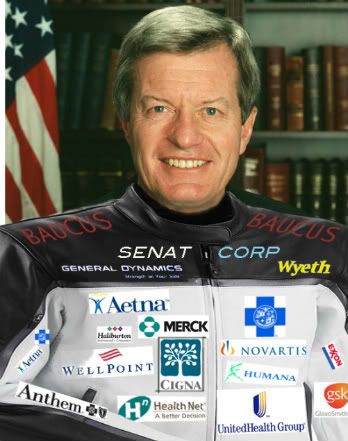 That's right, if you act NOW, you can place your favorite Senator's head on top of this lovely jacket covered with all the top contributors to his or her campaign chest.
But you must act before Midnight on Christmas day.
After that, we're all screwed.
*NOW INCLUDING OUR LAST-MINUTE SURPRISE ADDTION: AL FRANKEN*
Okay, I'm a little frustrated - and pissed beyond all previously imaginable belief.
But I have an idea as to how we can nullify this piece of shit healthcare bill, and here it goes.
Since we can't get a fair hearing from legislators who have been legally bribed by the very industry for which they are passing ever more favorable laws, we should petition the courts to have the legal venue moved from Washington to Paris!
If a judge had the same ties to healthcare companies as our average Senator, that judge would be expected to recuse himself from presiding over any case involving those companies. Not the case with our Senators. It's legal bribery - and it kills people.
If we want a fair hearing on this subject, we should immediately move the legal venue to France. After all, the French also know something about superior healthcare at a lower cost to the economy. They've managed to do both and be number one in the World.
Oh, I know what you're thinking, the French eat snails and consider it a delicacy.
Look at it this way - our elected leaders expect us to eat dirt and be convinced it's a delicacy.
I, for one, am not biting.
And while I'm personally proud of my Photoshop work, I can think of better places to stick the collective head of our Senate.
How would you wish to reward them for their treachery?