Of course, I don't mean you. I don't think you're vain. But this diary isn't about you. This diary is about recognizing a year's worth of efforts in the progressive trenches.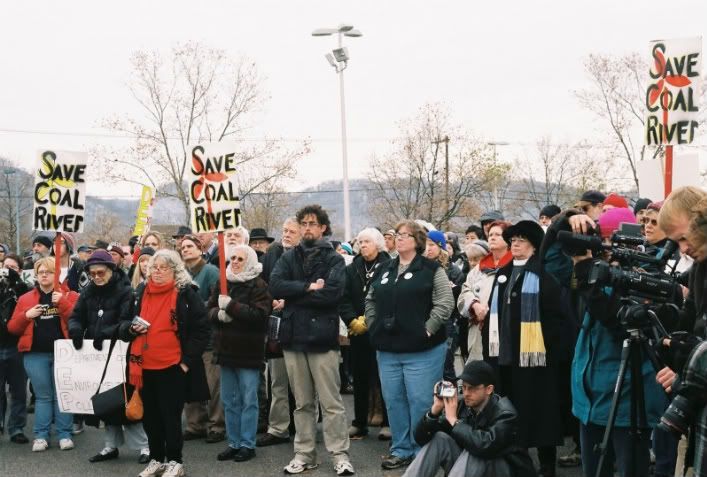 Yes, it's that time of year... time to reflect on what the past twelve months have been. I didn't trust my rusty memory to recall the top stories of the year at West Virginia Blue, so I used our site logs to tally up which diaries got the most hits and used that as my reminder. More or less in order, here's the list.
#1) The economic case against Mountaintop Removal coal mining
This was just one in a series of diaries about why to end mountain top removal coal mining and how to transition West Virginia off its dependence on coal. It probably got the most hits because it was one of the earlier ones during the year and it is still hot-linked on the right-hand side bar.
There are numerous social, moral, and environmental arguments against Mountaintop Removal coal mining (MTR). In this diary, I lay out the economic arguments against MTR.
#2) "Know Your Wingnuts: wvformarriage.com" or "W.Va. GOP unveils 2010 GOTV plan"
This diary generated hits from at least a dozen sites across the web including crooksandliars.com, huffingtonpost.com and politico.com.
Last month, I was listening on the radio to an official from West Virginia's Republican Party laying out the conservative agenda for state politics in 2009.

You'd think with an economic meltdown on, they would prioritize and look for solutions that would best help our state's residents make it through the hard financial times ahead.

But it really was no surprise that one of the party's top concerns was that old rightwing chestnut: whipping people into a frenzy over homosexuals getting married - specifically, the GOP wants to get a state constitutional amendment on the ballot to ban same sex unions.

Never mind that there's already a federal law on the books in the form of the ludicrously-named Defense of Marriage Act, or that West Virginia already has a law banning gay marriage, or that traditional marriage is in no way threatened by gay marriage and no one in their right mind would think so - the state's Republicans have decided on their priorities.
#3) Sen. Byrd: Coal Must Embrace the Future
We were the fist website to get Sen. Byrd's editorial up on the web and a lot of people flocked to the site to read it. For a post only three weeks old, it generated a lot of traffic really quickly.
And change is undeniably upon the coal industry again. The increased use of mountaintop removal mining means that fewer miners are needed to meet company production goals. Meanwhile the Central Appalachian coal seams that remain to be mined are becoming thinner and more costly to mine. Mountaintop removal mining, a declining national demand for energy, rising mining costs and erratic spot market prices all add up to fewer jobs in the coal fields.

These are real problems. They affect real people. And West Virginia's elected officials are rightly concerned about jobs and the economic impact on local communities. I share those concerns. But the time has come to have an open and honest dialogue about coal's future in West Virginia.

Let's speak the truth. The most important factor in maintaining coal-related jobs is demand for coal. Scapegoating and stoking fear among workers over the permitting process is counter-productive.
#4) Act Now: Verizon Wireless Sponsors Union-Busting Mountaintop Removal Rally
This diary got the most hits (thanks to Carnacki's help in link placement across the web), but the real story of the year was how well our site covered this story. Click on the Verizon Wireless tag and you'll see the great work many different people did on this story.
Finally, a huge congratulations and major kudos to everyone who has been covered this story so effectively at West Virginia Blue.

* False Advertising by Blankenship and "Friends" Unreported By Corporate Media (9/10 by One Citizen)
* Don Blankenship's Labor Day Rally (9/9 by Clem Guttata)
* Coal CEO Declares War on Labor Day (9/3 by One Citizen)
* Don-A-Pollute-Za: Don Blankenship Labor Day Rally Poster Unveiled (9/6; Heath Harrison's poster)
* Verizon Wireless can hear us now (9/5 by Clem Guttata)
* Over 20 groups call for Verizon Wireless to answer for support of Blankenship's rally (9/4 by Clem Guttata)
* Coal CEO Declares War on Labor Day (9/3 by One Citizen)
* Legacy of Coal: MTR and Verizon Wireless (9/2 by jlms qkw)
* Verison Wireless To Unveil New Sport Featuring Its New Anti-Environmental Stance (9/2 by One Citizen)
* Verizon Wireless dropped signal (9/2 by Carnacki)
* Verizon Wirless hits a dead zone (9/1 by Clem Guttata)
* Can you hear us now? (8/31 by Carnacki)
* Act Now: Verizon Wireless Sponsors Union-Busting Mountaintop Removal Rally (8/29 by Clem Guttata)
* Warning: Doing the Labor Day Wango Tango with Don Blankenship may be fatal. (8/23 by One Citizen)
* The coalfield Don brings in Hannity and washed-up friends to rally for MTR (8/10 by Heath Harrison)

This has to be the worst $1,000 Verizon Wireless has ever spent.
#5) Do you REALLY Think There's No Difference Between the Two Major Parties? REALLY?
One of One Citizen's digital satires' was featured on BuzzFlash along with a link back to our site, raising awareness of the work going on in the state against mountaintop removal.
While Progressive Democrats work to open up honest public dialogue in Townhall Meetings all across the country...

Another of One Citizen's greatest hits.
#5) Coal miners trapped in Mingo County (flooding)
Not much of a diary, but a lively set of comments and there was a lot of interest in the story. Perhaps the bigger story this diary points to is the welcome entry of Ken Ward, Jr.'s Coal Tattoo to the West Virginia blogosphere this year.
#6) Sen. Rockefeller supports new public health insurance plan
This is the second time a Senator's press release scored a top ten spot. It was news back in May and Sen. Rockefeller's involvement in health care reform is still a major story today.
Health care advocates from West Virginia's Health Care for America Now (HCAN) coalition released the following statement today thanking Senator Rockefeller for supporting the choice of a public health insurance plan - a key component of President Obama's and Health Care for America Now's vision for achieving a guarantee quality, affordable health care for all this year:

"We applaud Senator Rockefeller for emphasizing at this critical time how important it is that health care reform legislation includes the option of a public health insurance plan. We need a choice and an alternative so we are no longer at the mercy of the profit-driven private health insurance industry," said Gary Zuckett from WV Citizen Action. "Senator Rockefeller clearly understands we need health care reform that puts what's best for the people of West Virginia before special interests that profit off the current system and who only want reforms that continue to make them money and deny us access to quality, affordable health care."
I wrote a whole series of diaries on the death of Dunkard Creek and I'm still angry about it. From what I can tell, there's still about a dozen watersheds in WVa at risk for the exact same thing to happen and our Gov. and his DEP are acting like that's just fine.
It's really hard for me to read about the Dunkard Creek fish kill without getting very angry.

An ecosystem has been destroyed.
#8) wvared.com - "Ctrl C / Ctrl V"
Elvis may have left the building this year, but a new blog was born. We welcomed former Don Blankenship political consultant Roman Stauffer when he started a new blog and decided to call it West Virginia Red. Imitation is the highest form of flattery. But, imitation can be taken too far, too.
I've got to express extreme disappointment in Roman Stauffer, "brainchild" of West Virginia Red. You see, I was doing some research, which includes heavy use of teh Google. As I searched the entire .pdf he linked, I found no such indication of cost per family, nor any discussion of "net present value."

Lo and behold, teh Google found me this.

It appears Roman enjoys the work of Jim Harper, Director of Information Policy Studies at CATO and editor of washingtonwatch.com.
#9) We had a lot of stories about protests and counter-protests related to Mountaintop Removal this year. For me, the low point in those events was captured in the diaries: Corps of Engineers NWP21 Hearing in Charleston, Truman Chafin: Why is this man a Democrat? and King Coal is shouting itself hoarse and deaf.
#10) There was no one major diary on PATH, but it was definitely a big recurring story for the year. Blonde moment and Calhouner contributed numerous diaries keeping us up to date on PATH's fate in front of the PSC. This mega-transmission project is limping along, delayed for consideration, but will likely return next year in some form.
Honorable mentions with lots of hits, too:
Interview with Laura Steepleton of Climate Ground Zero
Heath Harrison published multiple original interviews on West Virginia Blue this year. They are all worth a (re-)read.
Green Begins in America: Ending Mountaintop Removal
A large contingent of West Virginians were at Netroots Nation in Pittsburgh. wvblueguy captured one of the highlight panels (with video).
Verizon-Frontier Sale: Abandoning West Virginia
Verizon is still trying to dump West Virginia. This may be an even bigger story next year than last.
Ogden newspaper publishes assassinate Obama ad
The title pretty much says it all.
Standards at the Martinsburg Journal
Matthew Bieniek left the Martinsburg Journal and decided to air some dirty laundry. For those of us who had been paying attention to Ogden papers, it was a dog bites person story.
The Other Don Surber
When someone named Don Surber breaks the law, it generates web hits. This diary deserved the attention.
Pagan MC members arrested in roundup
Who know that putting the words "Pagan members arrested" in a diary would generate so much traffic?
Good-Bye 2009, Hello 2010
A lot of diaries were written, a lot of words, pictures, and audio/video were posted. Thank you to everyone who contributed by reading, recommending, commenting, diarying, or donating to West Virginia Blue in 2009.
Like so many other state and local blogs, West Virginia Blue exists because a community of progressives in West Virginia have come together to support one another and folks from all over the country "have our back." For all that, I thank you all.