By Nov. 5, AIG had paid out $37 billion of their bailout funds to CDS counterparties including Goldman Sachs, Merrill Lynch, UBS AG, and Deutsche Bank AG.
(AP Photo/Mark Lennihan)
More after the jump:
As The Wall Street Journal reported in November, banks in the U.S. and abroad are among the biggest winners in the federal government's $170 billion bailout of American International Group Inc.
Many banks that previously bought protection from the insurer on securities backed by now-troubled mortgage assets stand to recoup the bulk of their investments under a plan by AIG and the Federal Reserve Bank of New York to buy around $70 billion of those securities via a new company. These securities are collateralized debt obligations backed by subprime-mortgage bonds, commercial-mortgage loans and other assets.

Banks in the U.S., Europe and Canada bought credit-default swaps on these securities from AIG, which in turn promised to compensate them if the securities defaulted. Defaults haven't been a major problem, but the market values of these CDOs fell sharply over the past year or so. That enabled the banks to pry roughly $35 billion in collateral from AIG as a result of those declines and downgrades in AIG's own credit ratings. The banks that have sought and received collateral from AIG include Goldman Sachs Group Inc., Merrill Lynch & Co., UBS AG, Deutsche Bank AG and others.

"It's like a home run for some of the banks,"says Carlos Mendez, a senior managing director at ICP Capital, a fixed-income investment firm in New York. "They bought insurance from a company that ran into trouble and still managed to get all, or most, of their money back."

Under the plan announced Monday, the banks will get to keep the collateral they received from AIG, much of which came when the government made funds available to AIG in September. The banks also will sell the CDOs to the new facility at market prices averaging 50 cents on the dollar. The banks that participate will be compensated for the securities' full, or par, value in exchange for allowing AIG to unwind the credit-default swaps it wrote.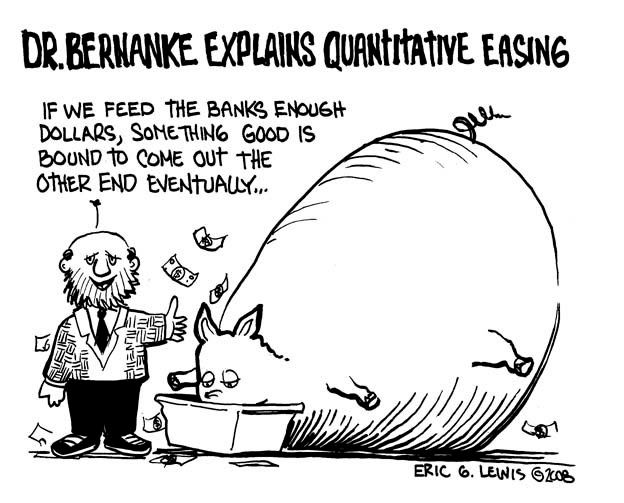 In Wednesday's article by Declan McCullagh at CBS News, its suggested that allowing AIG to fail would be better for the market as a whole than propping it up.
A bankruptcy judge could have carved AIG up into chunks with sound components separated from unsound ones. Other companies would buy assets that had value. Shareholders would likely have emerged in better shape than they have after AIG's stock price fell from over $70 to 43 cents in a two-year period.

"Suppose AIG goes bankrupt, it is better that AIG goes bankrupt and we have a horrible two or three years than that the whole US goes bankrupt," legendary investor Jim Rogers, who co-founded the Quantum Fund with George Soros, told CNBC on Tuesday. "AIG has trillions of dollars of obligations, let them fail, let the courts sort it out and start over. Otherwise we'll never start over."

One aspect of the repeated AIG bailouts that deserves additional public scrutiny is how they enriched some of the company's counterparties at taxpayer's expense. Those are the bailout's indirect beneficiaries, and they reportedly include Goldman Sachs, Merrill Lynch, UBS AG, and Deutsche Bank AG. They knew there were risks to dealing with AIG; the financial world would not end if AIG defaulted. (As George Mason University economics professor Tyler Cowen put it this week: "No one wants to say it, but essentially the Fed has been bailing out European banks.")
For a primer on the role of the derivatives market on the financial crisis, see this previous diary.
(CNBC - Sept. 17, 2008)
(Counter-party risks in the credit markets hit an all-time high on Tuesday as credit default swaps soared. Michael Sheren from Calyon Corporate and Investment Bank considers whether the AIG bailout will affect counter-party risk.)
Guest: Some guys are making a load of money holding onto the collateral and not having any exposure to the rubbish.

Sheren: Certainly, there's always going to be winners and losers.
Update: The Wall Street Journal reported on Friday additional details on payouts to AIG counterparties.
The Wall Street Journal in December, citing a confidential document and people familiar with the matter, revealed that about $19 billion of the payouts went to two dozen counterparties between the government bailout in mid-September and early November. As previously reported, nearly three-quarters went to a group of banks, including Société Générale SA ($4.8 billion), Goldman Sachs Group ($2.9 billion), Deutsche Bank AG ($2.9 billion), Credit Agricole SA's Calyon investment-banking unit ($1.8 billion), and Merrill Lynch & Co. ($1.3 billion), the Journal reported at the time.
2nd Update: In The WSJ on Saturday further AIG bailout beneficiaries were named.
The beneficiaries of the government's bailout of American International Group Inc. include at least two dozen U.S. and foreign financial institutions that have been paid roughly $50 billion since the Federal Reserve first extended aid to the insurance giant.

Among those institutions are Goldman Sachs Group Inc. and Germany's Deutsche Bank AG, each of which received roughly $6 billion in payments between mid-September and December 2008, according to a confidential document and people familiar with the matter.

Other banks that received large payouts from AIG late last year include Merrill Lynch, now part of Bank of America Corp., and French bank Société Générale SA.

More than a dozen firms with smaller exposures to AIG also received payouts, including Morgan Stanley, Royal Bank of Scotland Group PLC and HSBC Holdings PLC, according to the confidential document.