Sorry for being gone for so long - life has been busy.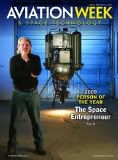 Aviation Weekly & Space Technology has named the Space Entrepreneur as its person of the year, this year. And those of us supporting Commercial Spaceflight have a lot to be encouraged about
This is a really great article, that provides a nice overview of where the industry is, and how far its come in the last year.
Collectively, they are in the vanguard of a new industry, poised to transform how humans venture into space in ways that most observers can scarcely imagine today. Space entrepreneurs had a big influence on aerospace in 2009, although it does not begin to compare with the impact they are likely to have in years to come.
It notes the X Prize flights, a few years ago, that Burt Rutan won with his SpaceShipOne. However, it also talks about developments that have happened since then:
The roll out of SpaceShipTwo
The winning of the Northrup Grumman Lunar Lander Challenge, by Masten Space Systems & Armadillo Aerospace
The first commercially successful Falcon 1 launch
Returning to the article....
An interesting comment on space development is
Asked if he is shocked with the speed with which Masten subsequently achieved its $1-million prize success with its Xoie and Xombie rockets, Masten says, "Actually we were thinking—'Gee, how did it take us so long?' To start with, we thought it should only take two years to figure out, and all of a sudden four years roll by."
These things always seem to take longer than we expect. I remember when I first posted a diary at Dailykos, where I suggested that space development may become an issue in 06 or 08. Actually, it did just a little bit in 08, but there has been clear progress.
The article also discusses the Review of Human Spaceflight Plans Committee (aka the Augustine Committee) and its subsequent report, and how the Commercial Spaceflight industry was considered in the report, and also played a role in considering various possibilities.
In June 2009, Greason was named to the White House Review of Human Spaceflight Plans Committee headed by former Lockheed Martin CEO Norman Augustine. The Augustine panel found it might be cheaper and faster for the government to buy rides to low Earth orbit for its astronauts than to finish the Ares I crew launch vehicle NASA is developing in-house under its Constellation Program.
In fact, the report went a good deal farther, and practically endorsed utilizing Commercial Crew. It also noted that, without NASA helping to develop the industry, the industry would be very unlikely to materialize
if a capsule is developed that meets commercial needs, there will be customers to share operating costs with NASA, but unless NASA creates significant incentives for the development of the capsule, the service is unlikely to be developed on a purely commercial basis.
It also noted the resistance and almost hostility from Congress, and institutions within NASA. When discussing some of the recent Congressional hearings, again, quoting the article..
[John] Marshall surprised lawmakers when he testified that Orbital Sciences officials had told the ASAP they had not done a market survey for human space transportation because they did not believe a "credible market" exists.
The irony of this statement is that when John Marshall made it, Bigelow Aerospace's Mike Gold was sitting in the front role of the audience. I would love to know the context of this statement, to better consider it. Many of those hearings would've been well served by actually having some of the companies among the people being asked questions.
Anyway, check out the whole article - its a good read.