Crossposted at Pet Connection.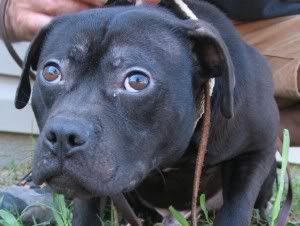 Organizers at Change.org are reaching out to the animal community to bring pressure on the Ed Block Courage Award Foundation to deny Michael Vick the award.
Last night, Maria Tchijov, Outreach and Communications Coordinator at Change.org, emailed me and asked for help in getting signatures on a petition to Sam Lamantia, the CEO of the Ed Block Courage Award Foundation:
Dear Mr. Lamantia,

Recently the Philadelphia Eagles have elected Michael Vick as their recipient for this year's Courage Award. Given Mr. Vick's crimes and felony conviction, we do not believe he is worthy of this honor. For several years, in addition to promoting dogfighting, Vick himself tortured, abused, and murdered innocent dogs for his own profit and apparent enjoyment. This is not courage. This is inhumanity, immorality, and sheer brutality and does not warrant giving Vick this or any other reward.

Many of us have protested Vick's reinstatement to the NFL. There has been strong media and PR influence in trying to diminish his past actions and erase the public's memory of his sadistic behavior. We encourage you to stand up for the rights of animals everywhere and the memory of the dogs who endured Vick's cruelty. Please do the right thing and deny Michael Vick the Courage Award.
They've already got around 6000 signatures -- but I think we can do better than that. Sign here.
Do it for the dog in the photo, one of the lucky ones rescued from Vick's Bad Newz Kennels. It's used courtesy of BAD RAP. And if you think it's time we all moved on, read this excerpt from my column on Vick in the San Francisco Chronicle/SFGate.com:
"What Michael Vick did was not just dog fighting," said Marthina McClay of Our Pack, a pit bull rescue group in Santa Clara, and the owner of one of the Vick dogs, Leo. "It went so far beyond that, and most people who defend him are uninformed. They don't really realize what Michael Vick did."

If you're one of the people McClay is talking about, let me invite you into Donna Reynolds' nightmare.

Reynolds is the co-founder of Bay Area Doglovers Responsible About Pitbulls (BAD RAP), an East Bay organization with a national reputation for rescuing and rehabilitating pit bulls. They rehabbed and cared for many of the dogs seized from Vick's Bad Newz Kennels after his arrest in April of 2007.

She's definitely not what you'd call a fragile flower, and she's been working with ex-fighting pits for longer than a lot of the people reading this have been out of kindergarten. It's fair to say she's seen the worst things that people can do to dogs, but there's still a story she can't get out of her mind.

It was a sweltering day in September of 2007, and Reynolds was in Virginia to evaluate the 49 pit bulls found alive on Vicks' property. A federal agent who had been at the scene when the property was searched was driving her to the various facilities holding the dogs, and they got to talking about what the investigation had turned up.

"The details that got to me then and stay with me today involve the swimming pool that was used to kill some of the dogs," Reynolds wrote on her blog. "Jumper cables were clipped onto the ears of underperforming dogs, then, just like with a car, the cables were connected to the terminals of car batteries before lifting and tossing the shamed dogs into the water."

She continued, "We don't know how many suffered this premeditated murder, but the damage to the pool walls tells a story. It seems that while they were scrambling to escape, they scratched and clawed at the pool liner and bit at the dented aluminum sides like a hungry dog on a tin can.

"I wear some pretty thick skin during our work with dogs, but I can't shake my minds-eye image of a little black dog splashing frantically in bloody water ... screaming in pain and terror ... brown eyes saucer wide and tiny black white-toed feet clawing at anything, desperate to get a hold. This death did not come quickly. The rescuer in me keeps trying to think of a way to go back in time and somehow stop this torture and pull the little dog to safety. I think I'll be looking for ways to pull that dog out for the rest of my life."

Vick did all that and more to his dogs, and even threw family pets into the pit with fighters and laughed while they were mauled, according to a witness who testified to federal investigators.

That's what sends dog lovers out to football games with protest signs: knowing that Michael Vick tortured and killed innocent dogs. That he has never paid for that abuse or even apologized for it.

Because the nation's most notorious dogfighter pled "not guilty" to animal cruelty charges -- charges that were eventually dropped in a plea bargain -- and he was convicted only of bankrolling a dogfighting conspiracy, for which he served 18 months in prison before being welcomed back to the public spotlight.
The rest is here. Read it and see if it changes your view that Vick has "done his time."