The amazing Community Quilt from my friends here at Daily Kos has arrived.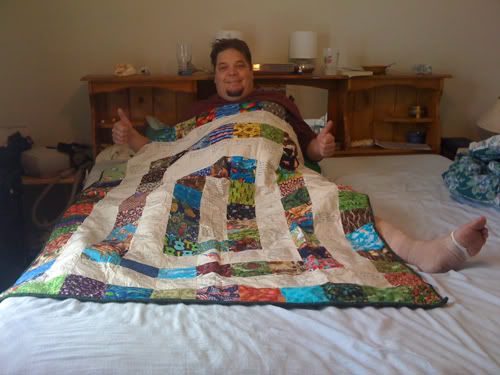 This diary is to thank all of you who participated -- THANK YOU!!!!!! OMG! WTF! BBQ!* -- but also to ask your help in raising support for some progressive causes and candidates. Join me on the flip side for more pics, and a question that maybe you can help answer.
UPDATE: According to Sara R, who made the quilt,
"One of the reasons I've been talking to Timroff about the quilts signed at the conventions is that I offered to do one to help feed people (I've got some really nice food-themed fabrics). But it does not make sense to make another one if there is no way to do the drawing.
If someone is a lawyer who could figure this out, I am sure we could raise the money to pay the necessary fees. It would be a good thing to get done -- because the quilts provide such a neat focus on issues. They draw attention -- and that can only help."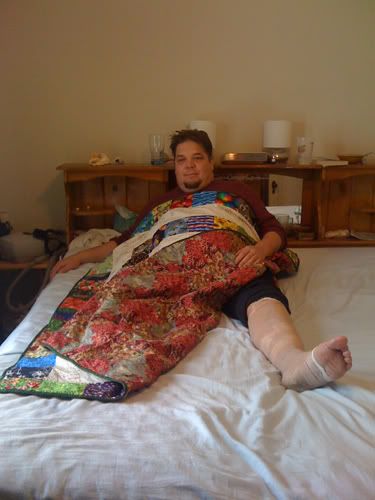 the reverse side of the quilt, and my leg, which is still healing -- the skin was heavily damaged by the cellulitis, and is almost finished healing.
+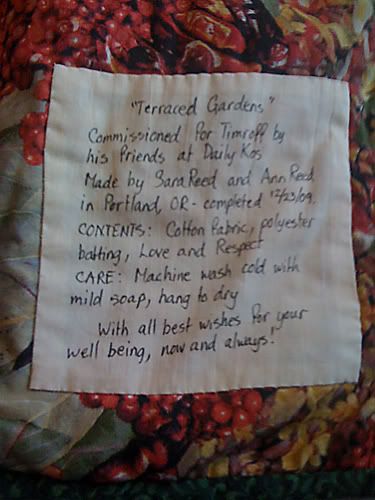 This is on the backing. They do amazing work, don't they?
+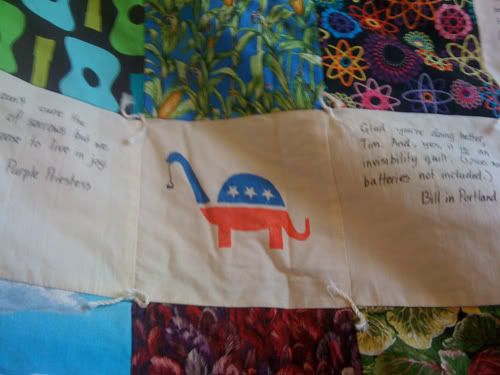 One of the best things about the quilt is that the T-bagosaurus is prominently displayed on it.
+


This is the message my wife Dania Audax sent me.
+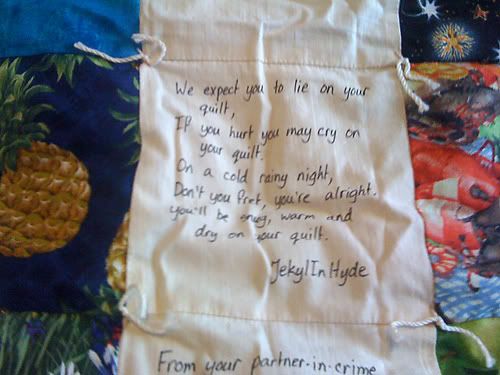 This is the Limerick that I hope makes it on every quilt made in the future by Sara R/Rain and her amazing team of quilting heroes
+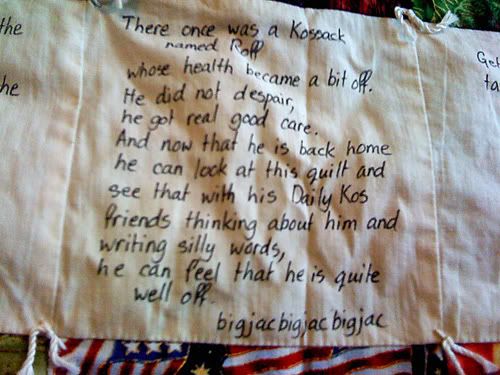 There are far too many messages to try to share here, but bigjacbigjacbigjac's "limerick" made us laugh out loud...
+


Dania Audax wants you to know she likes it too.
______________________________________
Sara R (aka Rain at Street Prophets) has come up with the idea to put together four separate quilts that would be used to support progressive candidates and organizations. In our correspondencce, she told me the following:

"From Red to Blue" – designed by Aunt Arctic, patches made by Aunt Arctic and Sara R, assembled by Sara R and sister, quilted by Sara R – intended to raised money for a progressive candidate running for the Senate


"All Buttoned Up" – designed by Sara R (hat tip to Northwest Quilters), pieced by Sara R and her sister, quilted by Sara R – intended to raise money for BlogPAC


"All My Relations" – designed by Sara R, pieced by Sara R, quilted and beaded by Sara R – intended to raise money for INDN's List


Points: drawings have been done where donors get a chance in the draw. Example, a chance to win dinner with candidate Obama was given for donations to the campaign and a chance to win an Amazon Kindle was given for donations to the National Republican Senatorial Committee.

The answer is probably to offer a way to enter the drawing without contributing. But a solid legal opinion on this really is needed. I haven't kept track of what has been happening with internet gaming regulations but I believe there have been some shifts that might be favorable to the quilt project.

By the way, I don't know if you saw this in Markos' hate mail diary the other day (in the last blockquoted section):

"Las Vegas: One of the top ten Green Disasters in this country. For shame. Selling little old ladies' quilts to have a "Progressive" convention in the Capital of whoring, coking, gambling, and the Seven Deadly Sins."

I think this was a reference to the top priced item in our Bidding for Good auction which happened to be a lap throw made by my sister and me. Tim, do you think the wholesomeness of using quilts to raise money for progressive causes hits a nerve with rightwingers? If so, let's do more of it!
So... any ideas how we can make this work?