Cross posted from BlueArkansasBlog.com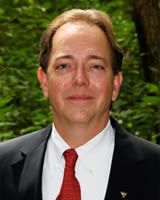 The Democratic candidate running for the U.S. House of Representatives in Arkansas' 3rd district, David Whitaker, met with the University of Arkansas Young Democrats last night. Whitaker is an Air Force veteran, an owner of two dogs, a husband to Lisa Whitaker, and a father to two young women. He worked as the Assistant City Attorney for the city of Fayetteville for eight years before deciding to run for public office.
It was good timing after the Democratic loss in Massachusetts, giving both the candidate and the Young Democrats much to discuss about national politics and his vision for the future of the state and country.
Whitaker dove right into a discussion on national politics and lessons to be learned, although he took a different angle than most on the national stage. Instead of blaming individuals or any single issue, he stressed that the lesson to be learned for progressive Democrats is that the fight has just begun. He made a pointed statement that if progressives thought electing a Democratic President was the end of the fight, they are underestimating the ability of the status quo to "drag its feet." He encouraged progressives and the youth to be "patient" and that fighting for progressive change in America is "a long term thing." However, he emphasized that when he said we need to be patient, he meant that we need to speak out louder and fight harder, not give up. He said he was not "anti-corporate" exactly, but that he thought that a government that only listens to corporations and not the people does not work.
I asked him what he thought about the poll showing that 82% of Obama voters who switched to Scott Brown in Massachusetts support a public option. He thought that the loss was not a referendum on national politics, but a combination of factors including local and campaign issues. However, he was familiar with the poll and noted the strong support for progressive ideas even among Scott Brown voters.
The campaign currently has a county coordinator in 12 counties. He believes that by running this campaign, he is building a Democratic coalition in the 3rd District that hasn't existed since the 1960's. He recognized that he can not compete with an incumbent Republican, Representative John Boozman, in fundraising since he doesn't have the ability to call on the corporations and other big donors who have benefited from his votes. However, his campaign strategy sounds encouraging. He is concentrating on campaigning in each rural municipality rather than taking the concentrated urban approach taken by most Democrats who have attempted to run in the district before.
He asked for the votes of those present and requested any aid in the form of volunteering that they could give. If you are interested in doing so yourself, you can send him your information here:
http://whitakerforcongress.com/...
Or email the campaign directly: