Silver birch in the fire bursts into orange flame from hot cinders that have died out, and starts the fire in the morning. Papery bark, powder white, flecked in black, it's the first to burn, the trees the first to grow when the forest is leveled by fire or wind or flood. A leafless white birch forest sprawls, surrounded by snow, on an overgrown lot with a steel wire fence and a gray house. Down the road you can buy fresh eggs.
Birch smells sweet and musty when it burns. It was loaded into the trunk by me and my son two summers ago, picked up off the property of a man who had no use for the wood. He cut the dead tree on his land and left it alongside his property and let me take it in exchange for a can of apple sauce and some ginger chutney. His little boy and little girl played with my boy while I loaded it up, and they offered their toys and drew people and tic-tac-toe on the cracked driveway with sidewalk chalk. Now my son is in class with the little boy.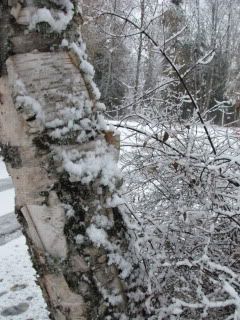 From where I'm sitting I can hear the lake. Like a low and constant wind, like leaves rustling, waves rolling in the wind and cresting icy mounds built up along the shore over the frozen winter. A thin dusting of new snow over top of the crunchy dense snow helps to make tracks from the house to the garage where the wood is kept. It keeps a temporary record of activity, sometimes bare feet in the snow. The cold isn't unpleasant and the smell from off the lake is always warm. White, dark clouds against the night sky show patches of clear blackness and stars where the clouds part, and the crisp bright moon shines through the thin clouds.
The shoreline is piled high with ice chunks carried in from the lake. Great, tall mounds of icy snow covered with snow and white floating islands stretch into the dark and undulating waters and sharp waves. The lighthouse is glazed with ice to show the directions of the wind.
Birch, oak, beech, maple, and sassafras wood is almost gone in a diminishing pile that has kept us warm through the winter. But in another month, Spring will begin to make itself known.