Also at The Albany Project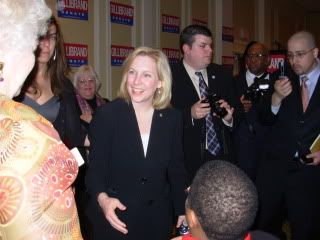 Harold Ford of Tennessee, Merrill Lynch, the DLC, NBC and the Park Avenue Regency will be giving the keynote address to the 39th annual Legislative Conference of the New York State Association of Black and Puerto Rican Legislators tonight.
He would be wise not to give a campaign speech about how NY needs an "independent Democrat" like him in the U.S. Senate, instead of a real Democrat like Senator Kirsten Gillibrand.
Gillibrand, unlike Ford, has been at the conference since early Saturday. This afternoon she hosted a brunch attended by about 400 people, gave a strong speech, and stayed around for almost an hour for photographs with supporters.
Details, below.
After remarks by Assemblyman Carl Heastie, chairman of the Bronx Democratic Committee, and Congresswoman Yvette Clarke, NY-11, Gov. David Paterson introduced Gillibrand by recalling why he appointed her.
Senator Gillibrand represents a region of this state that contains 40 percent of its population, but often is ignored.

snip

The upstate areas have always complained that they are left out of government services, ignored by government, and often not even thought of when decisions are made.

snip

So this why, when I had a number of great candidates, I chose someone from a region that hadn't had an elected Senator in over 60 years, hadn't even had an appointed Senator in over 40 years.

And now that region has a voice, not because I'm from that region, but I learned about what happens when government and the franchise leave people out.

In addition, there are now 17 women in the United States Senate. The female population of this country is at least 50 percent. So we are still one-third the way toward equity in the U.S. Senate.

snip

So it was my proud honor, on January 24, 2009, to appoint Kirsten Gilliband to the United States Senate.

And in this first year, ... she has come to our communities, she has learned about the issues she may not have learned about before, she has expanded her horizons, she is representing all the people, she cares about the people of New York, she is standing up, when we haven't gotten people to stand up on some of these issues, for the first time ever.

So we want to see her come back to the Senate for another term when we elect her Senator from the state of New York.
Paterson has some political problems of his own, but appointing the excellent Kirsten Gillibrand to the Senate is less and less one of them.
Gillibrand's speech was the best I've heard her give -- forceful and articulate, without notes, TelePrompters or reminders written on her hand.
Some highlights:
These are hard times, make no mistake about it, things are not better.

We may see the stock market rise, we may see big bonuses being given, but we do not see jobs being created.

We see 10-percent-plus unemployment, but real unemployment is far higher, it's 16, 20 percent.

snip

My grandparents on either side did not have an education. But because of good (Rockefeller) policies, ... my parents got to go to college, because they went to college, I went to college, because they had every opportunity to get educated, I had every opportunity to get educated.

snip

I will be your fighter. I will fight for you as hard as I fight for my own children.

I will fight for you in every battle we have in Washington because you deserve a voice.

I am going to be the voice of the voiceless. That is the Senator I want to be, that is the Senator I am.
Gillibrand mentioned that she had attended the conference's three-hour church service this morning (while Ford was doing his "political insider" thing on Meet the Press).
And she then spoke of the parable of the talents, commending people in elected public service for using their talents "to help people, to be a voice for change, and we have a lot of work to do, we gotta turn around the unemployment rate."
After her speech and photos with all who wanted one, I caught up with Gillibrand for some exclusive quote:
It's been an amazing weekend. I've been meeting with elected leaders from all across our great state. We've been talking about the tough issues that we're facing like high unemployment rate, lack of access to capital for small businesses, communities that are plagued with very tough environmental challenges which create health challenges like asthma, ... so we're working really hard to try to turn things around for all the communities in New York.

(So what's the response been like at the conference?) Very good. People want leadership, they want a strong voice that's gonna fight for them, and that's what I'm committed to doing.
Though Gillibrand is white and from upstate, it's clear why she has earned the endorsements of many black and Hispanic leaders from the city.
They recognize that she is working hard for their communities, as she does for all New Yorkers, from Buffalo to Montauk.
So if Ford disses Gillibrand as a "parakeet" who is beholden to Democratic "Washington and Albany political bosses" (like President Obama, who Gillibrand supports a lot more than Ford would) tonight, most in attendance will sit on their hands, and some may boo.
As will most voters, in the primary and/or the general this year.
FWIW, Ford may have the keynote tonight, but I saw literally no evidence of the Ford campaign at the conference hotel -- no volunteers, no lit, no reception, no buttons/signs, nothing at all.