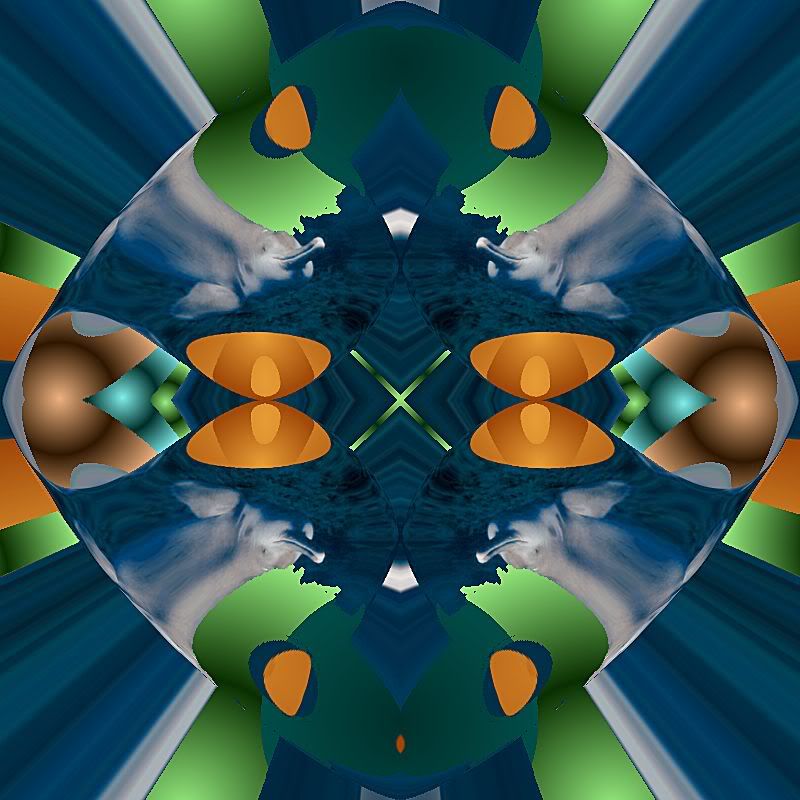 Item: Sea Lions Shot to Death Near Seattle
So far, five dead sea lions were found this past week and have floated onto shore.

One of the sea lions is a Steller sea lion which is listed on the federal Endangered Species Act. This species is not common in the Puget Sound.
This has made me feel extremely ill since I discovered the story. I had intended to write about it on Friday night before that other junk came up.
A later (and more in depth) story says that one of those animals was in fact a harbor seal, though it appears that in some stories the harbor seal is included in the description of the animals killed and in at least one story, there are 5 sea lions a harbor seal who were killed.
I had already intended to share this next piece in the series I had been doing about endangered species.
So I will.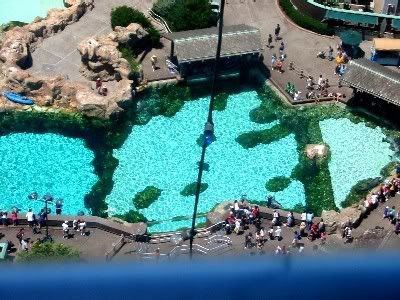 The scene to the left is a view from above of the exhibit called Rocky Point Preserve. The exhibit allows a person to get up close and personal with sea otters and dolphins. I've saved the dolphin picks for a later essay.
Today is about the sea otters and sea lions because they appear together in a play performed later: Clyde and Seamore's Risky Rescue™. There is nothing some people like more at a zoo or circus than seeing how clever other humans are at teaching some "dumb animal" how to do tricks to amuse humans. The play speaks to the craving of such people. I figure it could have been worse, however. The stars of this show also perform a take off of the Tonight Show called Sea Lions Tonight. We were spared that one.
One should always remember when one is in San Diego that above all else, it is a Navy town. Every public gathering seems to begin with a salute to the people currently in uniform, an invitation to veterans to stand (an invitation which I find I never accept), and an invocation of nationalistic pride and/or jingoism. In the case of Clyde and Seamore, the play has a naval theme.
At Rocky Point Preserve I made quite a few attempts to get photos of sea otters, animals I just adore. This guy was fast. I got just the one photo below to the left of the sea lion on the surface. It had a circuit. After surfacing for a backstroke or two, it would dive and swim a loop, exiting through a cave and tunnel which leads to another part of the pool, swimming towards the place where it would display the backstroke again. On the right is a partially failed attempt to catch my camera's prey just before it entered the cave...which results in a partial otter.
I did not take a photo of the lump laying in the sun which may or may not have been the spouse of the one who was playing.
Several attempts later I finally picked up the rhythm sufficiently to get a whole otter. Any resemblance to a torpedo is, I am sure, purely coincidental.
Sea otters are an endangered species. At one time there were 150,000-300,000 of them...before humans hunted them to near extinction between 1741 and 1911 for the luxurious fur, when their numbers had dwindled to between one and two thousand. A monumental conservation effort has restored them to two-thirds of their historic range, but some populations have recently declined or plateaued and they are constantly endangered by off-shore drilling and oil spills.
Sea otters are the largest members of the weasel family, which includes the weasels, of course, as well as both sea and river otters, badgers, wolverines, minks, sables, martens, ferrets, the tayras and grisóns of Central America, polecats and stoats.
Here's the entire otter scorecard, since I bet there are people like me who love their otters:
African Clawless Otter - Endangered

sub-Saharan Africa, except in the Congo basin and places with too little water; the oldest species of otter

Cameroon Clawless Otter - Least Concern

The Congo basin, and possibly other countries in western Africa

Cretan Otter - Extinct

European Otter - Near Threatened

Latvia, Norway, Great Britain, Italy; extinct in many other countries

Giant Otter - Endangered

Hairy-nosed Otter - Endangered

Thought to have become extinct, it was rediscovered in 2005, in two nature preserves in Vietnam, in a peat swamp in southern Thailand, in Sumatra, and at Tonle Sap Lake in Cambodia, where there is currently a captive breeding program

Japanese Otter - Near Threatened

Possibly extinct in Japan except for the island of Shikoku

Marine Otter (aka Gato Marino) - Endangered

Peru, Chile, Argentina, and the Falkland Islands

Neotropical Otter - Data Deficient

Central America, South America, and Trinidad

North American River Otter - Least Concern

Oriental Small-clawed Otter - Vulnerable

eastern India through southern China and Southeast Asia to Taiwan and The Philippines

Sea Otter - Endangered

northern and eastern coasts of the Pacific Ocean; particular vulnerable to oil spills

Smooth-coated Otter - Vulnerable

India to Southeast Asia; also seperate colony in Iraq

Southern River Otter - Endangered
--------Time passes.--------
Much later in the day we happened upon Clyde and Seamore at Show Time. Clyde and Seamore are sea lions who play members of the crew of a submarine.
We weren't told what species of sea lion these guys were. Odds are they were Californian.
Australian Sea Lion - Endangered
California Sea Lion - Least Concern
Galapagos Sea Lion - Endangered
Japanese Sea Lion - Extinct (probably 1974ish)
New Zealand Sea Lion - Vulnerable
South American Sea Lion - Least Concern
Steller (or Northern) Sea Lion - Endangered
The show starts out with a mime. As everyone knows, all the world hates a mime. Especially one dressed in a sailor's costume. But the dude interacted with children well, so it was only mildly annoying as a diversion while waiting for the crowd to enter and be seated.
It was the role of the woman sea lion trainer to play the junior officer of the USS Motley, a submarine ready for mothballs. Her assistant is Clyde (I think...never did quite resolve which was which), the smaller of our two sea lions. They did a few tricks while she explained the back story: Admiral Biggenbotham and his aide are missing. They have to be rescued and the Motley is the only boat available. But where, oh where, are the crew? They go to look.
In comes this golf cart disguised as a jeep, driven by the first mate in a Hawaiian shirt, with a lei around his neck, carrying Seamore (or Clyde?) in the back. They've been out having a little too much fun. Tricks. Tricks.
Eventually we get both sea lions on the stage with both trainers. Then we are left for just a minute with the first mate, who mentions being thirsty. An otter walks out on stage on its hind legs, carrying a bottle of Sierra Springs, hands it over to the first mate and then exits. Unfortunately, I missed the bottle carrying part...as I said, these guys are quick.
We all probably need a close-up on that last photo. A river otter is revealed. A Star is Born.
Much hijinx ensues. The otters turn out also to portray the bad guys.
We have weapons escalation until an otter pulls the chord on the cannon, causing the submarine to spring a leak. The audience thereby all get wet.
A dummy version of the mime is thrown from the very top of the set onto the stage below.
I'm ready for my close-up Mr. DeMille.
One of the sea lions swims over to pull a lever and turn off the water. Then a miraculous thing happens. Two walruses enter. They are awesome creatures. My Norwegian ancestors called them their word (hrossvalr) for "horse whale," which other people (okay, the Dutch, who were also some of my ancestors) reversed into "whale horse" (walvis ros).
Admiral Biggenbotham is the albino.
Walruses are not considered endangered (though the Russian Atlantic Walrus is listed as "decreasing" and the Laptev Sea Walrus is listed as "rare" by the Russians), except for the part about them living on the Arctic sea ice and ice shelves.
The extent and thickness of the pack ice has reached unusually low levels in several recent years. The walrus relies on this ice while giving birth and aggregating in the reproductive period. Thinner pack ice over the Bering Sea has reduced the amount of resting habitat near optimal feeding grounds. This more widely separates lactating females from their calves, increasing nutritional stress for the young and lower reproductive rates.
They are considered a keystone species in the Arctic ecosystem. They eat mollusks which they collect from the ocean floor.
Grand finale. Applause, applause. Off to the next exhibit.
If we had any smarts, we would have gone to hang with the sea lions and harbor seals. But it wasn't until we returned home from circumnavigating the entirety of SeaWorld - San Diego that we discovered that we missed its heart by not noticing Pacific Point and the sea lion and harbor seal communities.
Up next? Porpoises, manatees and a cast of thousands...