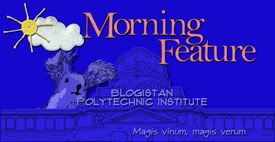 We've all seen the comic office sign: The beatings will continue until morale improves.
The religious conservative version would be: The beatings will continue until you are morally improved. After all, the Bible says "Spare the rod and spoil the child," and we're all children. Except it doesn't. And we aren't. But conservatism is a culture of sadism.
More below the fold....
The Beatings Will Continue, Part I - Spare the Rod
In his keynote address at the CPAC convention last week, Glenn Beck said progressives want to deny Americans' "right to fail." In the context of his speech about hitting bottom as an alcoholic, he clearly meant a "right" to suffer the worst possible consequences of any misfortune. This week Morning Feature will examine modern conservatism as a culture of sadism that sees the suffering of the less fortunate as a worthy goal - not merely a regrettable byproduct - of our political and economic systems.
Sadism is the (im)moral core of conservatism. Today we'll examine its religious rationale. Tomorrow we'll look at its economic rationale. Saturday we'll explore whether that (im)moral code worsens the social ills it claims to cure, and how we progressives must reclaim our nation's moral dialogue and compass.
Religious conservatives might argue that I must be depraved to say that motivating people with pain - "Spare the rod, spoil the child" - is an immoral basis for society. It's in the Bible, after all. Except it isn't.
But my preacher said....
Countless preachers have said "Spare the rod, spoil the child" in discussing Bible passages on parenting. James Dobson, founder of the conservative religious movement Focus on the Family, devoted a book to it titled Dare to Discipline. In the book he writes that "pain is purifying" and that parents should spank their children hard enough to make the child cry. An Oklahoma couple even designed and marketed what they claimed was the Rod described in the Bible: a 22-inch, nylon cane which they claimed provided "a faith-based way to discipline children ... and train them as Christians." Their advertisement in homeschooling magazines and other religious publications read:
Spoons are for cooking. Belts are for holding up pants. Hands are for loving. RODS are for chastening.
In fact there are several verses in the Book of Proverbs that mention child discipline, though none that says "Spare the rod, spoil the child." Several verses use the Hebrew word shebet, which conservatives translate as "rod" but which can also mean "authority." As a commentator noted, the Biblical "rod of correction" - like "the long arm of the law" - is a metaphor for the parental duty to instruct, which is the root of the word "discipline." To take it literally makes as much sense as requiring that police officers and judges have exceptionally long arms.
So if "Spare the rod, spoil the child" isn't in the Bible, who wrote it? Samuel Butler, in a 17th century poem about the English Civil War. And even if this were the Biblical phrase, it does not imply the less fortunate in society should be allowed to suffer because they have a "right to fail." For that, rigorous religious conservatives turn to St. Paul.
The potter and the clay.
In his letter to the church in Rome, Paul wrestled with one of the most vexing questions in Christian theology. If God is omniscient and loving, and if the faith that brings salvation is "a gift of God" for which man cannot claim credit, why doesn't God give that faith to everyone? Paul writes:
One of you will say to me: "Then why does God still blame us? For who resists his will?" But who are you, O man, to talk back to God? "Shall what is formed say to him who formed it, 'Why did you make me like this?'" Does not the potter have the right to make out of the same lump of clay some pottery for noble purposes and some for common use? -- Romans 9:19-21 (NIV)
Religious conservatives expand that idea to include our lives here on earth as well. The few who are born or become wealthy are not merely fortunate. They are favored by God, "pottery" made "for noble purposes," as compared to the rest who were made for "common use." The King James Version - favored by religious conservatives - uses starker language:
Nay but, O man, who art thou that repliest against God? Shall the thing formed say to him that formed it, Why hast thou made me thus? Hath not the potter power over the clay, of the same lump to make one vessel unto honour, and another unto dishonour? What if God, willing to shew his wrath, and to make his power known, endured with much longsuffering the vessels of wrath fitted to destruction. And that he might make known the riches of his glory on the vessels of mercy, which he had afore prepared unto glory. -- Romans 9:20-23 (KJV)
Here the vessels aren't merely "for common use," but for "dishonor ... vessels of wrath fitted to destruction." In the religious conservative view, the less fortunate needn't have done anything wrong to deserve pain. God created them to suffer, in order to "shew his wrath" and "make his power known." And if we mere mortals interfere with that....
Magical thinking, propitiation, and pain.
In October, 2008 I wrote about the doctrine of propitiation in the context of the culture war. Dominion theology, the dominant belief in religious conservatism, teaches incomplete propitiation: that the death of Christ on the cross was not enough to balance all past, present, and future sin. Instead, God still demands punishment and will crush societies who sin or who tolerate sin. Thus our nation's social and economic challenges are punishment for our tolerance of "sins" like abortion, homosexuality ...
... and denying the less fortunate their God-ordained "right to fail." A society that tries to relieve the suffering of the less fortunate interferes with God's divine display of anger and power. The Great Recession is God's punishment for our not allowing the less fortunate to starve in the streets as God intended.
That's what Glenn Beck meant last week when he said: "This is the disease in America. It's not just spending, it's not just taxes, it's not just corruption. It is progressivism."
As religious conservatives see it, America's moral problem is that we're just not cruel enough.
+++++
Happy Thursday!