Beloved Kossack, cskendrick, is gravely ill with an infection that created a huge abscess and which will require three to six weeks of IV antibiotics. He had surgery yesterday to drain the abscess and is much improved – but he is going to be laid up in the hospital for quite awhile and could use some community quilty messages to support him as he heals. Uplifting messages are powerful medicine -- let's help our friend out!

Predictor's quilt, in a hoop for hand quilting
Think of the community quilt (or "love catcher" as it was dubbed by dallasdoc) as a giant, cuddly, group get well card – one that will last and give pleasure and warmth to cskendrick and his family for years. Your loving message, left in a comment below, will be transcribed by me in archival ink on muslin and sewn into something he will treasure.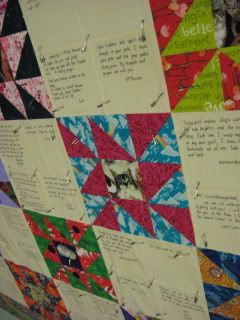 detail of luvsthoroughbred's quilt, basted for quilting
The quilt will cost about $5/message to make -- about the cost of sending a card per person. If you can contribute, here is a PayPal link – or email me for a snail mail address if you prefer to write a check. It would be helpful to get all the necessary money and donations in tonight so that it is not necessary to put up a second diary – this man is very ill and my sister and I are going to push to get this blanket done right away. If any extra is collected, I will put it toward Lorikeet's quilt.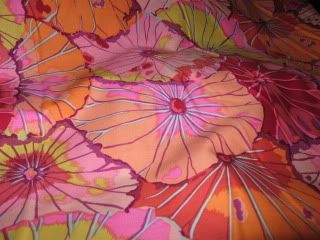 fabric by Kaffe Fassett used to back luvsathoroughbred's quilt
To date, the following community quilts have been made and shipped:
othniel (cellulitis and ensuing complications)
exmearden (cancer of heart and lung)
MsSpentyouth (brain tumor)
Moe99 (lung cancer)
Michelle Caudle (ovarian cancer)
BFSkinner (lupus)
Kitsap River (waiting for kidney donor)
Frederick Clarkson (blood clots)
Dreaming of Better Days (lymphoma)
one bite at a time (lost house and belongings to fire)
Timroff (cellulitis)
Sol Fed Joe (multiple cancers and health problems)
Brubs (AIDS, immune reconstitution syndrome)
rserven (gall bladder infection with dangerous complications)
grndrush (brain tumor)
ImpeachKingBushII (needs liver transplant)
andsarahtoo (lupus)
Frank Cocozzelli (muscular dystrophy)
luvsathoroughbred (breast cancer)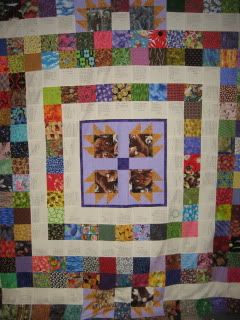 Predictor's quilt top -- it's huge!
Predictor's quilt is completely hand quilted in the center and tied in the body – only bear paw blocks on the border need quilting now. Austex54's quilt is on the design wall now. Messages are still needed for Charles CurtisStanley's quilt (he is Kitsap River's husband and caretaker) and messages and donations are still needed for Lorikeet's quilt. Lorikeet is in chemotherapy for cervical cancer right now and we want to get her quilt out the door, too – so if you can contribute messages and/or donations for her quilt, it would be appreciated so much.
Future quilts are planned for:
Keith Olbermann (caretaker to father)
MA Liberal (caretaker to her mother who has dementia)
dadanation (AIDS) 

Louisiana1976 (fibromyalgia, severe arthritis, depression)
DrLori (cancer)
ramara (cancer survivor)
FLRealist (recovering from a kidney transplant) 

Namaste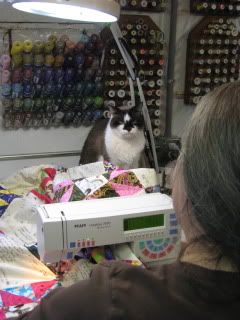 Dusty supervises Ann as she quilts luvsathoroughbred's love catcher