KosAbility is a community diary series posted at 5 PM ET every Sunday and 8PM ET on Wednesday. It's a gathering place for people living with disabilities, our families and friends, and interested others. Volunteer diarists offer specific knowledge and insight on a topic they know intimately. We invite you to comment on what you've read and/or ask general questions about disabilities, share your own knowledge, tell bad jokes, post photos, or rage about the unfairness of their situation. Our only rule is to be kind; trolls will be spayed or neutered.

Our diarist this week is FogCityJohn.
Good evening, my fellow Kossacks. FogCityJohn here, and I'm very pleased to be tonight's guest writer. As a person with HIV, I thought I could contribute something by writing about the disease I live with. Because HIV gives rise to a whole host of health complications, I decided to focus on just one of the conditions associated with the disease. That condition is known as "lipodystrophy." It doesn't affect all people with HIV, and its severity varies widely among patients. Still, it's a significant problem in the poz community. To learn more, read on.
I. What is Lipodystrophy?
The term "lipodystrophy" refers to abnormal changes in body fat and/or body fat distribution. ("Lipo" meaning fat, and "dystrophy" meaning abnormal growth or change.) In the context of HIV, lipodystrophy generally encompasses two processes that will sometimes, but not always, occur simultaneously in a patient.
One is called lipoatrophy, which, as the name implies, is a loss of fat. You will sometimes hear the term "peripheral lipoatrophy" because patients experience a progressive loss of fat in the body's extremities. They lose subcutaneous fat in their arms, legs, face, and buttocks. Facial lipoatrophy can be quite disfiguring, with the patient developing sunken cheeks and temples and deep naso-labial folds. This is the look that is sometimes derisively called "AIDS face." Here is a picture of a person with facial lipoatrophy: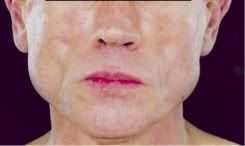 The loss of fat generally also affects the limbs and buttocks. As it progresses, the arms and legs will become thinner and the muscles will become more prominent. Veins in the limbs will also become more visible, a process sometimes referred to as "roping."
The other process is lipohypertrophy, which refers to an excessive growth of fat. This is often seen in the abdomen, where the fat accumuates beneath the abdominal muscle wall. HIV+ women will often see a gain in breast tissue. Fat buildup is also seen around the neck (sometimes called "horse collar") and on the back of the neck (often called "buffalo hump"):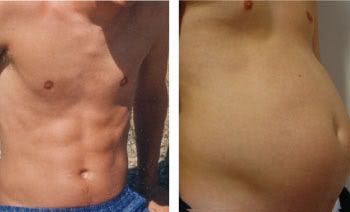 (Before and after picture of abdominal lipohypertrophy)
(So-called "buffalo hump")
You can find a good introduction to lipodystrophy, complete with pictures, in this video.
II. What Causes Lipodystrophy?
The truthful answer is that no one knows what causes lipodystrophy. The conventional wisdom is that it's caused by certain antiretroviral drugs. There is certainly a correlation between lipoatrophy and drugs in the nuceloside reverse transcriptase inhibitor class, such as Zerit (stavudine). There also appear to be links between the use of certain protease inhibitors and the development of abdominal lipohypertrophy. Nevertheless, I can personally say that the drugs aren't the only cause, because I developed lipodystrophy despite the fact that I wasn't taking any antiretroviral medication, so HIV infection itself clearly plays some as yet undefined role.
III. How Is Lipodystrophy Disabling?
Lipodystrophy causes a number of problems for HIV patients. First of all, it is unsightly, and many patients with serious cases of lipodystrophy experience severe depression and social withdrawal because of the stigma associated with looking like you have HIV. This is particularly true in patients with severe facial lipoatrophy. Some patients may even stop taking their antiretroviral medication because of the disfigurement lipodystrophy causes. Other patients are reluctant to initiate therapy because they fear developing the condition. Obviously, this is a significant public health problem because antiretroviral therapy must be taken daily without interruption to ensure that HIV does not replicate and mutate to become resistant to the medications used.
Second, lipodystrophy causes a number of very practical problems for those who have it. Severe fat loss makes your body more vulnerable to things like cold and shock. Most healthy people spend so much time trying to lose body fat that they overlook what an important role body fat plays in our lives. It insulates us against cold, and it cushions the body from shock by providing padding.
What does this mean in practical terms? Well, for one thing, my lipoatrophy has caused me to lose the fat pad on the bottom of my feet. I therefore can't walk barefoot because I'm basically just walking on the bones, tendons, and nerves on the soles of my feet. I now have orthotic inserts that I have to wear in my shoes to correct the problem. If I hit my hand against my desk, it's extremely painful, because the skin lies right on top of the bones, and there's nothing to cushion the blow. (Imagine that each time you hit your hand or your arm against something, you hit your "funny bone." That's kind of what it's like.) I can't open new jars or bottle caps for similar reasons -- the lid or the cap feels like it's cutting directly into the tendons in my hand. Sitting on hard surfaces becomes uncomfortable after only a few minutes, because my buttocks has lost its padding. I get funny looks in church because I'm squirming on the hard, wooden pew. I can't even brush my hair anymore because the skin on my scalp is so thin. (Luckily, I'm balding, so this isn't a big problem.)
Lipohypertrophy can cause problems on its own. Patients with severe abdominal lipohypertrophy can experience respiratory distress, because the fat in their abdominal cavity crowds out the space for the lungs and other organs. This makes even ordinary physical exertion difficult, and it can leave a patient gasping for breath. Fat around the neck can lead to problems such as sleep apnea. On top of this, the accumulation of visceral fat (the fat beneath the abdominal wall) significantly increases the risk of cardiovascular disease.
In addition, lipodystrophy is generally associated with the development of metabolic syndrome, a condition in which a patient will develop elevated levels of cholesterol, high triglycerides, decreased insulin sensitivity. So secondary to lipodystrophy, doctors are seeing patients developing conditions that put them at risk for heart disease and diabetes.
IV. My Personal Story
I'm a regular blogger over at TheBody.com, one of the largest web sites devoted to HIV, where I've devoted an entire post to my liopdystrophy experience. In brief, my own lipoatrophy probably began shortly after I seroconverted, but I did not notice it until more than a year later. Researchers say that a patient has to lose somewhere between 30 and 40 percent of his peripheral fat before he'll be deemd to have "clinical lipoatrophy," which they seem to define as lipoatrophy noticeable to the casual observer. The process is slow, and it came to my attention when friends started asking me whether I'd lost weight (I hadn't), and I began to see subtle changes in my face.
Thus began my desperate search for some kind of treatment for the condition. At the moment, there isn't any cure or therapy for lipoatrophy, although there are cosmetic filler treatments that can fill things like sunken cheeks and temples. They can even plump up your skinny butt! So I've now had a number of treatments on my face, the backs of my hands, and my buttocks to replace some of the lost fat. The treatment I selected, which uses a product called PMMA (polymethyl-methacrylate), a substance that has been used in medical applications in the human body for decades. The procedure involves the injection of microspheres of PMMA beneath the surface of the skin. The body reacts to the presence of these foreign microspheres by encapsulating them in collagen, and the buildup of collagen then fills out the sunken areas. I'm glad to have been able to afford the treatment, but trust me, it's no tea party. It leaves your face swollen and bruised for days, and when you have your butt done, you can't sit down for 48 hours.
Since I've gotten the treatment, no one would likely notice that I've had facial lipoatrophy. And in some ways, my face looks "better," because it has fewer wrinkles and less sagging than I had even before I got lipoatrophy. Still, I guess the most disturbing thing about the condition is that I no longer look like me to me. The face in the mirror now looks like just a facsimile of my "old" face. It's a jarring change, and one that's taking a lot of getting used to.
* * *
If you've gotten this far, thanks for reading. I hope this has proved enlightening. Perhaps at some later date I'll try covering some of the other disabling conditions HIV can cause.
Note from your Wednesday KosAbility hosts: FogCityJohn lives and works on the west coast, and has warned us that he regrets he will be late arriving to join the discussion at our scheduled publication time. He will log in as soon as he is able, probably around 9:30 EST, 6:30 Pacific, his time zone. In the meantime, Sarah (andsarahtwo) and I (jgilhousen) will be here to chat with you, although neither of us have John's obvious expertise on the subject of living with HIV.

We would ask that you not post any replies to the automatic Tip Jar, as we want to reserve that space for John to post a Diarist's tip jar upon his arrival. Until then, please consider this an "open thread" for any topic related to living with a disability.

-- John-Mark +