When Lorikeet wrote about the return of her cancer, there was an enormous outpouring of sympathy. I am looking for some uplifting messages from you to her to put in a "love catcher" blanket that she can use while in chemo, and which will cheer her in the years to come.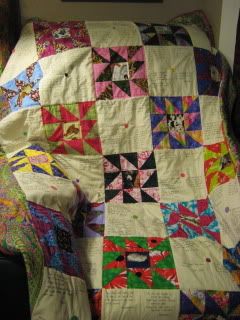 luvsathoroughbred's quilt – Lorikeet's will be this size
We currently have 28 messages which I will transcribe onto muslin and heat set for permanence. I will need a total of either 68 or 72 to make the pattern I have in mind. If you have not already left a message for Lorikeet, please do so in the comments below.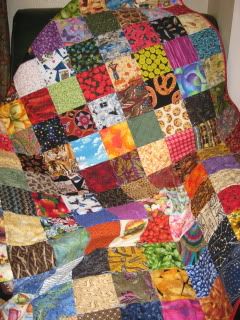 Theodore Olbermann's lap throw
Here are some samples of messages we have:
Hugs and healing for our Lorikeet Audri

Let our love warm you as much as your words warm our hearts.XOXO, 
earicicle

We send you comfort, peace and healing 
Wrapped in warmth and stitched with love. BlackSheep1

Dear friend, In these days of winter mercies, know the blessings of love that will warm you through your struggles. murphy

Sending good wishes & healing thoughts your way. Be well! – Vacationland

Lorikeet - what a journey we are on. May this quilt wrap you both in love and well-being. 
exmearden

Fear is your enemy. 
We at Daily Kos can help you fight your fears. 
Come talk with us any time. bigjacbigjacbigjac

You too shall be a survivor. mahakali overdrive

Dusty supervises work on Predictor's quilt
To date, the following community quilts have been made and shipped:
othniel (cellulitis and ensuing complications)
exmearden (cancer of heart and lung)
MsSpentyouth (brain tumor)
Moe99 (lung cancer)
Michelle Caudle (ovarian cancer)
BFSkinner (lupus)
Kitsap River (waiting for kidney donor)
Frederick Clarkson (blood clots)
Dreaming of Better Days (lymphoma)
one bite at a time (lost house and belongings to fire)
Timroff (cellulitis)
Sol Fed Joe (multiple cancers and health problems)
Brubs (AIDS, immune reconstitution syndrome)
rserven (gall bladder infection with dangerous complications)
grndrush (brain tumor)
ImpeachKingBushII (needs liver transplant)
andsarahtoo (lupus)
Frank Cocozzelli (muscular dystrophy)
luvsathoroughbred (breast cancer)
Predictor (stroke and HIV)
Theodore Olbermann, RIP
austex54 (caregiver to othniel)
Messages are still being collected for Charles CurtisStanley (Click here to leave a message.) Cskendrick's quilt has been tied needs a little quilting – we'll be focusing on finishing it next and hope to have it shipped Wednesday. I have begun writing out the messages for Keith Olbermann's quilt. We hope to have it finished by the end of the week.
The costs of Lorikeet's quilt are covered -- as are Keith Olbermann's. But someone always asks where to donate -- to pay forward toward MA Liberal's quilt, please use this PayPal link or email me for a snail mail address.
Future quilts are planned for:
J, partner of Newpioneer (HIV+ and cancer)
DrLori (cancer)
MA Liberal (caretaker to her mother who has dementia)
dadanation (AIDS) 

Louisiana1976 (fibromyalgia, severe arthritis, depression)
ramara (cancer survivor)
Ellinorianne (rheumatoid arthritis and fibromyalgia)
UnaSpensor (Lyme disease)
FLRealist (recovering from a kidney transplant) 

Namaste