WELCOME TPM READERS! This diary has fallen off the radar, so please visit the new one for the latest updates on the Pelosi Rose Campaign progress; we're up to over 1,050 roses as of 9:00am on Wednesday!
This Friday, March 26 happens to be Nancy Pelosi's 70th Birthday!
Given how much serious ass she kicked in herding cats, twisting arms and otherwise corralling 219 Democrats into passing the most sweeping (if flawed) overhaul of the U.S. healthcare system in 45 years, I thought it would be a great idea to do a repeat of the famous 2004 Barbara Boxer Rose Campaign to celebrate Speaker Pelosi's 70th birthday.
So, I took the easy route: I simply contacted the same national florist delivery service that was used 6 years ago, got a callback from Tina at Coast to Coast Florist, and lo and behold, we're all set!!
SO, here's the deal:
Coast-to-Coast Florist is gonna give us the same special pricing that they gave for the Boxer campaign: Just $10 to send 3 roses direct to Speaker Pelosi's Washington D.C. office!
To add your order, simply call: 1 866 596 1860. You can send more than 3 roses, but it's a flat $10 per batch of 3. They'll take your name and credit card info, and you'll be all set.
They can take orders right up through Thursday evening. All roses will be delivered to her D.C. office on Friday, as a combination Thank You/Happy Birthday from those of us who admire her amazing accomplishment in pulling this thing off.
Other ways to say thanks:
Join the facebook group wishing Speaker Pelosi a happy birthday and thanking her for healthcare reform. (Must log in after following link.)
Write her a thank you note.
Donate money to the Speaker.
Donate to other candidates that supported HCR. If you're not sure who needs support this diary will help.
Update: A FAQ based on questions from yesterday's thread:
How many roses are we up to, and will you keep a tally?
--as of 8pm last night, we were up to 132 roses. I'm supposed to hear from them this morning with an update, and will check in from time to time through Thursday evening. For comparison's sake, for the Barbara Boxer campaign, a whopping 4,500 roses were sent! I'm not saying we should try and beat that number, just mentioning it for interests' sake :)
How about the wording of the card, the timing of the delivery to her office and so forth?
--I'm supposed to discuss these things with the florist on Thursday afternoon. They wanted to wait until then to get an idea of how many roses will actually be delivered--if it's a couple hundred, it's one thing; if it's several thousand ala Boxer, it would require more coordination (for instance, we'd almost certainly have to give one of her staffers a heads up before cramming thousands of flowers into the cubicles lol).
Are you gonna notify the press?? This could be a huge P.R. thing for the Speaker!
--On Thursday I'll also discuss the press notification situation with them. If it's only a few dozen, no one (besides her and her staff) will care, but if it's a zillion roses, the local news loves stories like that. It'd be a great P.R. thing for her as well, showing that, contrary to what the press (and GOP) would have you believe, there are plenty of people who want HCR and who support Nancy Pelosi . No doubt the florist will appreciate the free publicity as well!
Can I place my order after hours?
--Yes, Coast to Coast has made arrangements to accept orders 24 hours a day through Thursday evening, so you can call in your order any time between now and then!
Can I use PayPal?
Not for this particular campaign. Again, I'd just call them up at 1 866 596 1860.
What about an order receipt?
From Coast to Coast:
"If they want a receipt they just have to let us know and we can email it right away."
It sounds like they're a fairly small operation, but they're extremely responsive, and they're legit (feel free to check their site; they even still have the "Barbara Boxer" thank-you response page posted.)
Plus, in their "hold" phone ad voiceover, they mention that "Our mission is to say "Yes we can!" to our customers." Draw your own conclusions lol...
--An amusing update: The florist has even linked back to this diary on their official Facebook page!
I never actually mentioned Daily Kos, so either one of you guys mentioned it or they remembered the connection from the Boxer campaign :)
(or perhaps they're on dKos themselves...)
--I also wanted to give a special thank you to wide eyed lib who donated her own daily diary to me for this cause yesterday (I had already used up my own daily diary for a silly "Pelosi looks hot!" diary in the early hours of the morning).
(Update x2: They also gave an option for emailing your order in, but since using email for credit card info is quite insecure, I've removed the link; just call your order in, it only takes a minute or so, thanks!)
Update x3: Just heard from the florist, we're up to 216 roses so far! (FYI: Last night there was a misunderstanding about the number; at the time, it was 90 roses, not 90 orders (of 3 apiece); thus the mistaken '270 roses' number; sorry about the confusion).
Update x4: For those who have pointed out that, as nice as roses on her birthday are, donating to her campaign would be a more practical/useful thing to do with our money, I say this: Yes, you're probably correct, and yes, I strongly urge people to also donate to her re-election fund--or to other deserving candidates--but it never hurts to also show a non-financial gesture of thanks to someone who's doing their job well.
Plus, assuming I'm able to get some media coverage of this, how much would the free positive P.R. worth? That's not why I'm doing this, but it certainly wouldn't hurt. :)
Also, some have questioned the wisdom of "wasting" so many roses. All I know is that Barbara Boxer ended up donating hers to the Walter Reed Medical Center. I presume that the Speaker's staff will do something similar, although I haven't contacted them yet.
Update x5: As a follow-up to #4 above, I just checked to see what the story is on her own campaign situation. I'm happy to say that she won her seat with 63% of the vote in 1987 (special election), and has never gotten less than 71% of the vote since (as high as 86% in 1998!).
HOWEVER, she does have a GOP challenger this year, a guy named John Dennis, who is hoping to have his own "birthday present" for Speaker Pelosi: He's arranging for his own fundraising money bomb on her birthday.
This would be a cute idea, except for two things: First, it's pretty inappropriate to refer to "send a bomb to Pelosi for her birthday" even if it's a "money bomb" fundraiser for himself.
Secondly...He seems to have the wrong date!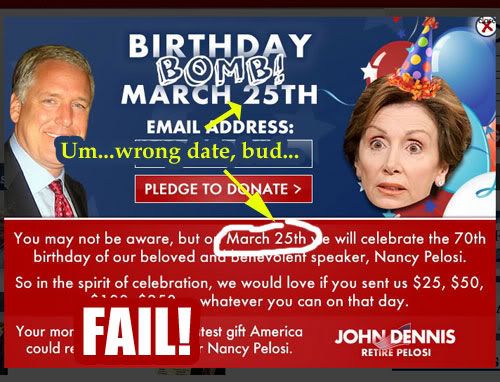 Plus, of course, Michael "off the hook!" Steele has decided to devote the entire RNC website to a "fire Nancy Pelosi" fundraiser (not gonna link), so adding a few bucks to the Speaker's campaign couldn't hurt.
Oh, and to counter the mocking photo above, here's a much nicer shot (from just after Sunday's historic vote):
Update x6: (Changed title back to "Rose Campaign" since "Rose Bomb" may sound a bit menacing, now that I think of it)
Also, I just heard, we're up to 300 roses so far!!
I should also note that yes, I'm well aware of the wingnuts' tendency to personally attack ANYONE who does ANYTHING to assist Democrats, so no, I won't be surprised if Michelle Malkin decides to egg my house or whatever for... sending flowers to a grandmother for her birthday. Because, you know, that's blasphemy!
Update x7: At the suggestion of someone in the comments, I just checked with her D.C. office to make sure that it'll be open on Friday (you never know...). Yes, it will (I didn't bother asking whether the Speaker will actually be there, since her schedule is probably a bit fluid at the moment, but the office itself will be open).
That's a relief...it would've looked pretty stupid to deliver a ton of flowers and not have anyone there to accept them...especially if the press shows up...
Update x8: H/T to Eclectablog for his own diary calling attention to John Dennis' "Send Pelosi a bomb"campaign, which, if you think about it, is pretty inappropriate even if he's talking about a "money bomb" fundraiser for himself.
Plus, again, the fact that, you know, he has her birthday wrong.
Update x9: As an aside, I just wanted to post a link and quote from a site which has done an excellent job of summarizing not just how good Nancy Pelosi is at her job, but which also highlights the political realities of Congress--and why we might want to think twice about tearing into some of the "No"-voting Democrats too badly:
"Even cursory inspection of the 34 House Democrats who voted no on the health-insurance bill shows that with a couple of exceptions, they come from very red districts measured by PVI, Obama's percentage in 2008, and Kerry's percentage in 2004. Almost assuredly, they had Nancy Pelosi's permission to vote no to save their own seats as soon as she was able to come up to 216 or 217 votes. She ultimately got 219 votes to provide a little margin for safety and also to make it impossible for Republicans to attack any of the yes voters with: "If you had voted no, the bill would have been defeated." Here is the list sorted by PVI.

"That Democrats can manage to win R+20 districts, as Chet Edwards and Gene Taylor have done, is something of a miracle, and Pelosi clearly didn't want to saddle them up with unnecessary baggage. Artur Davis is running for governor of Alabama, so he clearly needed a pass on this one and Stephen Lynch and Dan Lipinski voted against it because it didn't go far enough. That leaves only about five representatives, from McMahon to Barrow, all in swing districts, who might have voted for it and gotten away with it, but Pelosi didn't need their votes so she let them do what they thought was best for reelection."
Now, only Nancy Pelosi knows for certain whether the above assessment is true or not. My guess is that for the most part it is. That's a huge part of the Speaker's job: Knowing exactly how many votes she can squeeze out of a particular vote.
The E-V website also has some other interesting points to make, in hindsight, about the whole process; it's worth a read. I actually think the E-V guy does a better job with his analysis essays than with his actual polling predictions, which are done far more effectively by Nate Silver at 538.
Update x10: We're up to 363 roses so far!
Update x11: Closing in on 400...
Update x12: Just broke through 500 roses!! Spread the word!
Update x13: Over 600!!
Update x14: I just wanted to reiterate: Some people have asked me to "make sure" that Speaker Pelosi is physically in her office when the roses are delivered. Unfortunately, her staffer just told me that while the office definitely will be open on Friday, there's no way of knowing when/if she'll stop by--she has a pretty busy schedule, after all, or perhaps she'll have taken off to spend her birthday recovering. Who knows?
However, I was at least able to confirm that someone will be there, and to give him a heads' up that "quite a few" flowers are being delivered Friday as a surprise birthday gift (so don't tell her!). Of course, in the age of Twitter and Facebook, the odds of it being a surprise are pretty slim, but what're ya gonna do...
Also, someone suggested a Thursday delivery instead of Friday to catch the better news cycle, make sure she's in town, etc. My response is...not a bad idea, but at this point I'm not gonna fiddle with the timing. For all we know she'll be out of town on Thursday instead. Plus, the florist has already started making arrangements for delivery--I'm not gonna ask them to muck it all up. Remember, the main point of this isn't the P.R. value, it's just to thank the Speaker.
Besides, roses should last a few days :)
Update x15: Over 700!!
Update x16: Over 800!!
Update x17: Coming up on 900...can we break 1,000 by the end of the day?
Update x18: Latest update: We're at 957 roses!!
NOTE: THIS IS THE FINAL UPDATE FOR THIS DIARY, SINCE IT'S FALLEN OFF THE REC LIST; BE ON THE LOOKOUT FOR A REVISED VERSION SOON, AND MAKE SURE TO REC THAT ONE UP AS WELL!

LET'S KEEP THIS ON THE REC LIST RIGHT UP THROUGH THE FRIDAY DELIVERY!!