(From TWD)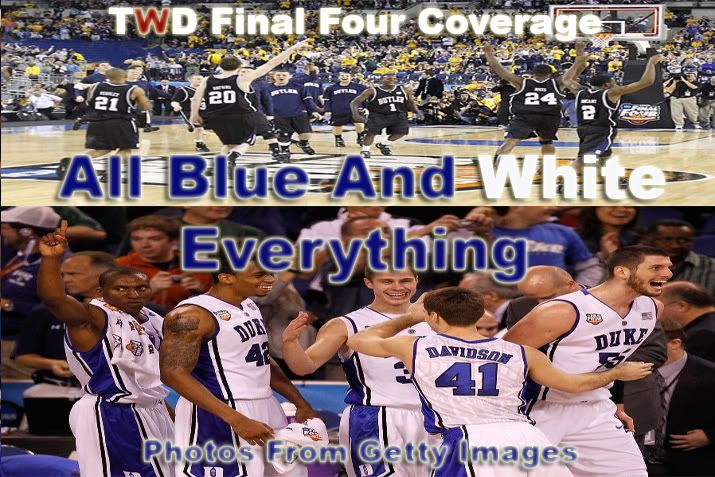 180 degrees difference of two comparative points means that they are total opposites of each other. They are directly reside at each other's maximum alternative position, representing an ideal contrast.
It can't be stated enough that this year's installment of the Final Two Title Game in men's basketball represents 180 degrees. But in regards to the play on the court, and the hopes of an entire state (along with a nation of temporary bandwagoning supporters), 180 degrees does not seperate the two participants.
And there could be no separation at all after night's end.
And there could be no separation at all after night's end.
That is the hopes of coach Brad Stevens and his Butler Bulldog team, as they look to make history and win their first national title tonight in as many appearances against one of the most recognized teams (and definitely the most polarized) in the sport, Duke.
Mike Krzyzewski has stood in benevolent awe of how Stevens has become the hottest coach in the nation, guaranteed to get a massive payday either with the Horizon League powerhouse or an even bigger national platform. But Stevens knows that to be even utter in the legendary annals of "Coach K" is a dream come true for the 36 year old going on 18 with his looks, and 63 years on his coaching mastery so far.
Funny enough, that is the age of the Duke pedagogue, highlighting another great direct contrast of these two sideline masters.
But there isn't that much separation between these two teams on their road to the final.
Both of these teams were preseason Top 11 in the polls , with a few like ESPN's Pat Forde predicting from the inception of play in November that Butler would be playing in their hometown in April. But that will sadly not eviscerate the annoying "Butler is Hooisers" comparison that has be prevalent from most casual fans throughout the weekend to describe the Bulldogs, no matter how much quality Dave Zirin gives in attempting to do so.
Most importantly however is the simple fact that these two teams are the last standing. Slated to be the number one seed most vulnerable before the brackets were made, the Blue Devils instead got a favorable bracket of matchups that were suited to them. But when it came time to deal with adversity, they did just that in beating a dangerous and veteran Baylor team in Houston to win the Midwest Region and advance to Indianapolis.
Being the last top seed remaining, the confidence of Coach K's club was on display in the second National Semifinal, as 13 three's and tenacity on the offensive boards were the difference in handling a West Virginia team out played in every faucet, and devastated by the loss of DaSean Butler in the middle of the second half. The 78-57 will made most of the nation sigh, as the Dukies were on the verge of their first title in nine years.
Standing in there way however will be all of Indiana, if not all of America outside of Durham, North Carolina, as the bulldogs are without a question the sentimental favorite. After an up and down non-conference season in November and December, most (including yours truly) figured that despite their undefeated dominance in the Horizon league, the Bulldogs could be susceptible to a dangerous first round game and crash out of the tournament.
That dangerous first round game was against Conference USA's emphatic regular season champions UTEP, and the El Paso outfit was up on Butler by 6 at halftime of that contest. But behind the leadership of standout Shelvin Mack's hot shooting, Butler propelled to overwhelmed UTEP in the second half and win by 18. Another dangerous fellow mid major in Murray State was also capable of knocking them out, but the bulldogs held strong to win by 2 to advance to the regionals.
And there did Butler show people why Forde and a few others were wise to seriously choose them to reach college's basketball grandest stage. A Syracuse team finally feeling the lost Arinze Onuaku was felt, but butler held strong to survive the Orange's comeback and advance to the regional final. And in that contest with Kansas State in Salt Lake, it was once again the combination of Mack and Gordon Hayward that propelled them back home to a week long happy prep of playing at home.
But the key characteristic of Butler's run hasn't been their shooting, but their defense of the other team's shooting. Their zone has been masterful all tournament, and it was on display in a classic battle with Michigan State in Saturday's first game. 52-50 was the final score, as Butler "outphysical" the always physical Spartans, as Tom Izzo stated in the post game press conference.
And with that, 180 degrees difference is evaporated into thin air for several hours between these two schools. Will it last afterwards is the defining question.
The full keys of the game and who will win comes in a second folks.
------------------------------------------------------------------------------------
Here are the simple keys....
Matt Howard vs Brian Zoubek: This is the key to the game in my mind. Can Matt Howard play his best game of the season and limit Brian Zoubek on the boards. Butler's zone has been outstanding this entire tournament, and they were more physical than Michigan State of all physical teams on Saturday.
But Howard didn't play that much two nights ago, with only 15 minutes because of foul trouble. Howard has to be the inside presence and #3 scorer tonight for Butler to win their first title. Even more so, he must limit Zoubek's ability to get offensive rebound after offensive rebound to his gunning teammates putting their three point attempts in the basket.
Shelvin Mack and Gordon Hayward have to play like all Americans:
Simple as that. These terrific performers have to play up to their level for the upset to take place. And Hayward, who is the best pro prospects on the court and the entire weekend, will definitely need to do so with Kyle Singler probably guarding him.
Tempo
Butler has got to make this a digfight and contain Duke form the perimeter with their zone.
Prediction: To me, I really think that if Howard can join Mack and Hayward and offset Duke's Big 3 "S" of Smith, Singler, Scheyer, that thye can pull of the upset. And I think they can.
Duke won't shot better than they did against West Virginia, and this is the first time all season when they are expected to win the title.
I say all mid majors will rejoice, as Butler will pull of the upset and host the title for the first title in school history.
-----------------------------------------------------------------
Folks, you can already see why Matt Howard is the key in this game.......he can get his shot and has the skills to hurt Duke. But he has to make layups, and he's not doing that now.
Gordon Hayward showed there why he is the best prospect on the court, with that put back.
As you can see so far, the tempo is a little fast, but Butler has the ability to play fast when they shoot well from beyond the arc....they have so far.
Largest lead for Duke, as Butler miss Beasley is not hitting his 3's and Duke combo of Scheyer and Singler make them pay...26-20 Duke right now.
Butler comes back with a 7-0 run as Jukes off the bench makes it 27-26 Butler, before Smith's floater falls. to give
Jukes has been nothing short of outstanding off the bench with 10.
33-32, Duke at the half, as both teams have showed why they have reached the ultimate stage.