Please rec this diary from Kalmoth which links back here as he's asked me not to delete and the recs are being split.
Developing: Indonesia hit by magnitude 7.7 earthquake...
Breaking news from Reuters :
(Reuters) - A major earthquake of 7.8 magnitude shook the northwestern coast of the Indonesian island of Sumatra, the U.S. Geological Survey said on Tuesday.

A local tsunami watch was in effect for Indonesia, the Pacific Tsunami Warning Center said.

The quake was centered 127 miles west-northwest of Sibolga and was at a depth of 28.6 miles, the USGS said. It initially reported the quake's magnitude at 7.6.

In December 2004, a magnitude 9.15 quake off the coast of Sumatra's Aceh province triggered an Indian Ocean tsunami that killed about 226,000 people in Indonesia, Sri Lanka, India, Thailand and nine other countries.
NOAA Pacific Tsunami Warning center : Northern Sumatra Indonesia
Tsunami Twitter feed
Quake Twitter Feed
Link to Google Map of the area
USGS link to quake has the following details.
Magnitude : 7.8
Date-Time : Tuesday, April 06, 2010 at 22:15:02 UTC
Wednesday, April 07, 2010 at 05:15:02 AM at epicenter
Time of Earthquake in other Time Zones
Location : 2.236°N, 97.046°E
Depth : 46 km (28.6 miles)
Region : NORTHERN SUMATRA, INDONESIA
Distances
205 km (125 miles) WNW of Sibolga, Sumatra, Indonesia
230 km (145 miles) SW of Medan, Sumatra, Indonesia
525 km (325 miles) W of KUALA LUMPUR, Malaysia
1425 km (880 miles) NW of JAKARTA, Java, Indonesia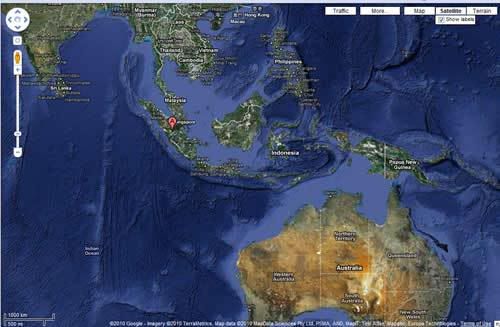 Buoy Map of the area shows developing waves.
For active link go to NOAA National Buoy Data Center (hat tip tlemon)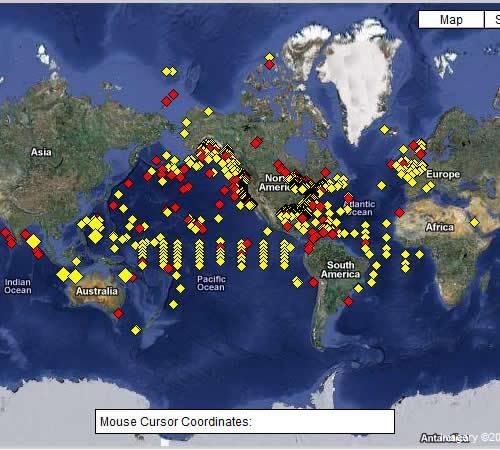 From Wiki
North Sumatra (Indonesian: Sumatera Utara) is a province of Indonesia. Its capital is Medan. It is the most populous Indonesian province outside of Java.

North Sumatra recorded a population of 11.48 million in the 2000 national census. Intercensal estimates for 2007 show a population of 12,834,371.
This is almost the same area where the Indian Ocean quake epicentre was in 2004 when a 9.2 magnitude quake created a tsunami which devastated the region.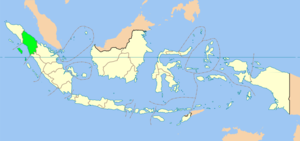 The 2004 Indian Ocean Earthquake
The hypocentre of the main earthquake was approximately 160 km (100 mi), in the Indian Ocean just north of Simeulue island, off the western coast of northern Sumatra, at a depth of 30 km (19 mi) below mean sea level (initially reported as 10 km).
2004 boxing day quake map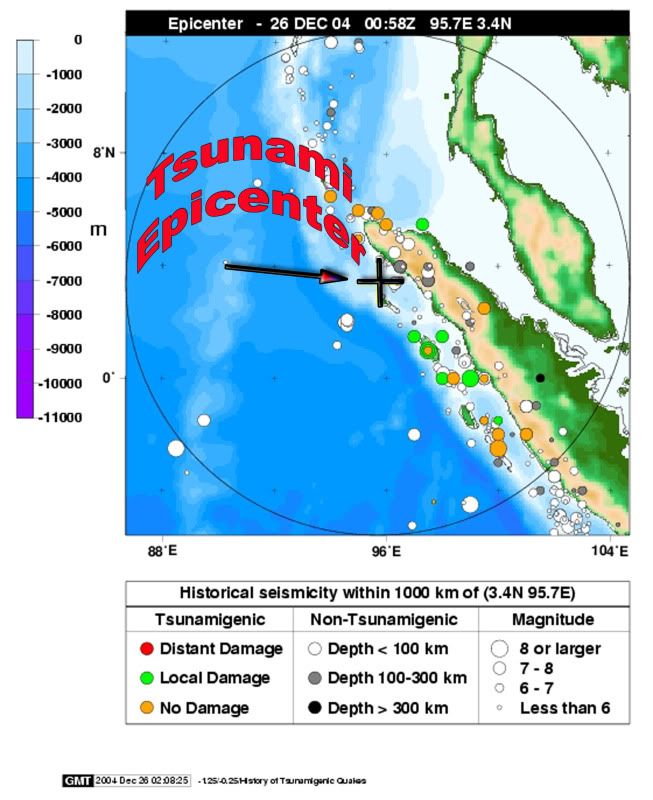 The western coastal areas of Aceh, including the cities of Banda Aceh, Calang, and Meulaboh, were among the areas hardest-hit by the tsunami resulting from the Indian Ocean earthquake on 26 December 2004. While estimates vary, approximately 230,000 people were killed by the earthquake and tsunami in Aceh, and about 500,000 were left homeless. The tragedy of the tsunami was further compounded on March 26 when a second off-shore earthquake measuring 8.7 on the Richter scale struck the sea bed between the islands of Simeulue Island in Aceh and Nias in North Sumatra. This second quake killed a further 905 people on Nias and Simeulue, displaced tens of thousands more and caused the tsunami response to be expanded to include Nias.
The population of Aceh before the December 2004 tsunami was 4,271,000 (2004). The population as of 15 September 2005 was 4,031,589, almost 2% of the Indonesian population.
I will update this diary as more information comes to hand.