In another installment of our Greater Yellowstone adventures, I hope to encourage those that have never visited Yellowstone to get it done in 2010. And for those that have visited Yellowstone it may be time to renew old friendships.
It is now only April and we are already getting the usual comments as June approaches. You are going to Yellowstone again? What is it about Yellowstone that intrigues you so much? Wouldn't you rather go to Europe or anywhere else? We can only reply - but that was the then and this year will present entirely new adventures.
Hike on...
Name that Hotspring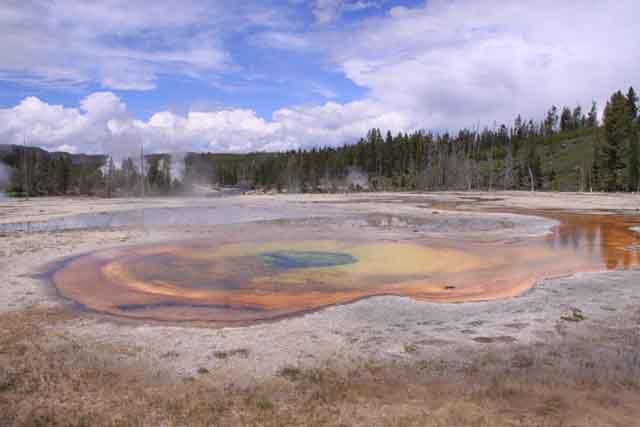 Journal note: Gorgeous day. Too many great pictures to be had. Rain coming. Bones from a bison nearby. Sulfur is strong here.
Yellow-headed Blackbird
Yellow-headed Blackbirds (Xanthocephalus xanthocephalus) are found throughout the Greater Yellowstone. These little birds are an absolute pleasure to observe. With their distinctive plumage and interesting vocalizations we eagerly seek them out when we first arrive.

During June, the mating season is in full swing and thus males will be guarding their patch of marsh or pond with great vigor. A nice place to watch Yellow-headed Blackbirds is the dirt road on the way to Slough Creek campground. The road is lined with numerous small ponds with reed lined edges - perfect habitat. Another nice birding area is Floating Island Lake between Roosevelt and Mammoth Hot Springs. If you go to Floating Island Lake at first or last light you may also get to observe moose in and around the lake (pond really).

Journal note: Floating Island Lake is alive with Yellow-headed Blackbirds. Flying back and forth from hill to lake. Lots of singing and positioning. Young Sandhill cranes on nest. Lake has more water this year. Ruddy ducks and Buffleheads are cruising the lake.
Hike to Ribbon Lake
It was an ominous day as a large storm rolled through Yellowstone lighting up the sky and thundering through the landscape. Temperatures had dropped considerably over the last couple of hours but we were determined to get in a good day hike before heading back to Pebble Creek. The morning and the early part of the afternoon had been spent watching bears and bison in Hayden Valley to great delight. However, time was passing and we wanted to hit the trail before the day was too far behind us. We opted for Ribbon Lake. Ribbon Lake had been on our list for several years and we were determined.
It was 2:30 and the day was growing ugly. The clouds were very dark and a light snow was beginning to fall. The wind was picking up and the Lodgepole Pines were groaning and creaking as we prepared our packs. Outside temps had dipped into the high 30's and our hands were getting numb trying to get everything ready. Several bison were wandering off into the meadow seemingly oblivious to our presence but we know better. Bison are acutely aware of their surroundings therefore we give them a very wide berth. Their body language told us we had better move a bit out of their way when we hit the trail. We note there are only a couple of vehicles at the trailhead.
Grizzly Being Harassed by Coyotes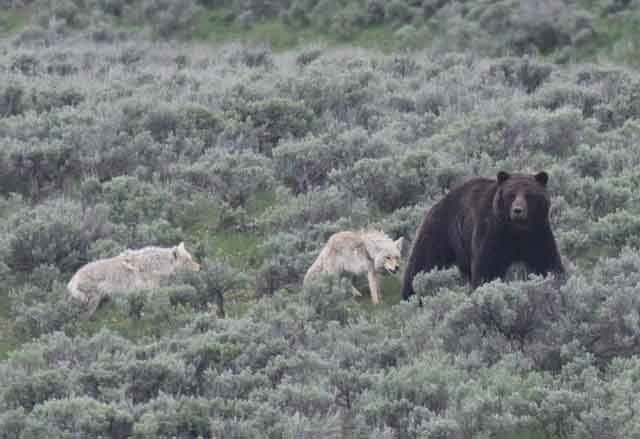 All packed up and ready we head off into the dark day at almost 3:00pm. The snow is getting heavier and the wind is frigged. We hike about a quarter mile and stop to confirm that we want to continue. No problem - we push on to Ribbon Lake. In the first half hour or so we pass several groups of hikers. They look as cold as we feel. We take our time wandering through the open meadows since visibility is low. The bison at the beginning of the hike have faded into the snow covered horizon.
Journal note: Beetle killed trees. Lupine is snow covered. Elk and bison tracks in mud patches. Bison superhighway.
We crest a shallow hill and skirt a patch of trees. Bark beetle has been hard at work. Many of the trees are dead but the forest is still lovely in this weather driven day.
The Grand Canyon of Yellowstone
Note: Images taken the following day. The hike was entirely in the rain but worth every minute.
Trees are creaking ominously as we head through a stand of trees. Passing a soft waterlogged area near a break in the forest we gaze deep into Hayden Valley. Hayden Valley is prime grizzly habitat and a great place to hang. Looking down at the ground we notice fresh grizzly tracks which are heading in the same direction. It was hard to know how old the tracks were but water had not yet filled the pads they must have been fairly recent. We also notice an old grizzly scat that appears to be primarily comprised of Whitebark Pine nuts. We have not seen anyone else for quite some time now. The weather is getting worse but we still want to make Ribbon Lake.
We press on and pass through what appears to be an old thermal area. Another grizzly scat but this one is fresh and the size of a beer can in width. Hurts just thinking about it. We are getting a bit edgy - it would be much better if we had two others hiking with us. We skirt the meadow one last time and head deep into the Lodgepole. The forest is brooding ahead as the trees groan and sway in the wind. The snow is falling heavy but we are getting warmer now. Taking our time we hike through the forest making plenty of noise and peering into the woods around us. Several downed trees make progress more difficult and a bit slower.
Journal note: Grizzly evidence abounds. Scat. Scratch marks. Tracks. Forest is dark and foreboding. Both cans of bear spray in hand.
It is a slow steady climb and the forest is being blown heavily as the storm moves through the area. It is beautiful all around. We look for little details to note in journal. Looking down at her watch my wife notes that we should have come to the trail junction. We agree though that we have been taking our time and therefore it is probably still ahead. Fifteen more minutes pass and we approach a trail junction.
It has now been well over two hours and Sheryl is getting a bit nervous that we are not even going to make the lake before daylight begins to fade. I agree. We hang out for a bit and take in the scenery. We break out some food and water and enjoy a rest. As I turn to begin the hike back I trip over one of the many downed logs and catch myself before hitting the ground. At this moment we hear a woofing (like when a bear chomps its jaws in anger) and low guttural growl about twenty yards away off in the trees. The sound is coming from over a shallow rise so we cannot see what it making the noise. The hair on the back of our necks stands up. We look at each other and say nothing. We strain to listen. A few small branches break. A few more chomps of a jaw. The sound is clearly a bear but we do not know what kind and frankly do not care at this point. Time to get the hell out of there.
| | |
| --- | --- |
| | Slowly and carefully we start the hike out while constantly looking over our shoulders. We do not run but make slow steady progress. It is hard to hike while keeping an eye out behind you and all the while attempting to avoid tripping over the many branches in the trail. The hike seems eternal. We trudge on and stop frequently listening in vain for any evidence we are being followed. We hear occasional twig snapping but it could be anything. The snow is still coming down and our footprints from earlier are getting covered by fresh snow. |
Eventually we reach the old thermal area and the forest opens up a bit. My pepper spray hand feels frost bitten from being exposed for so long. We stop for a few minutes to take stock of the experience. We laugh and move on. Skirting the first signs of meadow the snow begins to lighten up. We can hear rumblings of thunder off in the distance. Damn we love this place.
Once we make the open meadow our anxiety eases and we stop to enjoy the view. We have not seen anyone for hours. We are ravenously hungry and start to shift our thinking to our campsite and what we will be fixing for dinner. Another awesome day in Yellowstone.
Young American Black Bear Enjoying Dandelions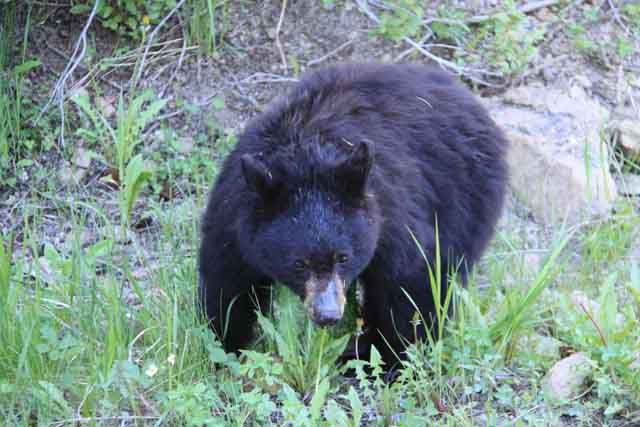 Arrowleaf Balsam Root
Arrowleaf Balsam Root (Balsamorhiza sagittata) is found through out the Greater Yellowstone. Growing on open hillsides and grasslands as well as open forest it is a welcome sight when hiking. With such a large bright and pleasing flower it makes for great photos. I also understand that Native Americans used the root medicinally.

We have found spectacular stands of balsam root along Dunraven Pass, Slough Creek, and Hellroaring Creek. If you have a day when cumulus clouds are drifting over head then head to Dunraven Pass (on the Tower Junction Side). Shortly before you reach the hairpin turn there are large fields of balsamroot that can be beautifully photographed. Gently climb into the field of flowers and get slightly below them. With the flowers in the foreground and the gorgeous sky and clouds in the background it makes for an amazing photo.

Journal note: Balsam Root are at peak. Views of Hellroaring are awesome. Wild roses and tent caterpillars are abundant. Garnet hill is the next loop.
Kicking It Up
Yellowstone is waiting...