Well a few hours ago I did it. I signed the paperwork to have my $1,000 washing machine hauled away. It is only three years old, but it is broken again, and the repair will cost as much as a new one. So I bought a new one, a different one, different kind, different brand and severed the "generational loyalty" to the brand.
Actually maybe they severed it first and I'm just catching up.
It began with such promise. Three years ago my washer of 12 years finally gave up the ghost. It has been a good run. It had done as many loads in 10 years as my mother's machine had done in 30. It was bought with that kind of generational loyalty to a product and it's proven quality in mind. My grandmother too, had a Kenmore, and it ran well into the 70s.
I remember helping take the clothes out of the drum and feed them to the wringer. Then we'd replace the water, rinse the clothes and put them through the wringer again. My grandparents were frugal, this worked, so there was no reason to get something new, not even for my grandmother's advancing age.
My mother bought her Kenmore washer (and drier) in the late 60's when the color choices for appliances were gold, brown, white, avocado, and pink. Her's was brown, and even though her washing machine died after 30 years, she still 50 years later has the drier. It works! I used it when I was there last January.
So when I was given a Kenmore washer in 1995 when my fourth child was born, I had no doubt that it would give me years of use. And it did, even though it wasn't the 30 years as my mother's had given. Both my husband and mother pointed out that given the amount of clothes I wash in a given week with 2 more children than she had and 3 of them boys compared with her having only 2 daughters, I probably got 30 years of wear from it.
It was with this knowledge of wear of my own loyalty to the brand, and the overall generational loyalty that I went to Sears to buy the next washer. I knew I wanted a top loader and that the drum had to be a big as possible to help make my daily work as efficient as possible. And I wanted to be as green as possible.
Enter the Sears Kenmore Elite Oasis.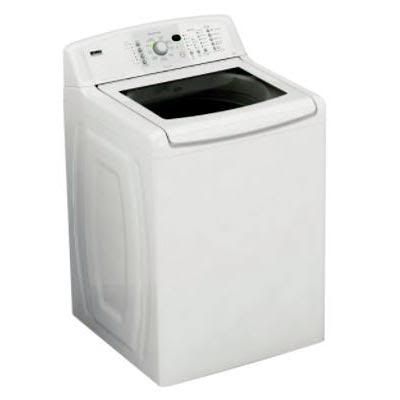 It was almost like the skies opened up, a direct ray of sun light shown down upon the machine and a heavily choir began to sing. It's a thing of beauty with it's dark glass curved lid, and buttoned selection panel. The only other time I've felt this way about a mechanical object was for my cars, and that's understandable, but a washing machine?! This was new territory.
It was everything I wanted, a top loader, a large drum called "canyon capacity" (4.6 cu ft), and then there were the perks: a fabric softener well so I wouldn't have to run up and down the stairs, I could program it to start after everyone had left for the morning or after everyone had gone to sleep, because it didn't have an agitator I could do bulky comforters and sleeping bags - no more using the triple and 5 loader front loaders at the laundromat (agitators can wear out these items faster). It was also a high efficiency (He) washer, so my inner greenie could feel good.
Yes, it had a $1,000 price tag. I wrestled with that, it was less than any other washer in the same class at the time. Eventually, like maybe 24 hours if even that, I decided. I would splurge, it would be good for everyone, I reasoned . . . right!
It ran great. I did have to learn how to load it and "speak it's language" but I was in-love. Yes! I danced, I was like the joyful spokeswomen of olde, smiling as they scrubbed heal marks from their beautiful kitchen floor with the newest update of a cleaner, or the proud wife who finally discovers how to remove the collar ring from her husband's shirts because he can't be bothered to wash the back of his neck.
I didn't let anyone else do their laundry in it. I was constantly told that I should let my sons do their own laundry. NOT IN THIS MACHINE, it was too complicated for them, too pretty, too perfect . . . and mine! No one else could push her it's buttons.
Then one day, a year into ownership, I walked down the stairs expecting the load to be done and everything was strangely quiet. No little green light to tell me the load was done, nothing. The lid wasn't even unlocked so I could check the clothes, my clothes and an expensive sheet for our bed.
It had stopped, completely shut down mid cycle, with clothes inside and no way to unlock the lid (it locks because the machine spins very fast). I pressed the power button, nothing. I unplugged it, counted 20 seconds and then plugged it back in, hoping that it was like our cable modem and just needed a power reboot. Nothing.
Trying to quell the worry and welling panic, I called Sears to get a repair person over. They said it would take a week. A WEEK! The lid was locked, and I couldn't get the wet clothes out! I asked/stressed the woman on the other end how I was supposed to get my clothes out? It was a "canyon capacity" washer filled with a good percentage of my clothes and if I had to wait a week to get them out, these clothes, my clothes would be ruined.
She told me how I could, might possibly open the top (not just the lid) and get my clothes. With this information I scheduled the repair visit and then armed with flat head screw driver and a putty knife went down stairs to open the top. . . . I got one bracket off, but could not get the other. I did manage to scratch the paint off the corner and decided to wait until my husband got home.
He tried, and he also failed.
Angry at this state of affairs we went to the web to look up the problem and see if there was any solution we could do while waiting for the repair guy. We found Fixya, typed in our problem and found many pages of people with the same problem. Other sites besides Fixya noted the same problem. It was sadly common, including scratching the paint off the fracking corner with the putty knife.
I angrily noted in one instance that while I am not a washing machine designer and engineer it seems to me that it would have "prudent" to include a fail safe locking release for the door, located say in the back of the washer. So that if, on the off chance there is a power outage during a load or the ON BOARD COMPUTER TOTALLY FRIES ITSELF, one could get their clothes out. But sadly I am not a washing machine designer.
With in a weeks time the repair guy came open the lid (so I could take my clothes out and transfer them to a trash bag) and then pronounce that he did not have the part, it would take another week.
I knew this was a common problem, and I knew the description I gave Sears repair told them exactly what the problem was. Given that it was so common, the part, a new computer board, should have been on the van. Fortunately, being under a year the machine was still under warranty so the repair cost wasn't as much as it could have been. My largest cost was in replacing all the clothes I had lost, and the sheet.
Which I have tried, it's not just any ole sheet, It's one where the cotton feels like silk, it's so soft - and much needed for the "calming" effect on my skin. JCPenny discontinued it, what they have now is nowhere near as soft. I have yet, still, to look at Macys.
Now I was wary of my washing machine, like a betrayed lover. It had stabbed me in the back. I still was in love with it, but now I checked and rechecked everything.
Then in January the beeping started. For no reason was so ever it began beeping when the lid was open after the load was done. I had to open the lid to get the clothes out and into the dryer.
This didn't happen very often. It was annoying at best, but I could live with it. Lovers have their annoying habits, this was one of them.
Then it began to happen more and more. Sometimes it would start up in the middle of the night and freak out my son, whose bedroom is the next room over. It would even start up when I was right next too it. I'd turn around and hit the power button, turning it off. I'd watch all the lights go off and the little display go blank, just as it's supposed to. Then a minute later, like the computer in "Demon Seed" it would turn itself on and begin to beep. Finally I had to unplug it between washings.
Okay I can live with that. We are actually encouraged to unplug electronic things between use. . . I spent $1,000 on it. . .
- I'll buy some baby bottles, a few binkies, put my naked breasts on it's cool metal and nurse it if I have to.
- I'll rub it's sweet spot
- I'll have simulated lesbian bondage with it if I have to


it's a $1,000 macheeeennnneeeeee (wimper)
just please weeerrrrrkkk, I'm begging you
It was also now out of warranty, to get the Sears repair guy over here just to look at it is over $100.
Then it gave me an "F1" error code and it refused to extract/spin the water out of my clothes. Again I went on line. Again I found the problem on Fixya. Again there were many people like me dealing with this problem. It's common.
It's another problem with the computer board. I can have the repair guy come and all totaled it will be about $400 to $500 dollars, or I can order the board and replace it myself for half the cost. . . except:
And I have done all the "fancy combination secret code, button pushing, stroking and diddling" this guy (and many others) have done . . . and now my washer won't even clean our clothes. I am totally betrayed, once I can forgive, twice is more than I can do.
Last week I had to go a washtatute to get my needs met. In two visits spent $60. This house of washtatutism is called a laundromat and just like everywhere else they've they'd upped their prices and they have reduced their drying times too. I wish I could say I felt shame at stepping out on my mechanical love this way, but I don't. Judge me as you will.
Those of you who are shocked may be pleased to find out that I hurt my back lugging all those clothes to and from the car. Yes, if I were a better laundress God would not have punished me so.
But that pain finally moved both my husband and me to search the web for a new machine. Again I knew what I wanted. Like the guy in the video above I wanted nothing with a computer, nothing with a sensor. This is actually the damage done with products like the Sears Kenmore Oasis do when they malfunction. You've spent so much money on them, you are unwilling to purchase another green He product. Even if it's probably better made from another company, your done.
We wanted a machine built in America. So I looked at Maytag, Whirlpool and my long time laundromat favorite, Speedqueen. They now make home washers.
It was going to be bought at a local store, not a big box store.
So yesterday I bought a Whirlpool washer with no computer, no sensors, and no He. The local mom and pop store had many more new fangled He front loaders made by Whirlpool, Maytag, LG, Frigidaire and other brands I had never heard of than they had regular old fashion, dial in your water level you want, machines.
I bought the old fashion one.
When I signed the paperwork and scheduled the Monday delivery the generational loyalty to the product line, one that Sears could count on in the past to move their merchandise ended. They had, and squandered, what other companies only wish they had.
Now I look wistfully at the machine I had come to love. Surprisingly there is sorrow in my heart.
It sits, unplugged waiting to be taken away.
My heart is broken, and I am really surprised at my emotions over this. This isn't a car, it's not my 1968 Pontiac Tempest, my 1970 Chevelle Malibu, my 1978 Volkswagon Dasher or my 2000 Dodge Neon. Yes I have a long habit of falling for my cars (with the exception of my mini vans), and am in love with my current 2006 Honda Accord. But those are cars, not washing machines.
A washing machine.
A washing machine with the dark glass curved lid and the He symbol.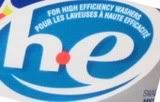 Oh, and if you're interested, the Sears Elite Oasis washing machine is currently on sale. You may want to check consumer reports first.