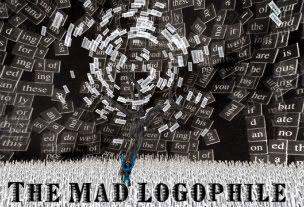 Welcome to The Mad Logophile. Here, we explore words; their origins, evolution, usage. Words are alive. Words are born, they change and, sometimes, they die. They are our principal tool for communicating with one another. There are over one million words in the English language yet only an estimated 171,476 words are in common current use. As a logophile, I enjoy discovering new words, using them and learning about their origins. Please join in.
All my life I have loved puzzles and word games. But recently, health and other issues keep me at home most of the time. So I have been doing a lot of puzzling; crosswords, brick by brick, codewords, flower power, cryptograms... those are my favorites. But I'll do almost any puzzle or word game. When I started doing more puzzles, I began to come across words that I hadn't seen elsewhere. The are mostly three or four-letter-words, and they are often used in difficult places in the puzzle.
If you do puzzles (with this crowd, I bet many of you do), you may recognize most of these words...
Okay, since these are puzzle words, I'm going to make this into a bit of a game. I will give you a hint or a short definition and you guess the word. These clues are typical of the ones I get when I do my puzzles so they are not detailed. I will list the words below the hints. No cheating!! You are on the honor system ;)
The wife of a rajah.
Weapon used in fencing.
Gaelic language
Formerly
Merging points
Measurement used in printing
Indian nanny
Dried out; withered.
Lab burner
A scrap of food left at a meal.
Pertaining to or having wings.
Officiating priest of a mosque.
Sash for a kimono.
Pertaining to an important time period.
Fertilizer ingredient.
A creature which has no feet.
Hawai'ian goose.
A variety of fine cotton.
A palm of the Philippines and Australia.
Narrow river inlet.
Indian lentil dish.
Sea eagle.
Mine entrance.
Black tropical cuckoo.
Ancient Roman Bronze money.
Legal term for an object or thing.
Curved molding.
Heraldic term for a border.
Seed covering.
Turkish title.
Piece of a harness.
Persian fairy
Athens marketplace.
Tropical tree insecticide.
Glacial ridge.
Agave fiber.
Greek portico.
Inuit canoe.
Predatory sea bird.
Small midstream island.
Roman roadway.
Money exchange charge/credit.
Small moon or satellite.
Legal decree.
Great acclaim.
Turkish flag.
Harem room.
Grassy plain.
Waterwheel.
Soak flax.
New Zealand tree.
Elk.
Fragrant resins.
Heraldic term for small figures.
First Hebrew letter.

Answers:
Rani
Epee
Erse
Erst
Foci
Ems
Amah
Sere
Etna
Ort
Alar
Imam
Obi
Eral
Urea
Apod
Nene
Pima
Nipa
Ria
Dal
Erne
Adit
Ani
Aes
Res
Ogee
Orle
Aril
Emir
Hame
Peri
Agora
Neem
Esker
Istle
Stoa
Umiak
Skua
Ait
Iter
Agio
Lunet
Nisi
Eclat
Alem
Oda
Llano
Noria
Ret
Rata
Wapiti
Elemi
Seme
Aleph
Well, how did you do?

How about a few cryptograms? A cryptogram is an encoded message. The code used is a simple substitution cipher: the message is encoded by replacing each letter in the message with a different letter of the alphabet. Every time a particular letter occurs in the message, it is replaced with the same code letter. These are all political quotes and each has their own code:
J wtfxlbyjdgyl gx j kjf zgda dzt clbilwdon mttp olmx zat, atzlylb, ajx flylb oljbflp atz dt zjoq itbzjbp.
Dpl bcevsvrvpxm pit mtxs sc Zpmgvxjscx do jccl btcbet zgc lcx's ncst.
Gusyzebtmjbzy tez sum szgzyytejvx ymdfjl, wdm iuym ymdfjl fzufvz tez gusyzebtmjbzy.
K gmx's zway cmayq. K clqs twshb sby rmiyoxzyxs wxg oydmos sby pwhsq.
Gi ljrgst unfstvq fscrngst, rnvc'q kfov gr gbbvtfb.

Answers:
A conservative is a man with two perfectly good legs who, however, has never learned how to walk forward. (Franklin D. Roosevelt)
Bad politicians are sent to Washington by good people who don't vote. (William E. Simon)
Conservatives are not necessarily stupid, but most stupid people are conservatives. (John Stuart Mill)
I don't make jokes. I just watch the government and report the facts. (Will Rogers)
If voting changed anything, they'd make it illegal. (Emma Goldman)

I hope you had fun tonight and learned a few new words in the process. Hopefully, I was able to pique your interest in word games and puzzles -- if you aren't already a fan.