Some days, when I'm trying to take a break from people's tax issues, I come across something that scares the bejeebus out of me. Yesterday was one of those days.
While trying to pare down my RSS reader, I clicked on this article from alternet.org that delved deep into the world of junk food marketing. As someone who will be married in less than three months (yay!) and starting a family sometime soon after, my first thought was, "How do I keep my kids healthy with all of these bad influences?"
Turns out, the wizzes at the marketing firms have been hard at work for decades making sure that I can't avoid exposing my kids to this world of unhealthy, processed crap without taking drastic measures.
My children won't be able to avoid this onslaught of commercialism. The only option, then, is to severely restrict youth-focused marketing and change the way we, as a country, address food.
Flip to read more...
I want my children to grow up in a good environment, eating healthy food, playing outside, learning about themselves by experiencing the world around them. Idealist? Well, yeah. But what does that take? What do we, as current or potential parents have to do in order to really do our best for our children? Are we talking about an off-the grid, Earthship, filtering rainwater for drinking, growing our own food kind of lifestyle? At some point, we have to accept that detaching is the only way to truly avoid marketing. For most, that's not really an option. So we compromise.
Let's set the scene the way Jill Richardson, the article's author, does:
Seven-year-old Marley loves Happy Meals from McDonald's. She used to get Chicken McNuggets, but now she chooses a cheeseburger to go with her fries and Sprite. Her father, Patrick, is a chef, trained at the Culinary Institute of America, but Marley prefers McDonald's to his cooking.
Before you start thinking to yourself that this youngster is just another victim of American commercialism, consider this: there is no television in this family's home. Patrick unplugged it specifically to avoid exposing his daughter to McDonald's marketing.
Marketers understand that parents like Patrick, given the choice, would rather avoid McDonalds. They'd rather cook something healthy at home. It turns out that these parents are just as much a victim of marketing genius as their kids.
Approximately one out of three fast food trips occur due to a child's nagging -- a fact that does not elude junk food marketers, who advertise to kids with the very goal of getting kids to nag their parents for the advertised product.
Children are exposed early and often to brand marketing, creating lifetime brand loyalty as early as age two.(!) They cannot differentiate between advertising and normal media content before age eight. Even after they understand the difference, they still don't comprehend the influence marketing can hold over their decisions. Marketers count on that ignorance, trying to influence children at an early age, before they can make their own choices.
It then, necessarily, falls on parents to help their children make those choices. With the recent show, Jamie Oliver's Food Revolution, in mind, can parents truly be effective advocates for healthy lifestyles when they're up against both calculated marketing campaigns and the USDA school lunch guidelines?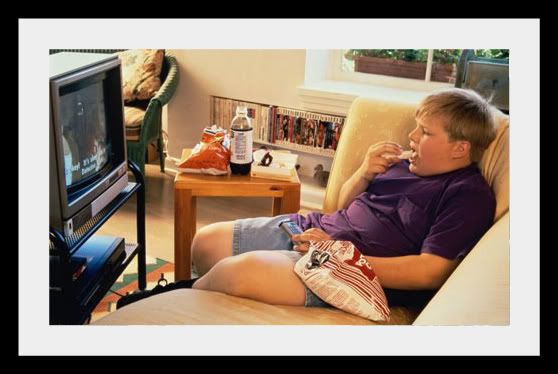 I'm sure you've all heard that this generation of children is the first to have SHORTER life expectancy than the one before it. The cause? Childhood obesity. Underlying that is a nation of children who have grown up drinking juice drinks instead of juice, flavored milk instead of milk, and pop instead of water. They eat chicken nuggets instead of chicken and french fries and tater tots instead of vegetables. Some can't even differentiate between a potato and tomato.
Congress established the National School Lunch Program (NSLP) in the 1946 National School Lunch Act and made it permanent by legislation in 1949. Under the authority of the USDA, in 2008, the NSLP provided lunches for 30.5 million students each day. School lunches must meet applicable recommendations of the 1995 Dietary Guidelines for Americans, which recommend that no more than 30 percent of an individual's calories come from fat, and less than 10 percent from saturated fat.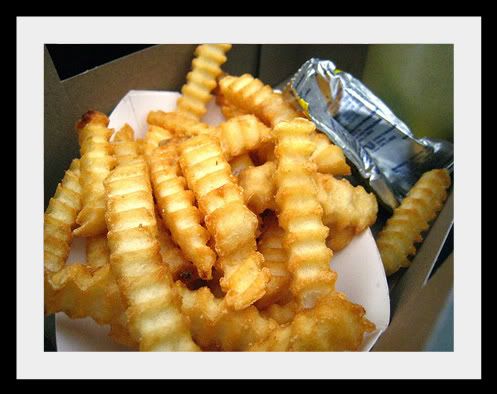 Regulations also establish a standard for school lunches to provide one‐third of the Recommended Dietary Allowances (RDAs) of protein, Vitamin A, Vitamin C, iron, calcium, and calories. The USDA reimburses schools $2.68 for each free lunch provided.
The lunches must meet these federal requirements, but it's up to local school authorities to determine menus and food orders. The result is usually nothing short of pathetic, consisting almost entirely of corn dogs, tater-tots, chicken nuggets and pizza. This doesn't have to be the case! The Folsom Cordova Unified School District in Sacramento serves an enthusiastic clientele of 7,000 students freshly baked calzones, a wholesome version of pizza, veggie bowls, fresh fruit, sushi and taco salads. The food tastes great and lunch costs only $2.50 per student. The district that previously lost about $200,000 a year in the school lunch program realized a profit of $300,000 with the new menus.
So, things can change and it's affordable.
What's blocking progress?
Two major factors block our children's access to a healthy lifestyle. Both of them involve moneyed interests. The first is the complex and heavily entrenched world of federal agricultural subsidies. The second is the above-mentioned corporate marketing campaigns, designed to wrap our children in brand loyalty like a warm, comforting blanket. The federal government's regulation scheme is an underlying factor in both.
Farm Subsidies
Roosevelt's New Deal introduced farm subsidies in 1933 after years of falling crop prices. The intent was to stabilize the agricultural market so we wouldn't lose our nation's primary food production industry. The threat back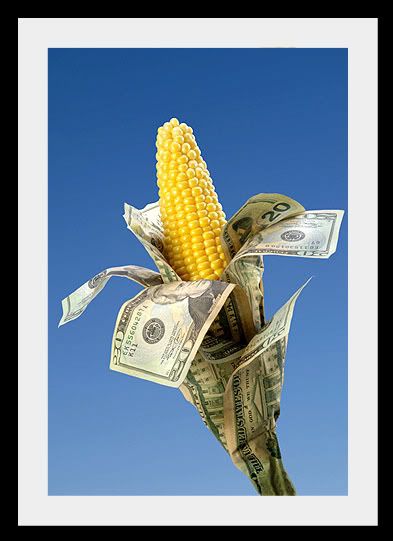 then wasn't that farmers weren't able to produce enough food. In fact, during the depression, farmers were producing more supply than demand would support. New Deal farm subsidies were meant to save farmers from a price crash.
Michael Pollan writes in the NY Times:
In Churdan, Iowa, recently, a corn farmer named George Naylor told me about the winter day in 1933 his father brought a load of corn to the grain elevator, where ''the price had been 10 cents a bushel the day before,'' and was told that suddenly, ''the elevator wasn't buying at any price.'' The price of corn had fallen to zero.
As time progressed, farms became consolidated in a few large corporations. Those corporations are, by their nature, profit motivated. If the government is willing to hand out free money to pad the bottom lines of these companies, it behooves them to position themselves to obtain as much of that money as possible on behalf of their shareholders and, further, to lobby Congress to adjust the structure of farm subsidies in the most favorable way possible. Thus, we come to 2007, a year in which farmers received $5 billion in direct subsidies, 93% of which was for five crops: corn, wheat, upland cotton, soybeans, and rice.
Subsidies for these commodity crops encourage overproduction. The difference between the 1930s and today is this: we've now figured out what to do with all of the surplus grain. Corn sweeteners, cornfed meat and chicken and highly processed foods of every shade provide Americans with an unending supply of cheap, empty calories that we consume with great gusto. Since 1977, the average American has increased daily calorie consumption by 200 calories. That's 1400 calories a week; 5800 calories a month; over 72,000 calories each year. It takes about 3500 calories to create a pound of body fat. Do the math.
Youth-focused Marketing
Marketing to children is nothing if not easy. A child lacks the experience to think critically about television programming and advertising. Right now, thanks to a lax regulatory structure, companies that advertise to children largely self-regulate under the auspices of Children's Food and Beverage Advertising Initiative of the Council of Better Business Bureaus. Companies that participate (note: participation is voluntary) pledge to shift at least 50 percent of their advertising directed at children under 12 to encourage "better for you" choices.
Self-regulation, as expected, isn't effective. The Yale Rudd Center for Food Policy and Obesity examined children's breakfast cereals. They used this sample because the majority of major cereal companies are part of the self-regulation initiative. The Center found that breakfast cereals marketed to children are, on average, the least healthy cereals available. Specifically, they contain 85 percent more sugar, 65 percent less fiber and 60 percent more sodium than adult cereals. The cereals marketed to children are so unhealthy that the United Kingdom would not allow any of them to advertise to children on television.
Congress stepped in, last year, and asked a group of Executive Branch agencies to draft non-binding guidelines for food marketing to children. The Centers for Disease Control, the U.S. Department of Agriculture, the Food and Drug Administration and the Federal Trade Commission met and presented their results on December 15, 2009. The group never considered that children are so vulnerable to marketing pressures that they shouldn't be subjected to marketing at all.
Instead, it divided foods into categories with different levels of marketing restrictions. Healthy foods such as 100% fruits or fruit juices, 100% vegetables or vegetable juices (that don't exceed 140mg of sodium per serving), 100% nonfat or low-fat milk, yogurt, 100% whole grain products and 100% water have no restrictions. Outside of these categories, products must meet two criteria. Essentially, the product must contain enough healthy components and sufficiently few unhealthy ingredients to qualify as marketable to children. Healthy components may consist of ingredients the government considers healthy: fruits, vegetables, whole grains, fat free or low-fat milk, yogurt, extra-lean meat or poultry, eggs or nuts. Unhealthy ingredients include the usual suspects, like saturated fat, trans fat, sugars and sodium.
But, beyond the fears that companies will reformulate products to fit within the guidelines without actually making them healthy, the question remains: should we allow marketing to children in the first place? If a child cannot comprehend the persuasive intent of a television commercial until age eight or beyond, do we, as a society, have a moral obligation to prevent that commercial from airing?
Michele Simon, author of Appetite for Profit: How the Food Industry Undermines Our Health and How to Fight Back, says, "If a child [under age 8] cannot comprehend the ad's persuasive intent, it is immoral to advertise anything to that child."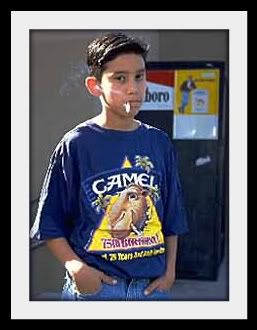 Eliminating and entire genre of advertising is not unprecedented. We only need to look back to July of 1997 to remember that R. J. Reynolds voluntarily pulled its Joe Camel character from all advertisements because of the combined efforts of Congress, a lawsuit, and several non-profits. The company never admitted to marketing specifically to children, but internal documents showed that the tobacco industry was interested in targeting children as future smokers. In 1974, Reynold's VP of Marketing said, "young adult market . . . represent[s] tomorrow's cigarette business. As this 14–24 age group matures, they will account for a key share of the total cigarette volume – for at least the next 25 years." During the first four years of the Joe Camel campaign, revenue from underage smokers grew from $6 million to $476 million.
Smoking from an early age deducts, on average, fourteen years from your life. Severe obesity can shorten a woman's life expectancy by five years and a man's by twenty. If marketing to children causes childhood obesity (a recent study found the link is directly related to commercials for unhealthy food; watching TV with commercials was linked with obesity but watching DVDs or educational programming without commercials had no effect on children's waistlines) that can reduce my child's life more than smoking and I can't do anything about it short of moving to the desert and shunning society, it falls on our governments, federal, state, and local, to eliminate youth-focused advertising.
What do we do?
Lack of strong government action leaves Americans with few options when it comes to helping their children learn to make good choices without the influence of marketing campaigns. Parents can restrict TV and block internet content at home, but cannot control what their children are exposed to in their schools and at friend's homes.
The beginning of any campaign for progress is a collective effort to stamp out ignorance. If you've watched episodes of Jamie Oliver's show (available on Hulu until June 5th, if you missed it) you've seen that a lot of parents don't understand the effects that nutrition can have on their children. When a mother learns that the food she's been feeding her child has pushed him into a pre-diabetic state at the age of twelve, she's crushed. It's heart-breaking to see a doctor have to tell a thirteen-year-old girl that she has spots on her liver and probably won't live past twenty. When parents become informed, they jump on board, only to run into a bureaucratic roadblock at all levels of government.
Youth-focused marketing campaigns need to be regulated. Americans need to come together to address these issues.
Write to your state reps and senators, your mayors, your school boards.
Help me and all American parents raise their children in a healthy country.