As Josh Nelson notes below, the Gulf gusher presents an opportunity to reverse the President's decision to greatly expand off-shore oil drilling. Even some Republicans are no longer certain that more drilling on the Outer Continental Shelf and other off-shore areas is a good idea. The counter-argument, that the BP blowout was a rare occurrence and nothing like it can be expected to happen again, is cold comfort to the people who are watching their livelihoods being polluted for who knows how long.
Then, too, as Patriot Daily News Clearinghouse points out below, it's a slap in the face to those who care about the destruction of wetlands and wildlife. Oil spills of the magnitude of the Gulf gusher are indeed rare. They are, however -- contrary to the gusher of pollutants from the likes of Rush Limbaugh, Gov. Rick Perry and Rep. Gene Taylor -- neither natural events nor matters of little consequence. The damage to the economy can perhaps be measured, though many people will never be fully compensated. On the other hand, the damage to the environment may well be incalculable.
For that reason, just as some opponents have been saying for a long time, we should not be extending the areas open to off-shore drilling.
That's not some purist environmentalist stance. It's hard to see how the Democratic Party can support strong climate-change legislation while simultaneously supporting a policy that ultimately puts more carbon dioxide into the atmosphere by making us reliant well into 21st century on drilling that we know will have more of the same disastrous consequences we're watching unfold today. And yet the administration has indicated no second thoughts about opening up 167 million acres of ocean from Delaware to central Florida, 40 million acres in the Gulf of Mexico, and nearly 130 million acres in Chukchi Sea and Beaufort Sea in the Arctic Ocean.
Several organizations are pushing for a return to the previous presidential moratorium on off-shore drilling in new areas. You can take action by adding your name in support of a reimposed moratorium at these sites:
Ban Offshore Drilling -- Permanently!: 350.org has a petition to President Obama and the Congress to ban offshore drilling that will be personally delivered to DC leaders. Contributor Bill McKibben explains why it is so important:

Stopping that flow of oil from the hole in the Gulf is just the start. We need to stop the flow of dirty energy, period. Because even when you can't see the effects in black and white, we're still wrecking the planet. If there was ever a teachable moment, this is it.
Oceana is sponsoring a letter campaign to your Senators to tell them to not include any increase in offshore drilling in the upcoming climate bill.
Defenders of Wildlife wants to send 50,000 messages to President Obama this Friday and is very close to its goal: Tell President Obama to Reinstate the Ban on Dangerous Offshore Drilling.
Sierra Club also has a message for President Obama to halt all proposals to allow more oil drilling off our coasts -- permanently.
You can also host an event between May 6-16 with help from Sierra Club staff by clicking here.
Friends of the Earth also has a petition here.
By Patriot News Daily Clearinghouse
Gulf Oil Spill a "Dead Zone in the Making"? Eleven people died, and now wildlife, ecosystems, fisheries, jobs and daily life hang in the balance.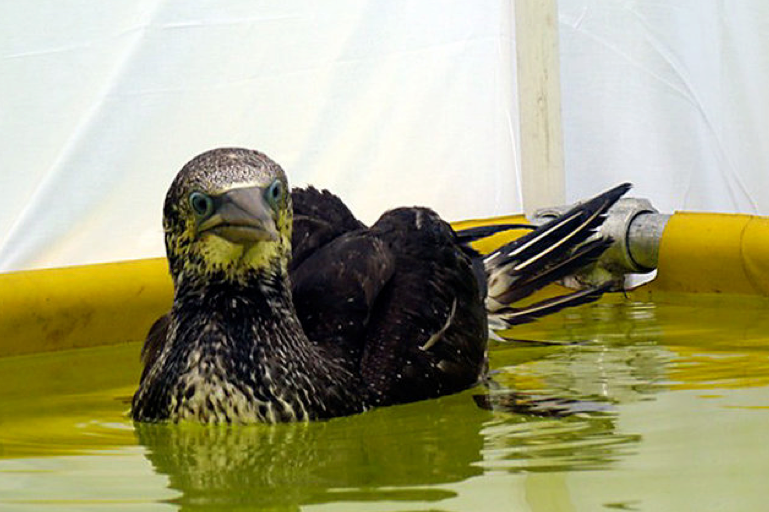 This Northern Gannet and a Brown pelican are the first rescues, both now recuperating. As wildlife casualties are reported, please remember only around 1 in 10 birds actually were recovered by rescue crews in the Exxon Valdez spill.
There are at least 30 species of birds potentially threatened by this "underwater oil volcano" for a total of 25 million birds that "traverse the Gulf Coast per day." There are also 400 wildlife species at risk, including whales, tuna, shrimp, gray fox, deer, alligators and turtles.
The oil volcano could not have happened at a worse time or place. Dozens of state parks, national parks and wildlife reserves are located in Gulf Coast states: These links provide the maps and names of only the National Wildlife Refuges located in Texas, Louisiana, Mississippi, Alabama, and Florida.
And this is breeding season, time for 3,000 brown pelicans, recently removed from the endangered species list, to nest and lay eggs. The Least Terns population of 2,000 might be wiped out because in under 40 days the tern chicks will hatch and leave nests to find a toxic landscape. Shrimp coming to spawning grounds will find their plankton diet smothered by oil.
It is the birthing season for 5,000 dolphins. One fear is consumption of oily prey can transfer contaminants via mothers' milk to younger dolphins.
This is also the start of turtle nesting season. At least 20 sea turtles have been found dead (photos at link) on Mississippi beaches, but cause of death is pending medical examination because turtles often wash up on shore this time of year. While there was no oil on the dead turtles, one picture shows a turtle in distress in the water. Sea turtles can become ill from inhaling oil and toxic vapors, eating oily prey or absorbing oil through the eyes and mouths.
Sperm whales have been observed "swimming in and around the oil slick" because this is the primary feeding grounds for the Gulf of Mexico population. Whales and dolphins can "ingest, inhale and absorb the oil through the eyes and mouths," but because they travel long distances, they could be far from the dead zone when rescue is needed.
This is how you can volunteer and/or donate to help with rescue of wildlife, but please remember the EPA has initiated air monitoring due to the "prevalence of vapor concerns from oil."
General:
National Wildlife Federation: Donate.
National Audubon Society: Volunteer to clean up birds, Donate or Take Action to ask Congress to fully fund coastal Louisiana restoration projects.
Sierra Club: Volunteer to Help with Gulf Coast Oil Spill Disaster Relief Efforts!
Oil Spill Volunteers: Sign up here.

Louisiana:
Coalition to Restore Coastal Louisiana
Barataria-Terrebonne National Estuary: Volunteer to assist oil clean-up in Louisiana.
Florida:
Save Our Seabirds:Sarasota, Florida bird rescue group
Alabama:
Alabama Coastal Foundation: Volunteer contact information for Alabama, Louisiana, Mississippi, Texas and Florida.
Mobile Bay National Estuary Program: Volunteers for impacts of oil spill to Mobile Bay in Alabama.
Mississippi:
City of Biloxi: Signing up volunteers.
Texas:
Galveston Bay Foundation: Sign up here.
The Gulf Restoration Network has a Letter to President Obama, NOAA, DOI and CEQ to protect marine wildlife by providing necessary resources to effectively monitor disaster.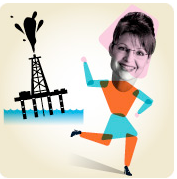 And, there is the Tell Sarah Palin: Donate your millions in "Drill, baby, drill" profits to Gulf Coast relief efforts.
By Josh Nelson, Publisher, EnviroKnow.com
The Senate's pending climate legislation, once slated to be released on "offshore drilling day," has been delayed indefinitely due to Senator Graham's apparent inability to negotiate in good faith. In the past day or two, a variety of Senators and commentators have reported that the massive oil spill in the gulf makes passage of the legislation less likely.
Chris Bowers notes the bitter irony of this, correctly pointing out that it illustrates "degree to which some members of Congress are utterly beholden to corporate interests." I'll take the opposite view from those who consider the spill to be the latest in an endless series of roadblocks: the gulf coast oil spill may turn out to be exactly the catalyst the Senate needs to move quickly on this critical issue. Nobel laureate Paul Krugman encapsulated this view the other day, writing in his Sunday column, "The catastrophe in the gulf offers an opportunity, a chance to recapture some of the spirit of the original Earth Day. And if that happens, some good may yet come of this ecological nightmare."
While Krugman's thoughts on the subject are as wise as ever, the people who need to understand this are the U.S. Senators who effectively hold the fate of the planet in their hands. And indeed, Senator Reid seems to be heading in the right direction.
At the same time it is becoming clear that any legislation that seeks to expand oil and gas drilling off America's beautiful coasts is now a non-starter. In an especially encouraging development, a growing number of Republicans are beginning to express doubts or outright oppose expanded drilling. The rhetorical shift by these courageous Republicans -- Charlie Crist, Arnold Schwarzenegger, Scott LeMieux -- creates the political space necessary for additional Republicans to return to the environmentalist fold. And as Republicans begin to return to a sane position on the issue, recalcitrant Democrats will be forced to re-examine their views as well.
This is our opportunity to truly begin the transition from the energy sources of the 19th century to the energy sources of the 21st century. Let's not squander it.
Take action by telling the Senate to strip all offshore drilling provisions from the pending climate legislation and bring the bill to the Senate floor as quickly as possible.
EcoAdvocates is a new series initiated by Meteor Blades and Patriot Daily News Clearinghouse, who are its contributing editors. This series focuses on providing more effective political pressure and taking action on environmental issues. The series' contributing writers provide a diversity of perspectives including wind/energy/climate change; water; agriculture/food; mountaintop removal mining/coal; wildlife; environmental justice; and indigenous/human rights/civil rights. Contributing writers include: Bill McKibben, Jerome a Paris, mogmaar, boatsie, Aji, rb137, Ellinorianne, faithfull, Oke, Jill Richardson, Patric Juillet, Josh Nelson, beach babe in fl, Ojibwa, Muskegon Critic, Desmogblog, A Siegel, gmoke, DWG, citisven, and FishOutofWater.