The 'Invisible Hand' is a foundational principle of America's Free Market system. All participants are free to "buy and sell" as they see fit. And as a result, the Theory goes, the Markets will "automatically adjust" to provide quality products and services, at reasonable prices, to both the buyers and sellers; ie. a "fair price" is usually established.
According to Adam Smith, and his adherents, it's almost as if there is an 'Invisible Hand', working behind the scenes, that "conspires" to cause Free Market participants, to allocate our collective resources, in the most efficient way possible, to the Benefit of the most people possible, in that Free Market Society.
Nice, in Theory. But how has it been working out in Practice, lately?

Here's the explanation of that 'Invisible Hand', from Wikipedia: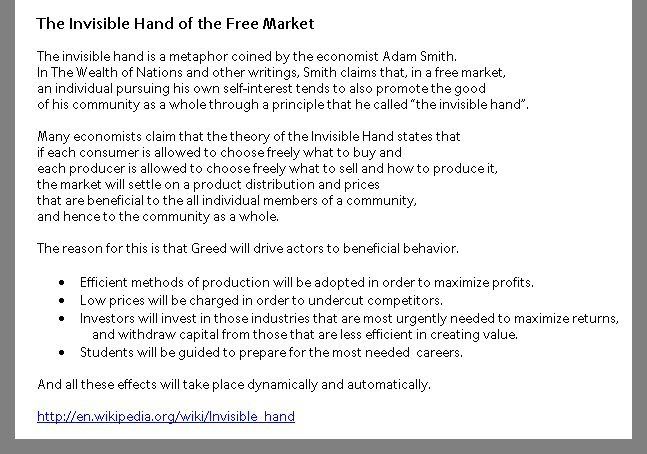 http://en.wikipedia.org/...

Efficiency. It's suppose to be the Point of our Free Market system.
So Why is it so full of Bumps, Spills, Crashes, and general Heartburn, and Heartache, to Society at large?


Well, even an esteemed Professor Emeritus, and adviser to the Fed, has posed a serious critique to the supposed Efficiency behind that all important 'Invisible Hand' ...
Is the "Invisible Hand" Still Relevant?
FRBSF Economic Letter [Federal Reserve Bank of San Francisco]
By Stephen LeRoy -- May 3, 2010
Stephen LeRoy is a professor emeritus at the University of California, Santa Barbara, and a visiting scholar at the Federal Reserve Bank of San Francisco.
The single most important proposition in economic theory, first stated by Adam Smith, is that competitive markets do a good job allocating resources. [...] The financial crisis has spurred a debate about the proper balance between markets and government and prompted some scholars to question whether the conditions assumed by Smith and Pareto are accurate for modern economies.

The single most important proposition in economic theory is that, by and large, competitive markets that are relatively, but generally not completely, free of government guidance do a better job allocating resources than occurs when governments play a dominant role. This proposition was first clearly formulated by Adam Smith in his classic Wealth of Nations. Except for some extreme supporters of free markets, today the preference for private markets is not an absolute.
[...]

The financial and economic debacle of the past few years, however, has led many to revisit this question, particularly in Europe, but also in the United States and elsewhere. To many, financial markets in the last several years appeared dysfunctional to an extent that was never imagined possible earlier. Did Adam Smith get it wrong about private markets?
[...]

Pareto's efficiency result was first formulated in mathematical models of economies that were static and deterministic -- that is, models in which time and uncertainty were not explicitly represented. [...]

[Arrow and Debreu] showed that, in any economy, there is an irreducible minimum level of risk that somebody has to bear. In a competitive economy with well-functioning financial markets, this risk will be borne by those who are most risk tolerant and who therefore require the least compensation in terms of higher expected return for bearing the risk. This is exactly as one would expect -- risk-tolerant participants use financial markets to insure the risk averse. [...]

However, demonstrating these results mathematically depends on assuming symmetric information -- that is, assuming .


Reevaluating the balance between markets and the government

[...] those who take a more critical view about the functioning of private markets believe that the crisis stemmed mainly from the destructive consequences of factors such as in financial markets and that encouraged excessive risk-taking. .

This latter view dominates most of the recent proposals for financial reform.
*
information asymmetries
. (Insiders game the system.)
Check!
*
distortions to incentives
. (Risk rarely properly assumed.)
Check!
*
govt's failure to place checks
. (Govt
excels at
Looking the other way.)
Check!
Maybe that Professor is onto something. Maybe Key Market Information is NOT distributed freely and equally to all Economic players. Maybe some of are just kept in the dark, by accident, or by design?

The 80's and 90's were the Decades of exalted Greed. And the decade of the 00's they took that principle of Greed, to a whole other level. The 'Ownership Society' was unleashed and rationalised -- but only very FEW actual took permenant Ownership of the "creative wealth" vehicles, unleashed on the world then.
The result: was more like the Decade of "Take the Money and Run". And run they did -- from any assumption of Risk and Responsibility.
And after decades of unbridled Greed, Voila, we now see a Society where the American Dream is in shambles. The majority of us, work hard, (when we can find work), yet still end up living from paycheck-to-paycheck. While Billionaires rake it in, countless more Billions, while leaving us the hard-working Tax-payers, with the Real Tab for their Risk Aversion.
I often find myself among the old Dream adherents, stunned, wondering "What Happened?"
I work hard, play by the rules. So why do I keep losing ground?
Why do those who make these Economic messes, never have to "pay a penance" to the economies that they exploited?
Why do these Wall Street Players, still get away with Trading in Illusions?
Where is the Invisible Hand of the Govt, to protect our dwindling Collective Resources? Afterall they can only squeeze SO many 'Phantom Trillions', out of this 'Turnip' -- before we are through.

Here's a different, pragmatic take, on the FREE Market Economy, that the esteemed Professor and his Fed buddies, may want to factor in, to their new Theories. It seems the Systematic Problems on Wall Street, and their impact on OUR Economy, may go a bit deeper than a few "asymmetries" ...
JUAN GONZALEZ: Your book's subtitle, -- What is 'Phantom wealth'?

DAVID KORTEN: Yeah. This is part of understanding the current Wall Street system, which is built around an illusion, the illusion that money is wealth, which then translates into the idea that people who are creating--or who are making money are in fact creating wealth. And what Wall Street has become extremely expert at is creating money out of nothing through financial bubbles, through pyramiding lending to create fictitious assets that become collateral for more bank lending, and then combining that with the predatory aspects of usurious lending and deceptive lending and the use of credit cards as a substitute for a living wage--all the games that Wall Street is playing.

And it's actually based on a philosophy that says we don't need to produce anything as a country, if we can—you know, if we can do all this financial innovation that allows us to create financial assets without producing anything of real value. I mean, it's absolutely insane. And yet, it is the--it's been the foundation of our economic policy in this country for decades now.
[...]
DAVID KORTEN: I mean, basically, we need to realize we've been told that there are only two economic models. One is the capitalist model, and the other is the communist or socialist model. One, the capitalists own everything, and the other, the government runs everything. The real alternative is, in fact, a real market economy that looks a whole lot more like what Adam Smith had in mind, which is--which looks more like a farmers' market. And I think--you know, we talk about Wall Street and Main Street, and really the solution is to rebuild a new economy based on Main Street, which means local businesses and people who are rooted in their community and working within a framework of community values and a set of public rules that enforce basic conditions of market efficiency.
[...]
JUAN GONZALEZ: --aspects of the financial system, and then the rise in recent years of all of these private equity firms. At least in the classic corporation, there are shareholders, and there are boards of directors, and you have filings with the SEC, and you have some sort of transparency. But now, with these private equity firms dominating so much of investment and with all of these off-the-books financial systems, you really have a system that no one even knows how deep the problem is.

DAVID KORTEN: That's absolutely right. And, you know, the values have morphed further and further away from any kind of connection to or commitment to a larger public interest. And, of course, underlying this is also this immoral philosophy that says if we each simply pursue our individual financial benefit, that this maximizes the benefit for the society. Now that is about as corrupt a theory as one could imagine. We are seeing the consequences of it.
[...]
DAVID KORTEN: Well, because Wall Street is totally in the business of creating phantom wealth. You know, it goes back to one of the fundamentals that I realized when I was working in international development and I began to wonder, "Why is it that the more developed the country gets, there's more and more people living in poverty?"

And it comes down to a very simple recognition. , What will maximize the , which means to people who already have money. And basically . And that's the way our whole economy, the whole Wall Street picture, is defined.
Democracy Now! Transcript and Video

People who DON'T have any Money -- DON'T fit into the equation. They are just one of those, 'insignificant variables', I guess?

Hmmmm? that could pose a problem or two, to Adam Smith's 'Invisible Hand' Theory now, couldn't it.
Poor People don't count, because they can't move Markets.
Working People don't count, because the type of Wealth they produce, can't be easily expanded into Market Bubbles.
Eco-People don't count, well, because their Market Risks DON'T matter -- NOT in the "short run" anyways -- you know, the place where the Quick Profits are actually made!

The American Dreams doesn't count, because we now live in a Flat, Global Marketplace. A place where NEW cheap (global) resources await -- just lying there, waiting to be Exploited Allocated, by the most daring and ruthless entrepreneurial.
And "Real Wealth", for the Humanity at large -- Isn't that one of those Quaint Economic Myths, much like the "Free Lunch" --
It doesn't really Exist! ... There is NO SUCH Thing as a 'Free Lunch'! ... (4 out of 5 Economists agree!)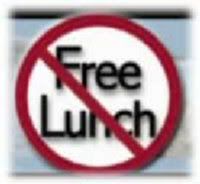 At least not in any "efficient" Market Allocation Method that we've managed to dream up so far! (and afterall us Economic Experts, we have such a winning track record, so far, don't we?)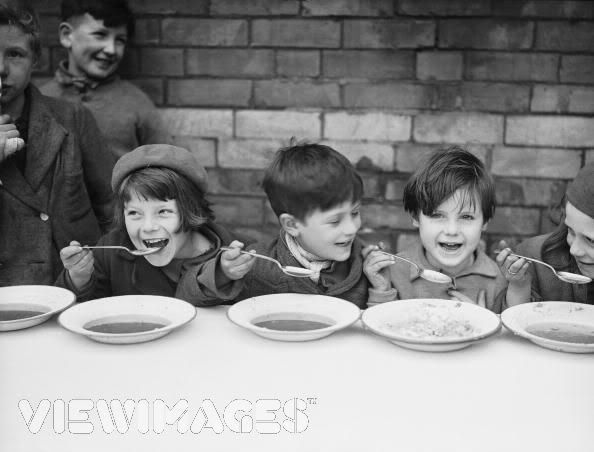 Maybe getting a "Free Lunch" is NOT so far-fetched? ... (In any Economic System, based on "Human Values" other than "Quick Profits", eh?)
Afterall, Big Banks and Big Oil, manage to finagle them (very BIG Free Lunches), every few years, at OUR Expense --
whenever their Risk Aversion gaming and market-making, finally rises up and bites them in their collective Butts -- Big Time!


Is the 'Invisible Hand' really stealing our Future well being?
I don't know, Do professionals Pick-pockets, really contribute much to Society?
I think not, but you be the judge ... just keep one hand on your wallets.