We all saw the destruction caused in the Lower Ninth Ward after Katrina (and a failed government) hit NOLA.
The floods spread throughout the Lower Ninth, an almost all-black district with a population of 14,000. Over 1,000 of the more than 1,800 deaths caused by Katrina were in this district, and since then spiking rates of suicide and heart failure indicate further victims. This area is still the most visibly devastated.
In 2005, Meteor Blades advocated a green sustainable rebuilding of New Orleans after Hurricane Katrina that he called an "Eco New Orleans." One part of his multi-faceted approach included "environmentally healthy dwellings."
Now, nearly 5 years later, after government appeared more focused on demolishing homes rather than reconstruction, individuals and groups have organized to rebuild their community with standards focusing on sustainability and flood protection reminiscent of "Eco New Orleans."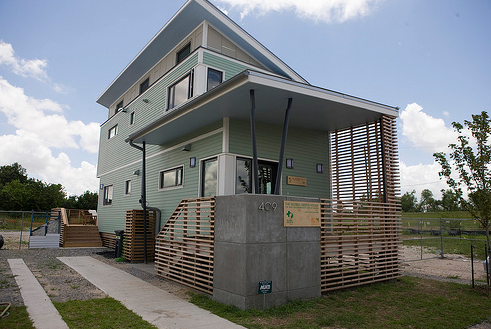 Habitat for Humanity has constructed more than 1,300 affordable homes in the four states impacted by Katrina. Global Green, an organization designed to foster sustainability by "reconnecting humanity with the environment, is building single-family homes (as shown in photo), an apartment building, and a community center.
In addition, one of the top ten green projects for 2010 is Special No. 9 House, a single-family residential home designed to "provide storm-resistant, affordable, and sustainable housing options for the residents of New Orleans' Lower Ninth Ward displaced by Hurricane Katrina."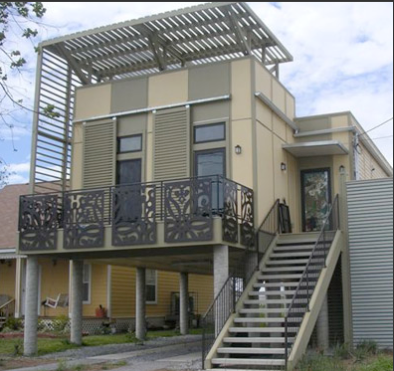 The Special No. 9 House is one of 13 single-family homes designed by architectural firms for Brad Pitt's Make It Right Foundation (MIRF). It is not tiny, having around 1,500 square feet. The architectural firms designed homes for this project pro bono and worked "very closely with residents of the Lower Ninth Ward, the neighborhood that we're rebuilding, throughout the design process." The residents picked which design they wanted and were able to customize, such as how high they wanted the house to be off the ground.
MIRF executive director explained the financing of the homes:
It's an income-based program, so we look at what that family can afford. No family pays more than 30 percent of their income, including taxes and insurance, towards their housing costs. On average the contribution at closing from a family is typically about $75,000. Sometimes that's made up in the form of grants, but often by external financing sources like banks: traditional loan sources. We work with the clients to make sure that none of the loans are predatory, of course.

That $75,000 cash at closing helps offset the cost of the house, and then usually the difference between the resident's contribution and the sales price, which averages about $150,000, is made up in the form of a forgivable loan. So the longer the family lives in the house, the more of the loan that's forgiven.
That is, the gap between what a family can afford and the actual cost of construction would be "covered by a 'forgivable loan', to be repaid only if they sold their houses."
The MIRF's goal is to build 150 homes from a variety of designs. This map tracks the progress of the construction of new homes, with an online annotation of the location of the house, name of design, and pictures documenting the stages of construction: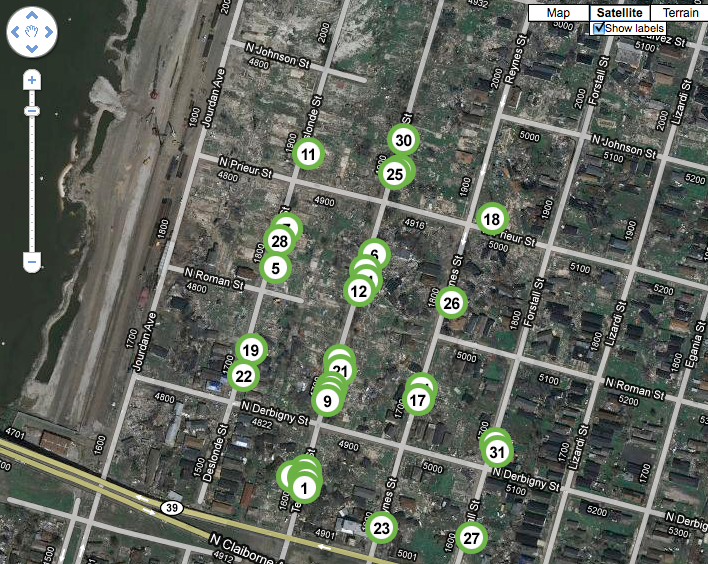 Three key concepts for the designs are safety, protection against future storms and healthy housing constructed with non-toxic materials. The architectural firm that designed Special No. 9 House describes how the house is cost effective and sustainable:
[T]he Special NO 9 House outperforms the typical American home in energy and health through the efficient application of better insulation, efficient systems, and non-toxic materials. It is highly energy efficient with a Home Energy Rating (HERS) index of 35, with the simulation model consuming 65% less energy relative to a comparable home in the same climate. This score reflects a persuasive move in the direction of carbon neutrality by surpassing the 2030 Challenge energy target for 2010 of a 60% reduction in energy consumption.

This high level of performance is achieved through a well constructed envelope, an efficient HVAC system, and a building orientation that limits most solar exposure during the warmest months. Solar heat gains are further moderated by a trellis system along the south side of the house that provides direct shading and is intended to become fully vegetated for additional solar protection and to create a habitat for native species. Large operable windows provide natural light, views, and ventilation, offering occupants a deep connection to the outside world. Other energy saving features include a roof mounted photovoltaic array, heating and cooling provided by a geothermal pump, and rainwater cisterns for non-potable water. A full brief is available on the AIA COTE Top Ten website.
There is also now a federally-funded program to test "storm-resistant housing models" that Lake Charles residents may purchase. These homes are "between 874 and 1,112 square feet and feature Energy STAR appliances, steel frames, and hardy plank siding. The homes are elevated to the area's current standard. Two and three bedroom units are available, and they match the architectural style of Louisiana's homes."
While one city official stated that "FEMA under the Obama administration has been a big improvement over the Bush years," there is a long recovery road still ahead for the community: "Only seven percent of 283 city-owned structures slated to be rebuilt have been completed or are under construction, according to an analysis by The Associated Press."
EcoJustice series discuss environmental justice, or the disproportionate impacts on human health and environmental effects on minority communities in the U.S. and around the world. All people have a human right to clean, healthy and sustainable communities.

Almost 4 decades ago, the EPA was created partially in response to the public health problems caused in our country by environmental conditions, which included unhealthy air, polluted rivers, unsafe drinking water and waste disposal. Oftentimes, the answer has been to locate factories and other pollution-emitting facilities in poor, culturally diverse, or minority communities.

Please join EcoJustice hosts on Monday evenings at 7PM PDT. Please email us if you are interested in hosting.