Lily didn't have a lot going for her. She was frail and thin and even after Sea World biologists cut that line off of her, everything still seemed to be working against her. I wrote about her, here and here.
First she was a he, old and frail, then after freeing her from her the fishing lines, they thought this Gray Whale might have a chance. But she came back. Ultimately though, I think many knew she was doomed not to make it.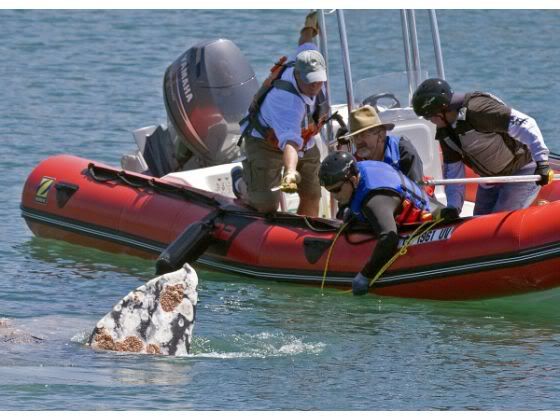 I even spoke to someone at the Ocean Institute today who said the line cut from her didn't look very old, it didn't have any growth on it. And her poor skin covered in lice and barnacles was that way because she hadn't been able to feed as gray whales do, from the bottom where most of that stuff gets scraped off in the process.
So this poor whale, malnourished, weak and unable to migrate to Alaska and probably not even able to survive the cold, finally succumb today and I was there.
I decided to go with Charlotte, my Mother and husband down to Dana Point and see if she was still hanging out around the harbor, as she had for the past few days. When we got there we walked just a bit to see people were gathered at the beach. Not a good sign.
Someone had binoculars and I asked if I could borrow them. And unfortunately Lily had indeed washed up enough on shore where she was stranded. It had just happened. She was stuck.
I started walking, quickly. I crawled down the rocks that led to the beach and I for some reason had to get to her. There was nothing I could do, it was just time for her to go. But I kept walking faster, keeping on the wet sand so that my feet wouldn't sink so fast.
My calves burned as I walked faster. All I could think was, please don't let her suffer anymore, she had been alone for so long. Who knows how long she or he had been alone. And there she was, washed ashore, to die alone.
And yet, I had to be there.
And as I walked up there were some State park rangers and they were keeping people away from Lily. I asked and she had just recently been moving her tail, so her passing had been so recent, she could still be alive. And yet there she was so close and yet so far, dying alone.
And I stood there as nothing happened except for tripods and photographers.
I know, they couldn't do anything. But why let her die alone. I wanted so badly to wade out and look her in the eye, let her know, if she was still hanging on that she was not alone.
Her skin was covered with barnacles and lice, and in places, looking so red that it might be peeling, it was hard to tell, I wasn't very close, they wouldn't let anyone near her. She was being pushed around in the surf as if she was nothing, tail moving now and again. Was she still there?
People were taking photos, camera phones coming out around me and I did everything I could to hold back sobs. Why aren't we doing something?
The last thing I wanted to do was take a photo of her. Was I the only one who wanted to let her know she wasn't alone. Don't we hold our beloved pets when they are put to sleep? I know, she was probably beyond that by then, but I just couldn't stand the thought of it.
And the helicopter came. And the people were still there.
And I still sobbed. Someone understood, a photographer who said he had named her Lily got what I meant when I said she had died all alone, he hugged me. I couldn't stay because the crowds were growing as was the media, they had learned that Lily had washed up on the beach as well.
It was time for us to go.
There was nothing I could do. And they waited for her to die before they went near her. No one had it in them to go to her while she was alive and be near her when it would have actually mattered.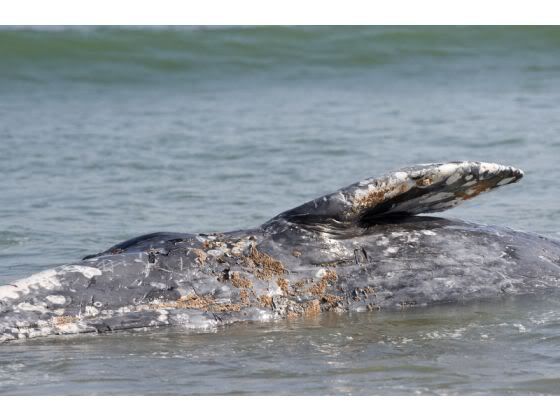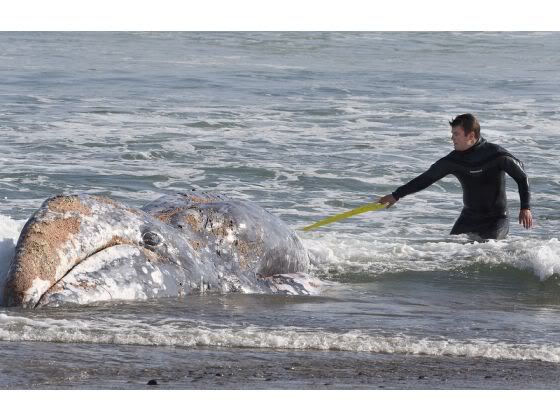 Safety of the public is one of the reasons why the carcass of Lilly the whale is being towed out to sea now, a park official said. The whale washed up around 4 p.m. about 30 feet ahead on the sand in front of San Juan Creek.

"They want to get the animal off," said Cordaro of state park officials' decision to tow Lilly out to sea right away. "They feel this is their best chance to get rid of the carcass.''

The mammal will be returned to the sea about 10 miles from the shoreline, Cordaro estimated.

But the majestic creature's saga tugged hearts and touched people in different ways during the week.

Some hope the whale rescue that unfolded in the harbor before the eyes of children and adults, visitors in town and locals, encourages more care towards the ocean environment and curiosity about the great mammals of the sea.

"I am saddened by it, of course, we're all whale lovers down here in Dana Point," said Mike Bursk, a marine biologist and captain of the institute's research boat Sea Explorer, who reported he could see the creature on the sand from the boat.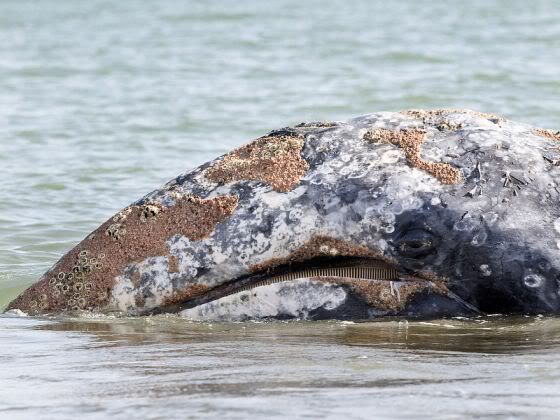 How often is it that we can be there for another creature such as Lily? And no one was there. I know we could not have saved her, her fate was sealed. But why could have no one just touched her, or done something to let her know, before she left this earth that she was not ALONE?
Maybe I am Lily.
I want to matter.
That this middle aged, fat, unemployed blogger wants to matter and that I'm not just out here treading water waiting to wash up on shore someday.
That the fear, the sadness that's been dragging me down deeper made me feel so much for this creature with no hope of making it.
And thinking that if we can't save this one whale, what are we going to do about an entire ocean like the Gulf? What then?
And I'm crying again, looking into that empty eye, I keep going back to that empty eye of hers, feeling that I have failed her, that I have failed me.
Lets not fail Lily.
Cany makes a very valid point about wild animals and my making assumptions. The reason I come to my conclusion has to do with the fact that these animals live in pods, so they are social and that they are not all afraid of humans. Some are even curious. She might have been curious, alone, who knows, I'm putting MY feelings on this dear creature, I get that. But these animals do display higher intelligence, bonds with their young as mammals and give me other reasons to think that contact matters.
I remember reading this a while back when I was doing research about sonar and whales.
When I first contacted Frohoff, a specialist in whale well-being and stress, back in January in Seattle, where she lived at the time, she mentioned that she would soon be heading down to Baja as part of her ongoing research into "the human-whale interactions there." Each winter and early spring, gray whales, members of the baleen family (named for the keratin mouth plates through which they filter their food) arrive by the thousands to the warm, placid lagoons off Baja's western coast, where the mothers give birth and nurse their calves for two to four months before beginning the migration northward to their feeding grounds in the subpolar waters of the Bering and Chukchi Seas. Typically such child-rearing is a time of intense seclusion and protectiveness among mammalian species, but many of the grays of Baja, Frohoff told me, treat their days of birthing and nursing there as a kind of protracted coming-out party. "It's extraordinary," she said. "At precisely the time when you'd expect them to be the most defensive, they're incredibly social. They'll come right up to boats, let people touch their faces, give them massages, rub their mouths and tongues."

"She's coming straight this way," Frohoff shouted as she reached for the sound-recording device she has fondly dubbed Fluffy — a two-foot-long, cylindrical microphone sheathed in a filtering fleece of shaggy fur — and held it off the bow toward a darkening wave of advancing whale.

...

And then, within moments, the mother was surfacing again off to our stern and doubling back in our direction, but this time with her newborn male in tow: a miniature version of herself — if two tons of anything can be referred to as miniature — the calf's skin still shiny and smooth. The baby gray glided up to the boat's edge, and then the whole of his long, hornbill-shaped head was rising up out of the water directly beside me, a huge, ovoid eye slowly opening to take me in. I'd never felt so beheld in my life.
I will never forget reading this and always remember this when I think of Gray whales or any large whales like them. This is part of my reason for feeling so much for Lily, for learning so much about these amazing animals.