It wasn't the first time. As a matter of fact, I smelled it yesterday, too. The last two days have been thick with smoke-scented haze from the wildfires raging through Southern Canada. The smell is strong enough, I thought our neigbors were burning brush - but I couldn't imagine the fire department giving a burn permit, considering how dry it is. Later, I heard that the haze we've been seeing isn't just the annual holiday weekend driving pollution (32 million Americans planned to drive someplace this weekend), but instead a blanket of smoke from fires tearing through the Quebec region.
Meanwhile, Quebec's forest fire protection agency, SOPFEU, reported 52 wildfires were active on Sunday, with eight being classified as out of control.
Even Boston is feeling the heat, so to speak, as air quality warnings were issued due to the heavy smoke haze [Photo Credit: Jess Bidgood for WBUR]: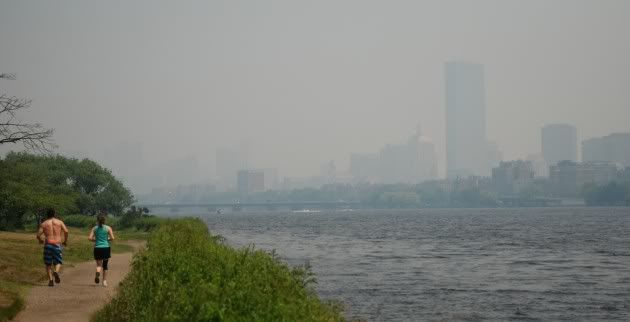 The locals are, of course, facing a much more urgent danger:
Quebec isn't exactly known for its wildfires, but extended drought and unusually high temperatures have combined to turn the province into a tinderbox. Then again, Quebec isn't exactly known for extended periods of hot dry weather in May. The "is it global warming" question, of course leaps to mind, and of course, since this is science, not religion, no one can stand up in the front of the room and say "yes, this particular hot dry spell is specifically caused by global warming" one can only say "well it fits the expected pattern of weather changes."
As the fires spread toward New England, I have to wonder what the fires will do when the cross the border. Decades of poor forest management have narrow diameter dead trees littering the landscape throughout our area. If a wildfire hits, it may be at least as devastating in the Northern US as it has been thus far just over the border. Our Northern forest might as well be a match box. With insect infestations, water stress, drought stress, and a floor of kindling left by commercial logging, the prospect is daunting. By creating the conditions for massive fires to spread rapidly, we may be about to face yet one more instance of unregulated corporate mismanagement leaving us vulnerable to much greater devastation than we should ordinarily face.