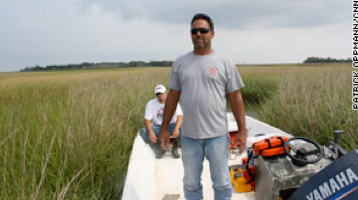 The BP gusher now threatens the community of Louisiana's Point Aux Chenes Indian Tribe, their sacred burial ground, fishing livelihood and their way of life.
The marshes in Pointe Aux Chenes, Louisiana is where this tribe of around 700 members live after their "ancestors were forced from their lands and resettled to Louisiana more than 100 years ago."
The oil spill is approaching, but there is no help from state or federal government. So, the tribe must rely on BP to help them protect their community. Fortunately, CNN is covering this story and the reporter was not discouraged by BP telling him he could not go with the boomers, so he took another boat and filmed it. (Video at CNN link but not embedded here due to some problems with CNN videos.)
Chuckie Verdin is the chairman of the Pointe Aux Chenes Indian Tribe. He sent a letter to Gov. Jindal to ask for help, but there has not yet been a response. One problem is that the tribe does not yet have federal recognition, and " no federal or state officials have come to advise them on what to do":
Since the tribe is still fighting for federal recognition, it is not empowered to appeal to Washington. That recognition, tribe members said, would give them special protections and expanded powers to push for the help they say they need.
So, the tribe must negotiate with BP, which has hired people to help boom off the coast because the tribe will now have to protect themselves from the "encroaching oil spill."
Fortunately, "a small delegation of Native Americans has made the long journey from Alaska to share their experience dealing with the aftermath of the 1989 Exxon Valdez disaster."
With boom provided by BP, Verdin and 25 tribal members are using their own fishing boats to try to protect their wetlands from the oil that is already reaching their shores. Verdin wishes that BP provided more boom and hired more workers because sacred grounds are also threatened:
What concerns the tribe the most is a small island off the coast of Pointe Aux Chenes they call their sacred grounds. It is the land where many of their ancestors are buried.

Hurricanes carried away the headstones years ago. It is bare ground except for a large, simple white cross.
Another concern is will their town exist if there is a hurricane that might disperse the oil over their lands in storm surges. This is what happened in 2005 when Hurricane Rita caused a storm surge resulting in some parts of town flooded with up to 8 feet of water.
The hurricane season starts on Tuesday:
The hurricane season starts Tuesday and runs through November, and forecasters expect one of the most turbulent seasons ever. If a hurricane rolled over the spill, the winds and storm surges could disperse the oil over a wider area and push it far inland, damaging the fragile marshlands.

"It would very definitely turn an environmental disaster into an unprecedented environmental catastrophe," said Brian D. McNoldy, a tropical storms researcher at Colorado State University.
And all this because of Pas tout la:
There is an ages-old expression among the people of southern Louisiana's Indian bayous. "Pas tout la," they say with smiles.

"Not all there," it means.

As in, "not right in the head."

This is how the Native Americans of Pointe-Aux-Chenes have come to describe one of the guilty parties of the worst oil spill in American history. "Pas tout la," they say with a grin when asked about BP.
H/T to my dear friend Avila , who emailed me this story this morning.
UPDATED WITH TAKE ACTION LIST PROVIDED BY AJI
CODE: U.S. Senate Committee on Indian Affairs (D.C. and local offices):
U.S. SENATE COMMITTEE ON INDIAN AFFAIRS
Main Committee Contact:

Committee on Indian Affairs
Allison Binney, Staff Director and Chief Counsel
United States Senate
838 Hart Office Building
Washington, DC 20510
Phone: (202) 224-2251
comments@indian.senate.gov

Members:

Byron Dorgan (D-ND), Chair
Washington, D.C. Office:
322 Hart Senate Office Bldg
Washington, DC 20510
Phone (202) 224-2551
Fax (202) 224-1193

Bismarck Office:
312 Federal Building
PO Box 2579
Bismarck, ND 58502
Phone (701) 250-4618
Phone (800) 666-4482
Fax (701) 250-4484

Fargo Office:
1802 32nd Ave South Suite B
PO Box 9060
Fargo, ND 58106
Phone (701) 239-5389
Phone (800) 666-4482
Fax (701) 239-5112

Minot Office:
100 1st Street, SW
Suite 105
Minot, ND 58701
Phone (701) 852-0703
Phone (800) 666-4482
Fax (701) 838-8196

Grand Forks Office:
102 North 4th Street,
Room 108
Grand Forks, ND 58201
Phone (701) 746-8972
Phone (800) 666-4482
Fax (701) 746-9122

John Barasso (R-WY), Vice Chair

Washington, D.C. Office:
307 Dirksen Senate Office Building
Washington, DC 20510
Main: 202-224-6441
Fax: 202-224-1724
Tollfree: 866-235-9553

Casper Office:
100 East B Street
Suite 2201
Casper, WY 82602
Mailing Address:
P.O. Box 22201
Casper, WY 82602
Main: 307-261-6413

Cheyenne Office:
2120 Capitol Avenue
Suite 2013
Cheyenne, WY 82001
Main: 307-772-2451

Riverton Office:
325 West Main Street
Suite F
Riverton, WY 82501
Main: 307-856-6642

Rock Springs Office:
2632 Foothill Boulevard
Suite 101
Rock Springs, WY 82901
Main: 307-362-5012

Sheridan Office:
2 North Main Street
Suite 206
Sheridan, WY 82801
Main: 307-672-6456

Daniel Akaka (D-HI)

Washington, D.C. Office:
141 Hart Senate Office Building
Washington, D.C. 20510
Telephone: (202) 224-6361
Fax: (202) 224-2126

Hilo Office:
101 Aupuni Street, Suite 213
Hilo, HI 96720
Telephone: (808) 935-1114
Fax: (808) 935-9064

Honolulu Office:
300 Ala Moana Blvd., Rm. 3-106
Box 50144
Honolulu, HI 96850
Telephone: (808) 522-8970
Fax: (808) 545-4683

Maria Cantwell (D-WA)
Washington, D.C. Office:
511 Dirksen Senate Office Building
Washington, DC 20510
202-224-3441
202-228-0514 - FAX
202-224-8273 - TDD

Toll-Free Number for State Offices:
1-888-648-7328

Central Washington Office:
825 Jadwin Avenue,
Suite 205
Richland, WA 99352
(509) 946-8106
(509) 946-6937 - FAX

Northwest Washington Office:
2930 Wetmore Avenue, Suite 9B
Everett, WA 98201
425-303-0114
425-303-8351 FAX

Seattle Office:
915 Second Avenue
Suite 3206
Seattle, WA 98174
206-220-6400
206-220-6404 - FAX

Spokane Office:
U.S. Federal Courthouse
W. 920 Riverside, Suite 697
Spokane, WA 99201
509-353-2507
509-353-2547 - FAX

Southwest Washington Office:
Marshall House
1313 Officers Row
Vancouver, WA 98661
360-696-7838
360-696-7844 - FAX

Tacoma Office:
950 Pacific Avenue, Suite 615
Tacoma, WA 98402
253-572-2281
253-572-5879 FAX

Tom Coburn (R-OK)

Washington D.C. Office:
172 Russell Senate Office Bldg.
Washington, DC 20510
Main: 202-224-5754
Fax: 202-224-6008

Oklahoma City Office:
100 North Broadway
Suite 1820
Oklahoma City, OK 73102
Main: 405-231-4941
Fax: 405-231-5051

Tulsa Office:
1800 South Baltimore
Suite 800
Tulsa, OK 74119
Main: 918-581-7651
Fax: 918-581-7195

Kent Conrad (D-ND)

Washington, D.C. Office:

530 Hart Senate Office Building
United States Senate
Washington, DC 20510-3403
Phone: (202) 224-2043
Fax: (202) 224-7776
Online: http://conrad.senate.gov/...
E-mail: https://conrad.senate.gov/...

Toll-free Phone: 1-800-223-4457

Bismarck Office:
U.S. Federal Building, Room 228
220 East Rosser Avenue
Bismarck, ND 58501
Phone: (701) 258-4648
Fax: (701) 258-1254

Fargo Office:
U.S. Federal Building, Room 306
657 2nd Avenue North
Fargo, ND 58102
Phone: (701) 232-8030
Fax: (701) 232-6449

Grand Forks Office:
33 S 3rd St., Suite B
Grand Forks, ND 58201
Phone: (701) 775-9601
Fax: (701) 746-1990

Minot Office:
U.S. Federal Building, Room 105
100 1st Street SW
Minot, ND 58701
Phone: (701) 852-0703
Fax: (701) 838-8196

Mike Crapo (R-ID)

Washington, D.C. Office:
239 Dirksen Senate Building
Washington, DC 20510
Phone: (202) 224-6142
Fax: (202) 228-1375

Idaho State Office:
251 East Front Street
Suite 205
Boise, ID 83702
Phone: (208) 334-1776
Fax: (208) 334-9044

Eastern Idaho, North Office:
410 Memorial Drive
Suite 204
Idaho Falls, ID 83402
Phone: (208) 522-9779
Fax: (208) 529-8367

Eastern Idaho, South Office:
275 South 5th Avenue
Suite 225
Pocatello, ID 83201
Phone: (208) 236-6775
Fax: (208) 236-6935

North Idaho Office:
610 Hubbard Street
Suite 209
Coeur d' Alene, ID 83814
Phone: (208) 664-5490
Fax: (208) 664-0889

North-Central Idaho Office:
313 'D' Street
Suite 105
Lewiston, ID 83501
Phone: (208) 743-1492
Fax: (208) 743-6484

South-Central Idaho Office:
202 Falls Avenue
Suite 2
Twin Falls, ID 83301
Phone: (208) 734-2515
Fax: (208) 733-0414

Southwestern Idaho Office:
524 East Cleveland Blvd.
Suite 220
Caldwell, ID 83605
Phone: (208) 455-0360
Fax: (208) 455-0358

Al Franken (D-MN

Washington, D.C. Office:
320 Hart Senate Office Building
Washington, DC 20510
(202) 224-5641

Duluth Office:
515 W 1st St
Suite 104
Duluth, MN 55802
(218) 722-2390

Saint Cloud Office:
916 W St. Germain St.
Suite 110
Saint Cloud, MN 56301
(320) 251-2721

Saint Paul Office:
60 East Plato Blvd
Suite 220
Saint Paul, MN 55107
(651) 221-1016

Saint Peter Office:
208 S Minnesota Ave
Suite 6
Saint Peter, MN 56082
(507) 931-5813

Daniel Inouye (D-HI)

Washington, D.C. Office:
722 Hart Building
Washington, D.C. 20510-1102
Phone: 202-224-3934
Fax: 202-224-6747

Hilo Office:
101 Aupuni Street, #205
Hilo, Hawaii 96720
Phone: 808-935-0844
Fax: 808-961-5163

Honolulu Office:
300 Ala Moana Boulevard
Room 7-212
Honolulu, Hawaii 96850-4975
Phone: 808-541-2542
Fax: 808-541-2549

Mike Johanns (R-NE)

Washington, D.C. Office:
404 Russell Senate Office Building
Washington, DC 20510
Tel: (202) 224-4224
Fax: (202) 228-0436
Hours: 8:30 a.m. - 6:00 p.m. EST

Kearney Office:
4111 Fourth Avenue, Suite 26
Kearney, NE 68845
Tel: (308) 236-7602
Fax: (308) 236-7473
Hours: 8:00 a.m. - 4:00 p.m. CST
8:00 a.m. - 12:00 p.m. CST Fri

Lincoln Office:
294 Federal Building 100 Centennial Mall North
Lincoln, NE 68508
Tel: (402) 476-1400
Fax: (402) 476-0605
Hours: 8:00 a.m. - 5:00 p.m. CST

Omaha Office:
9900 Nicholas St., Suite 325
Omaha, NE 68114
Tel: (402) 758-8981
Fax: (402) 758-9165
Hours: 8:00 a.m. - 5:00 p.m.

Scottsbluff Office:
115 Railway Street, Suite C102
Scottsbluff, NE 69361
Tel: (308) 632-6032
Fax: (308) 632-6295
Hours: 8:00 a.m. - 5:00 p.m. MST

Tim Johnson (D-SD)

Washington, D.C. Office:
136 Hart Senate Office Building,
Washington, DC 20510
Phone: (202) 224-5842
Fax: (202)228-5765

Toll Free from anywhere in South Dakota: 1-800-537-0025
Agriculture Hotline: (800) 819-0788

Aberdeen Office:
320 S. First St. Suite 103
Aberdeen, SD 57401
Phone: (605) 226-3440
Fax: (605) 226-2439

Rapid City Office:
405 E. Omaha St., Suite B
Rapid City, SD 57701
Phone: (605) 341-3990
Fax: (605) 341-2207

Sioux Falls Office:
5015 S. Bur Oak Place
Sioux Falls, SD 57108
Phone: (605) 332-8896
Fax: (605) 332-2824

John McCain (R-AZ)

Washington, D.C. Office:
241 Russell Senate Office Building
Washington, DC 20510
Main: (202) 224-2235
Fax: (202) 228-2862

Phoenix Office:
5353 North 16th Street
Suite 105
Phoenix, AZ 85016
Main: (602) 952-2410
Fax: (602) 952-8702

Prescott Office:
122 North Cortez Street
Suite 108
Prescott, AZ 86301
Main: (928) 445-0833
Fax: (928) 445-8594

Tempe Office:
4703 South Lakeshore Drive
Suite 1
Tempe, AZ 85282
Main: (480) 897-6289
Fax: (480) 897-8389

Tucson Office:
407 West Congress Street
Suite 103
Tucson, AZ 85701
Main: (520) 670-6334
Fax: (520) 670-6637

Lisa Murkowski (R-AK)

Washington, D.C. Office:
709 Hart Senate Building
Washington, D.C. 20510
Main: 202-224-6665
Fax: 202-224-5301

Anchorage Office:
510 L Street
Suite 550
Anchorage, AK 99501
Main: 907-271-3735
Fax: 907-276-4081
Toll Free: 1-877-829-6030

Fairbanks Office:
101 12th Avenue
Fairbanks, AK 99701
Main: 907-456-0233
Fax: 907-451-7146

Kenai Office:
805 Frontage Road
Suite 105
Kenai, AK 99611
Main: 907-283-5808
Fax: 907-283-4363

Ketchikan Office:
4079 Tongass Avenue
Suite 204
Ketchikan, AK 99901
Main: 907-225-6880
Fax: 907-225-0390

MatSu Office:
851 East Westpoint Drive
Suite 307
Wasilla, AK 99654
Main: 907-376-7665
Fax: 907-376-8526

Jon Tester (D-MT)

Washington, D.C. Office:
724 Hart Senate Office Building
Washington, DC 20510-2604
Phone: (202) 224-2644
Fax: (202) 224-8594

Billings Office:
Granite Tower
222 N 32nd Street, Suite 102
Billings, MT 59101
Phone: (406) 252-0550
Fax: (406) 252-7768

Bozeman Office:
Avant Courier Building
1 E Main Street, Suite 202
Bozeman, MT 59715
Phone: (406) 586-4450
Fax: (406) 586-7647

Butte Office:
Silver Bow Center
125 W Granite, Suite 200
Butte, MT 59701
Phone: (406) 723-3277
Fax: (406) 782-4717

Glendive Office:
122 W Towne
Glendive, MT 59330
Phone: (406) 365-2391
Fax: (406) 365-8836

Great Falls Office:
119 1st Avenue N, Suite 102
Great Falls, MT 59401
Phone: (406) 452-9585
Fax: (406) 452-9586

Helena Office:
Capital One Center
208 N Montana Avenue, Suite 202
Helena, MT 59601
Phone: (406) 449-5401
Fax: (406) 449-5462

Kalispell Office:
14 Third Street E, Suite 230
Kalispell, MT 59901
Phone: (406) 257-3360
Fax: (406) 257-3974

Missoula Office:
130 W Front Street
Missoula, MT 59802
Phone: (406) 728-3003
Fax: (406) 728-2193

Tom Udall (D-NM)

Washington, D.C. Office:
110 Hart Senate Office Building
Washington DC, 20510
(202) 224-6621

Albuquerque Office:
219 Central Ave NW
Suite 210
Albuquerque, NM 87102
(505) 346-6791

Las Cruces Office:
Loretto Town Center
505 South Main Suite 118
Las Cruces, NM 88001
(575) 526-5475

Santa Fe Office:
120 South Federal Place
Suite 302
Santa Fe, NM 87501
(505) 988-6511