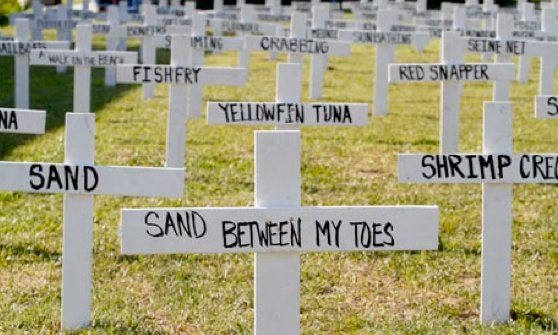 We need to hold BP accountable with various legal sanctions -- such as debarment, civil fines, civil lawsuits, and criminal prosecutions for real criminal offenses. Sanctions are needed for recovery, justice and deterrence of such inhumane, negligent and risky conduct by corporations given that we cannot commence living on alternative energies tomorrow.
This Gulf Oil Gusher has shown to those who did not realize before that we cannot continue with an extreme fossil fuel energy policy. Public outrage helped convince President Obama to extend the offshore drilling moratorium. Today's EcoAdvocates focuses on the next step: Convincing President Obama to strengthen the climate change bill to provide a real path forward. This is a message bloggers can send DC everyday.
Tonight's EcoAdvocates edition includes posts by Bill McKibben on Now's the moment for President Obama, A Siegel on The Climate Mitigation Procrastination Storm and some take-action items.

Now's the moment for President Obama
by Bill Mckibben
It's an interesting moment for Obama-watcher -- when he talks about the Gulf these days, he sounds a little more rattled than we're used to seeing him. Partly it's because there's so little he can do. BP put a hole in the bottom of the sea, and it's unclear if anything can plug it: the photo of Steven Chu checking over calculations in the command center was equal parts alarming and charming.
But partly Obama is rattled because he knows he's not politically in the driver's seat when it comes to this issue. Three weeks before Deepwater Horizon exploded, he lifted the longstanding moratorium on offshore oil, and announced that it was basically safe. That didn't cause the explosion -- but it did illustrate exactly how limp his energy policy has been. It was one of the gift offerings laid at the feet of industry to keep them on board with the Kerry Lieberman energy bill, and it exemplified his negotiating strategy on so many issues: try and defuse the powerful opposition by pre-compromising on most points, in the hopes that you'll be able to get "a bill."
When the administration did this with health care -- agreeing not to take serious action to reduce drug prices, for instance -- they didn't have to worry that Pfizer would triple the price of medicine while the fight was still underway. There was no way to get to the left of Obama in the healthcare debate, and so progressives had to take what they could get. But on energy, all of a sudden, he's more vulnerable.
Or, looked at more positively, he has the perfect platform. If he really wants to transform the debate on energy and climate, and not simply pass "a bill," then now's the moment. With the Gulf turning black, he could mount a real campaign to remind us how dirty fossil fuel is in all its guises. Even when it makes it safely to shore, and into the gas tanks of our cars, where it is turned into the co2 now raising the temperature through the roof.
We've built at least the beginnings of a global movement at 350.org -- last fall we staged what CNN called 'the most widespread day of political action in the planet's history,' 5200 simultaneous demonstrations in 181 countries. This fall, on 10/10/10, we're hosting a giant Global Work Party. Let's hope the president is up on the roof of the White House, hammering in the solar panels that Ronald Reagan took down. And then let's hope he's out on the hustings, hammering home the message that we by God need to finally own up to our addiction and get to work.

The Climate Mitigation Procrastination Storm
by A Siegel
Looking 40 years out is difficult for most of us and developing effective policy taking 40 years in the future seriously is difficult for most political institutions. Manana ... demain ... tomorrow ... later ... putting off action is natural for us procrastinators.
"Procrastinators tend to live for today rather than for tomorrow. It's short-term gain for long-term pain."
When it comes to climate mitigation, American culture is in that perfect procrastination storm.
We live in a political culture which, increasingly, speaks of "consumers" rather than 'citizens' or 'voters' or 'constituents' or 'people'.
We live in a news zone where the health of the economy is defined by the stock ticker rather than citizens' health and satisfaction, long-term prospects, ability to provide meaningful employment for today's and tomorrow's citizens (oops ... 'consumers).
We live ... in a society that has spent much of the past 30 years partying with 'short-term gain' while thrusting problems aside, after all, there is always manana ...
Again, look at that definition:
"Procrastinators tend to live for today rather than for tomorrow. It's short-term gain for long-term pain."
At least 20 percent of my fellow citizens (oops, "consumers") are chronic procrastinators and 95+% of us (U.S.) regularly take actions that fit the bill.
The way that climate mitigation is discussed goes directly against that 'consumer' and 'stock ticker' culture. The generalized (and false) discussion of working to deal with our climate challenge reverses that equation, stating that it is 'short-term pain for long-term gain'. The reality is quite different: well designed and well-executed climate mitigation strategies offer quite serious potential to satisfy both the procrastinator and the planner among us (and within us all) by delivering short-term and long-term gain, while helping to avoid (or, sigh, at least reduce) mid-term and (more so) long-term pain.
One of the shorthands for the U.S. target has been -- for a long time 80 percent by 2050. This refers to cutting U.S. emissions 80% from 1990 emissions levels by 2050 as part of a global strategy to keep total atmospheric CO2 concentrations below 450 parts per million (ppm). This target, described too often by skeptics and action procrastinators as some form of incredibly naive and overly ambitious target, actually represents a minimum to provide humanity a 50 percent chance of facing catastrophic climate change impacts. Thus, that 80% by 2050 isn't a target, it is an inadequate minimum.
If done right, climate mitigation efforts offer quite serious potential for short-term gain via, for example,"Clean Energy Jobs" putting in insulation, fostering local / community gardens, making our swimming pools more energy efficient, helping laundry mats install solar hot water systems, creating greenways for bicycles, and ... There are millions of jobs begging to be filled if the right policies are put into place. And, those jobs can be created and filled quickly for the 10s of millions of Americans looking for employment.
And, those climate mitigation efforts will strengthen the economy not just in the near, but in the mid and longer terms. It will also strengthen national security by reducing oil import dependency and reducing the extent to which climate change drives demands for military forces. It will also improve our health by reducing fossil fuel pollution impacts. It will ... quite simply, "promote the general welfare" of American citizens ... born and unborn.
Calling for 80% by 2050 is not just inadequate (the best science seems to be migrating from a 450 ppm to a 350 ppm target), not just confusing (what is this all about), not just misleading (focusing us on 'tomorrow' rather than what we can do today), but is fundamentally at odds with the procrastinator within each of us and the procrastinators among us.
Focusing on that longer-term issue weakens, in our procrastinator-dominated culture, the ability to begin taking the actions that will pay off for today and tomorrow.
We can not just meet, but exceed, that "80 by 2050" target with a discussion and policy that has quite tangible near term targets, quite tangible near term actions, and quite tangible near-term results. The Five Percent Solution (cut oil use by 5% / year, cut coal-fired electricity 5% from 2010 levels every year) speaks to that near-term while delivering in the near, mid, and long term on economic and environmental terms.
We need to recognize the Procrastinator Among US in developing of climate mitigation strategies. Investment in tomorrow is difficult. Doing climate policy and action right, in a principled way, can provide a path to tackling tomorrow's challenges even while providing satisfaction (benefits) today.

Take-Action Items
League of Conservation Voters: Email message to President Obama and your senators to abandon failed energy policies of past and enact true energy reform that promotes clean, renewable energy, and limits carbon pollution.
NRDC: Send President Obama an email message asking that he lead us to a clean energy future.
Sierra Club: Send email message to President Obama to ban all offshore drilling.
DSCC petition: Help President Obama Hold BP Accountable.
Credo Action: Tell EPA to take away BP's billions in federal contracts.
Defenders of Wildlife: Support their lawsuits against Minerals Management Service's "continued lax oversight of oil drilling operations" and its lawsuit against BP for violating the Endangered Species Act by harming and killing endangered species by the oil gusher and use of dispersants.

EcoAdvocates is a new series initiated by Meteor Blades and Patriot Daily News Clearinghouse, who are contributing editors. This series focuses on providing more effective political pressure and taking action on environmental issues.

Contributing writers provide a diversity of perspectives including wind/energy/climate change; water; agriculture/food; mountaintop removal mining/coal; wildlife; environmental justice; and indigenous/human rights/civil rights. Contributing writers include: Bill McKibben, Jerome a Paris, mogmaar, boatsie, Aji, rb137, Ellinorianne, faithfull, Oke, Jill Richardson, Patric Juillet, Josh Nelson, beach babe in fl, Ojibwa, Muskegon Critic, Desmogblog, A Siegel, gmoke, DWG, citisven, mahakali overdrive and FishOutofWater.