Welcome to the eKos Earthship, your one-stop-shop for green diaries and series.
Beneath the fold you will find announcements, today's eco-diary roundup, a news item, and our environmental images of the day.
You can also follow us on Twitter!
Tonight's editor: patrickz
Announcements:

rb137 has an EcoJustice announcement:
Tomorrow night, Suzan DelBene is going to guest blog at EcoJustice. She is running for Wa-08 -- the same district where Darcy Burner ran in elections past. This district has never had a Democrat seated in it, but the red/blue balance is close to even.
She matches this district well. Her background in business is extensive. She's held VP positions at Microsoft, lead two successful tech startup companies, and she's spent the last few years of her career working in non-profit to create microcredit opportunites in Nicaragua and Peru to help them through hard economic times.
She thinks the root to addressing economic recovery, climate change, and our dependence on oil are the same, and it is building green technology and a green economy from the ground up. She is determined that we can take the lead in sustainable technology and development. What sets her apart from others is that she knows how make it work.
I believe the time has come to elect a representative for the 8th Congressional District who will place people above politics and push for policies that enable our citizens to transform their talents, hard work, and creativity into new opportunities.

We need a leader who values innovation and expertise over partisanship; someone with the real world experience needed to solve problems and get things done.

After spending more than 20 years building innovation-based businesses that create good jobs for talented, hard working men and women, I understand the role that government can play in fostering sustainable economic growth. I also believe that everyone should have an equal opportunity to build a better life.

Huge kudos to the BP Catastrophe in the Gulf Liveblog crew. They've done a wonderful job.

"Singing for the Planet"

If you haven't heard, WarrenS (whose climate letters we sometimes post in the Earthship) has organized a concert to benefit 350.org to be held on Saturday, June 12 at 7:00 pm. The location will be Emmanuel Church, 15 Newbury Street, Boston, MA. For more details, check out this diary by WarrenS!

News Item
111 children die from lead due to illegal mining in Northern Nigeria
Lead poisoning caused by illegal gold mining has killed 163 Nigerians, most of them children, in remote villages in the past few months, a government official said on Friday.
Dr Henry Akpan, the health ministry's chief epidemiologist, told Reuters 355 cases in at least six locations in the northern Zamfara state had been reported so far and 111 of the dead were children, many of them under five.

The villages affected such as Dareta and Giadanbuzu are in the poor, arid Sahel region on the southern fringe of the Sahara, where many people work as miners and subsistence farmers.

Akpan said health officials, who first became aware of a problem in March, had found children playing in water close to mining sites when they visited. He said the number of cases had fallen since April after local authorities halted illegal mining and began evacuating residents.
Nigeria holds a vast wealth in natural resources, in sharp contrast to its largely impoverished population. So far, Nigeria has focused on oil and natural gas extraction, which has lead to massive environmental degradation and done little to help the poor.
Mineral extraction has not become a large part of the Nigerian economy despite its reserves of gold, uranium, iron, and Tantalite. However, facing extreme poverty and with little help from a government plagued by corruption, some turn to illegal mining.
The Nigerian Sahel, the arid belt that bounds the southern side of the Sahara Desert, also faces challenges due to land degradation and climate change:
The researchers calculated that from 1901 to 2002, mean temperatures significantly increased on 76 percent of global land, with the greatest warming in boreal, or subarctic, regions. The most substantial biome shifts occurred where temperature or precipitation changed by one-half to two standard deviations from 20th century mean values.

Some examples of biome shifts that occurred include woodlands giving way to grasslands in the African Sahel, and shrublands encroaching onto tundra in the Arctic.

"The dieback of trees and shrubs in the Sahel leaves less wood for houses and cooking, while the contraction of Arctic tundra reduces habitat for caribou and other wildlife," said Gonzalez, who has served as a lead author on reports of the Intergovernmental Panel on Climate Change (IPCC). "Globally, vegetation shifts are disrupting ecosystems, reducing habitat for endangered species, and altering the forests that supply water and other services to many people."
And then there is the gold. Why should these children have to die for an ore that is not intrinsically more valuable than many other minerals?
Gold's primary uses are for jewelry, investment, and industry. Industrial demand accounted for about %10 of the total in 2009.
10%
Speculation has driven the price of gold to $1200 an ounce. One ounce of gold produces as much as 30 tons of toxic waste:
A £1,000 wedding ring - equivalent to one ounce of gold - creates up to 30 tons of toxic waste. To produce that single ounce, miners have to quarry hundreds of tons of rock, which are then doused in a liquid cyanide solution to separate the gold. Payal Sampat, the campaign director for Earthworks, the mining watchdog, told The Independent: "Gold mining is arguably the world's dirtiest and most polluting industry."
I'm not trying to make any direct accusations of guilt with this story. I don't know how much of a direct impact global warming has on subsistence farmers in the Zamfara state. I don't know if more investment from the Nigerian government could have stopped the illegal mining.
But I do know that the US is responsible for the majority of historic CO2 emissions. I know that the US buys 40% of Nigeria's oil exports. I know that I've seen way to many advertisements helping to drive up the price of gold these last few years.
And I know that there are 111 dead children in the Sahel.
It just breaks my heart.

Images of the Day
This one is a little personal. I'm taking the liberty to re-post some of my father's wildflower photos. We lost him to cancer in March. Today would have been his 62nd birthday.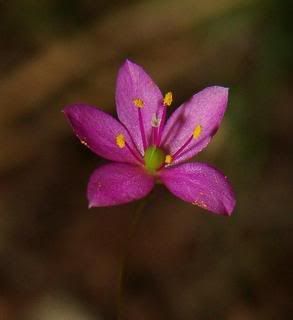 I love you dad.

Eco-series line-up:
(All times Eastern!)


Today's eKos diaries:
| Author | Diary | Time | Tags |
| --- | --- | --- | --- |
| BruceMcF | Sunday Train: The Liberty Fund, 1 cent/gallon and 1 percent | 06/06/10 08:13PM Eastern | learning, ekos, living energy independence, cycling, HSR |
| Patriot Daily News Clearinghouse | Justice for BP's Gulf Gusher | 06/06/10 09:30PM Eastern | Climate change news roundup, environment, climate change, ekos |
| Neon Vincent | Overnight News Digest: Science Saturday (World Festival of Science 2010 edition) | 06/06/10 12:13AM Eastern | Recommended, Overnight News Digest, OND, nerdsville, science |
| LaFeminista | BP's Invisible Man:  Carl-Henric Svanberg | 06/06/10 04:28AM Eastern | BP, Tony Hayward, Carl-Henric Svanberg, Board of Directors, flooding the gulf with oil |
| jamess | Scientists confirm it -- Massive Underwater Oil Plumes are There | 06/06/10 08:01AM Eastern | Recommended, BP, Mark Proelger, Oil Spill, Deepwater Horizon |
| nyceve | "Doomsday"cuts for public transportation as politicians pay lip service to energy independence | 06/06/10 09:31AM Eastern | NYC, Mass Transit, transportation, Recommended, ekos |
| Liveblog | BP Catastrophe in the Gulf - Mothership Day 12 | 06/06/10 10:35AM Eastern | Oilpocalypse, BP, Deepwater Horizon, Gulf of Mexico, LMRP |
| Crashing Vor | Pelican | 06/06/10 11:00AM Eastern | New Orleans, Louisiana, oil spill, Deepwater Horizon, eKos |
| RLMiller | Big Pivot from Crisis to Opportunity: Part 1, Politics. | 06/06/10 12:00PM Eastern | eKos, climate change, American Power Act, oilpocalypse, recommended |
| YoungChicagoDemocrat | Frank Rich: Don't Get Mad, Mr. President. Get Even. | 06/06/10 12:46PM Eastern | BP Oil Spill, Frank Rich, eKos |
| change the Be | Jimmy Carter, Solar Energy, and "The Road Not Taken" | 06/06/10 12:52PM Eastern | solar energy, oil, jimmy carter, ekos |
| WarrenS | ECSTASY - The Tyranny of False Measurement | 06/06/10 12:55PM Eastern | Economics, consumption, ECSTASY, eKos, happiness |
| webranding | Deepwater Horizon: A Reflection On Our Use Of Oil | 06/06/10 01:21PM Eastern | Deepwater Horizon, BP, Oil, Oil Spill, Energy |
| LaughingPlanet | Maher ends the 'debate': 'What the f**k is wrong with you people?' | 06/06/10 01:28PM Eastern | Recommended, Real Time with Bill Maher, Bill Maher, New Rules, Global Warming |
| delmardougster | Mojo' hikin' / A Capitol Reef Photo Journal | 06/06/10 02:08PM Eastern | Capitol Reef, photos, journal, national park, hiking |
| marabout40 | 20,000,000 | 06/06/10 03:34PM Eastern | oil addiction, oil disasters, personal responsibility, eKos |
| Julie Gulden | "Head in Sand" Award Goes To........ | 06/06/10 04:15PM Eastern | Haley Barbour, Oil Spill, Head In Sand, eKos |
| wide eyed lib | Free Food: What Not to Forage | 06/06/10 05:43PM Eastern | Foraging, Botany, Survival Skills, Teaching, Spring |
| Ellinorianne | Changing the Tide, Without Republicans, President Obama Must Act | 06/06/10 06:15PM Eastern | Oil, BP, Oceans, ekos, environment |
Yesterday's eKos diaries:
| Author | Diary | Time | Tags |
| --- | --- | --- | --- |
| LaFeminista | Capping the Gaffe Gusher: Silencing Tony Hayward | 06/05/10 12:44AM Eastern | Tony Hayward, BP, wall of sound, ekos |
| slinkerwink | OSHA Says Workers Don't Need Protection In Gulf Spill | 06/05/10 01:47AM Eastern | Recommended, OSHA, respirators, gulf, oil spill |
| jamess | UPDATED: Some of the Oil is being Captured, and SOME, of it is NOT | 06/05/10 10:50AM Eastern | Recommended, BP, Oil Spill, Gulf of Mexico, Crisis Management |
| Edger | The Sword's Edge: Obama And Big Oil | 06/05/10 02:37PM Eastern | eKos, Antonia Juhasz, BP, British Petroleum, Corruption |
| Stranded Wind | Railroad ReModelers Club: Introduction | 06/05/10 04:03PM Eastern | Railroad ReModelers Club, transit, eKos, Rescued |
| eKos | eKos Earthship Saturday: Spend More Time Outside and Feel More Alive | 06/05/10 10:08PM Eastern | ekos, environment, outdoors, health, sunscreen |
| Unenergy | About that third leak... | 06/05/10 10:22PM Eastern | Recommended, Gulf Gusher, Footage Suppression, eKos, Gulf of Mexico |

About eKos
The Idea

This project was inspired by the Earth Day @ DKos Blogathon. In case you missed it, we had 31 participating environmental diaries, all of which were linked to in the Mothership. During the event we had several requests for an eco-mothership diary series in the mould of the Earth Day effort.

The Mission

eKos is all about promoting community eco-diaries. Daily Kos already showcases several series, but sometimes the work of dedicated green diarists pass off the recent diary list hardly noticed. Our goal is to make these diaries more accessible. In the process we hope to build community and bring in a broader audience to the exceptional environmental writing here at DK.

How eKos Works

If you want a diary included in the list, please let us know by leaving a comment. We'll do our best to search out green diaries, but are bound to miss a few. For eKos to live up to it's full potential, eco-diarists should post a link to the Earthship, or place the widget at the end of their diary. This will provide readers with easy access to other recent environmental diaries.

Tag Rules

If you want to help out with tagging, here are a few simple rules to follow:

If you see an eco-diary or front page story, tag it 'eKos'. and inform the diarist.

Fix the tag if it is wrong (e-kos or ecos tags won't help).

Watch out for tag abuse. eKos is meant to be inclusive, but if you see writing that is clearly not friendly to environmental causes, or which breaks site rules that has been tagged, please remove it.

Don't tag diaries that call-out or in any way directly criticize other Kossacks or diaries. It is fine if it addresses a meme or argument, but it cannot specifically mention or link to any comment or diary.

If someone removes the tag without justification, please put it back. If they persist, report them.

If there are any issues, please e-mail ekos350atgmaildotcom.

Contact

You can follow us on Twitter

If you are interested in becoming an eco-ranger for eKos, or just want some more info, e-mail ekos350atgmaildotcom

eKos Rangers

In no particular order:

Regina in a Sears Kit House
boatsie
Hopeful Skeptic
RLMiller
patrickz
Earthfire
Ellinorianne
A Siegel
dRefractor
SolarMom

Please give them some mojo if you see them, they deserve it!