When my father died, my mother's older sister who had had much experience with grief advised us, "She needs people". When you lose a husband of many, many years, you do need people. Mother needed people -- my aunt was right.
So does Larry Bailey. He lost his beloved spouse and partner for forty years very suddenly last week. A heart attack took him – and Larry is bereft and in such pain. He has suffered a terrible shock and loss and he needs the gentle kindness of his people. Please join me in sending messages of love and support to him. I will transcribe your words in archival ink on muslin and incorporate your message into a quilt Larry can wrap himself in. In this warm way, he can keep the love of his friends – all of you -- close.
I figure the cost of making one of these "love catchers" at $5/message – or roughly the cost of sending a nice card. If you would like to contribute to the cost, here is a PayPal link – or email me for a snail mail address if you are more comfortable sending a check. But if you cannot affort to give money, please leave your message anyway. Larry needs to hear your kind words – this is a community effort and someone will cover for you.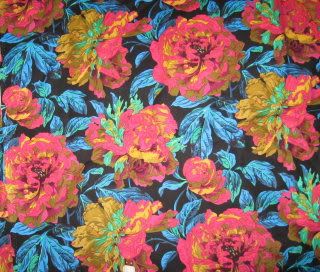 Backing fabric for Larry's quilt, a Philip Jacobs print
Here are the quilts completed to date:
othniel (cellulitis and ensuing complications)
exmearden (cancer of heart and lung)
MsSpentyouth (brain tumor)
Moe99 (lung cancer)
Michelle Caudle (ovarian cancer)
BFSkinner (lupus)
Kitsap River (waiting for kidney donor)
Frederick Clarkson (blood clots)
Dreaming of Better Days (lymphoma)
one bite at a time (lost house and belongings to fire)
Timroff (cellulitis)
Sol Fed Joe (multiple cancers and health problems)
Brubs (AIDS, immune reconstitution syndrome)
rserven (gall bladder infection with dangerous complications)
grndrush (brain tumor)
ImpeachKingBushII (needs liver transplant)
andsarahtoo (lupus)
Frank Cocozzelli (muscular dystrophy)
luvsathoroughbred (breast cancer)
Predictor (stroke and HIV)
Theodore Olbermann, RIP
cskendrick (antibiotic resistant infection)
Keith Olbermann (caregiver to father)
Juan (cancer)
Ana (a young horse belonging to Juan, hit by truck)
MA Liberal's mother (Alzheimer's)
Charles CurtisStanley (caretaker to Kitsap River)
Lorikeet (cervical cancer)
Dr. Lori (metastatic cancer)
ulookarmless (cancer, heart condition, stroke)

Melody Townsel's backing fabric, auditioning a binding
We're working on Melody Townsel's quilt right now – and hope to have it layered for quilting tonight. Dadanation's messages are being transcribed. We are still collecting messages for riverlover and Louisiana 1976.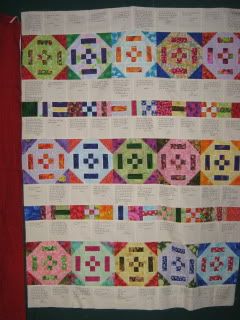 Melody Townsel's quilt top, choosing a border fabric
Future quilts are planned for:
ramara (cancer survivor, depression)
Ellinorianne (rheumatoid arthritis and fibromyalgia)
UnaSpensor (Lyme disease)
MA Liberal (caretaker to her mother who has dementia)
stumpy (MS and paralyzing stroke)
SarahLee (lymphoma and Lyme disease)
labwitchy (diffuse scleroderma)
paradox (cyclical vomiting syndrome, PTSD, depression)