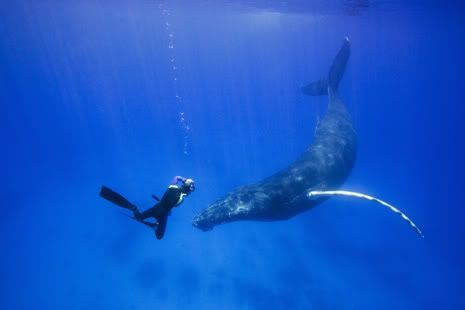 The Whale and Dolphin Conservation Society released a new report today that outlines why whaling Countries are pushing for open commercial whaling and it's not innocuous nor is it about culture or sustainability.
And we cannot allow it.
Reinventing the Whale – released today reveals the real reason behind the whaling nations desire to lift the whaling moratorium – they have long-term plans to develop new commercial applications for whale oil including in pharmaceuticals and animal feed.
The argument to lift the ban on commercial whaling is that the IWC can lower the number of actual whales killed by making it legal and forcing whaling nations to follow quotas with lower numbers. For someone like me, it's not acceptable because there are species of whales that have unknown numbers that the Japanese would like to be able to whale, such as the humpback whale, which faces so many other threats, and recently a baby Humpback washed ashore in Long Island, NY.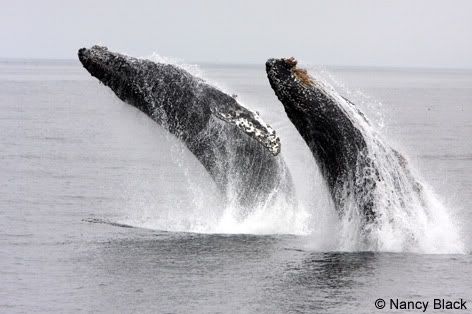 And I wrote about a study that showed that female humpback's have their very own best friends that they come back to year after year each summer to feed with and socialize.
Having spent the rest of the year apart migrating and breeding, individual humpbacks somehow find each other again in the open ocean each summer, spending the season feeding together.

The longest recorded friendships lasted six years, and always occurred between similar-aged females, and never between females and males.

...

"Staying together for a prolonged period of time requires a constant effort. That means that they feed together, but likely also rest together.

So an individual is adapting its behaviour to another one."
And even though there has been no significant study of the California Gray Whale population in the last twenty years and yet the IWC wants a 1,400 a year quota. These amazingly intelligent social whales can't afford to lose so many, we cannot afford to lose this species.
And who is to oversee these quotas? Who will enforce them?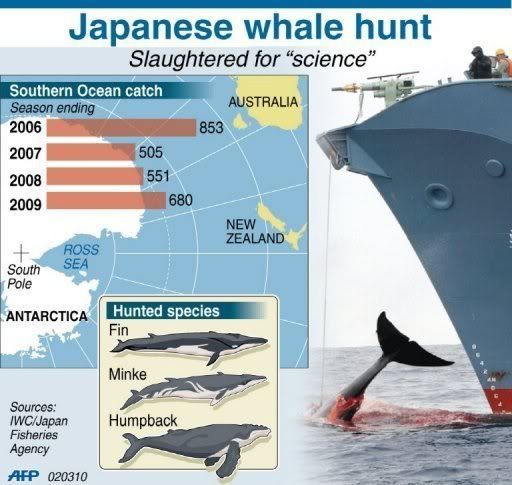 And then of course, the question for me is, how can we say this is humane killing? In the US, factory farming has killing standards for animals (which are often found to be broken, but we have rules none-the-less and have even passed laws, such as Prop 2 in California, Prevention of Farm Animal Cruelty Act).
But if you have the stomach to watch this, Whale Wars filmed the killing of a minke whale by the Japanese whaling fleet that took a half hour for this poor animal to die. And they chased it with another whale for who knows how long, sixteen knots at see, chasing this animal and then harpooning it in the head, pulling her to the side of the boat and shooting it with a rifle, over and over until it finally died. What is not cruel about this?
Please call President Obama, your Senators and let them know they we do not support lifting the ban on Commercial whaling for any reason.
"I am asking President Obama to vote against lifting the ban on commercial whaling next week in Morocco".
White House (202)456-1111.
Here is the introduction to the article, which outlines exactly the new commercial applications planned for whale's as a commodity.
Introduction

With commercial whaling in Norway, Japan and Iceland today focused on killing whales for human consumption, many people are unaware that the vast majority of the millions of whales killed since whaling became a global industry were hunted not for their meat, but their blubber and other fatty tissues, which were rendered down into oil. Demand for oil to make candles and light lamps (as well as baleen for corsets) drove the early waves of industrial whaling but, as chemists learned to exploit the richness and chemical complexity of whale oil, it soon provided a veritable pharmacopeia of raw materials for a fast industrializing world. By the 1920s, whale oil fed increasing demand for animal feed, machine lubricants, glycerin-based explosives, soap, detergents and margarine; spermaceti from the sperm whale became a staple in cosmetics and, later, even as a lubricant for the aerospace programme. The potential uses of whale oil seemed infinite, even as the whales proved finite. Commercial whaling became an oil rush.

Although the international community eventually acknowledged the devastation that whaling had wrought on whales, and banned commercial whaling and international trade in the 1980s, the oil rush never ended. While the majority of commercial whaling nations abided by the 1982 whaling moratorium, Norway, Japan and Iceland used loopholes to continue hunting, seemingly just for meat. In fact, the whaling nations were quietly using the cover of their ongoing hunts to research and develop new uses for whale oil and other products to "reinvent" the whale for new markets.

Norway is leading the venture. Over the last two decades its declining whaling industry has benefited from both government and corporate investment into research, even clinical trials, of whale oil for pharmaceutical and health supplement ('nutraceutical') applications, as well as for animal feed. Norway's simple strategy is to overcome
international aversion to killing and consuming whales by proving the efficacy of whale oil in treating some of the worst and most common human diseases and by creating desirable health products. Meanwhile, with ample raw materials from its scientific whaling programmes, Japan has continued to mine whales for cartilage to produce chondroitin (used to treat osteoarthritis) and oligosaccharides (a common food additive). Iceland's ambitions are in the animal feed industry and recent events suggest that it may soon use stockpiles of whale products from its recently expanded whale hunts to resume the manufacture of whale meal to feed farmed fish and livestock -- if it has not already begun.

WDCS believes that restoring whale derivatives to global use and acceptability is a long term strategy for the whaling nations. The main impediment to their ambition is the Appendix I listing of whales by CITES, the Convention on International Trade in Endangered Species of Wild Fauna and Flora, which bans international trade in 'readily recognizable' whale parts and derivatives for primarily commercial purposes1.

Although the majority of nations still support the CITES ban, as evidenced by their rejection of Norway and Japan's fourteen attempts to overturn it since 1994, the whaling nations are counting on opposition to whale oil 'softening' over the next decade, especially if it can be shown to deliver tangible health benefits. A proposal currently before the IWC2 - to suspend the whaling moratorium to legitimize commercial whaling for ten years - is therefore a gift to Norway, Iceland and Japan. A decade of legitimacy provides an incentive to keep their whaling industries afloat and gives them a deadline to complete their research and development of new whale products and use it to secure the support they will need to overturn the CITES ban.

The conservation and animal welfare community has argued consistently that any proposal to reform the IWC that contemplates any continuation of commercial whaling must require the whaling nations to lift their CITES reservations and cease all commercial trade in whale products. The proposal to be voted on at IWC62 in June 2010 does neither. Even in the unlikely event that Norway, Iceland and Japan agree to the inclusion of an IWC ban on non-domestic use of whale products in the proposal, it would expire in 2020. The door cannot be left open for commercial trade in whale oil and other commercially valuable products to resume and, in due course, expand. WDCS has produced this report to remind IWC members of the devastating impact that international trade in whale products, particularly oil, once had on whales, and to illustrate how this could happen again.
I'm not quite sure what it is I have to do to get this communities attention, or to make you understand what is at stake here. We're not just talking about the slaughter of animals that face so many different threats (1,000 whales and dolphins die because of gil nets every single day). We're talking about the cruel and unusual slaughter of endangered species that play a huge role in one of the most important ecosystems our planet depends upon.
And these methods would never be tolerated in a factory farm and yet we would allow this for social and intelligent creatures such as whales?
Lifting the ban on commercial whaling is not going to control the wholesale slaughter of them and it will not mean less whales dying every year. And we cannot allow this inhumane practice to continue, I am asking that you do something.
Please call President Obama, your Senators and let them know they we do not support lifting the ban on Commercial whaling for any reason.
"I am asking President Obama to vote against lifting the ban on commercial whaling next week in Morocco".
White House (202)456-1111.
Natural Resource Defense Council released this statement in April for this vote, I want to share it because I believe they do amazing work and they aren't solely focussed on whale related issues.
Proposal to Legalize Commercial Whale Hunting Released
U.S.-Led Deal Would Suspend 25-Year-Old Ban on Whaling

WASHINGTON, D.C. (April 22, 2010) -- Today the International Whaling Commission announced a draft proposal that would legalize commercial whaling for the first time in a generation. In 1986, after two centuries of whaling pushed whales to near extinction, the whaling commission banned commercial whaling worldwide. The draft proposal will be voted on in June.

The Natural Resources Defense Council believes the 1986 whaling moratorium to be one of the 20th century's most iconic conservation victories. Unfortunately, the United States has voiced support for the dangerous new proposal to overturn the international moratorium, claiming it will rein in Japan, Iceland and Norway's annual killings currently in defiance of international law. The Obama Administration must formally decide whether to support the proposal at the IWC meeting in Agadir, Morocco in June.

Following is a statement from Joel Reynolds, senior attorney and director of NRDC's marine mammal protection program:

"Whales are among the most magnificent creatures ever to inhabit the Earth. This deal would legalize their slaughter, and there is no ethical, moral, political or economic justification for it. Obama Administration officials portray the United States as leading an effort that would be a "step forward" for the whales, but this deal isn't a step forward at all. It is a step backward, to a time when it was acceptable to kill whales for profit."

"The moratorium has done more to save whales than the revival of commercial whaling ever could. We will do everything we can to stop it – and to persuade the Obama Administration that it should too."

Background

Japan, Iceland and Norway have killed roughly 30,000 whales since the moratorium was introduced in 1986. In Japan's case, the killings have been justified under the guise of "scientific research." Under the deal being considered by the whaling commission, hunting would be legally sanctioned. Prior to the 1986 whaling moratorium, roughly 38,000 whales were killed annually between 1945 and 1986, compared with an average of 1,240 whales killed per year after the moratorium (1987 onwards).

The deal would suspend the moratorium on commercial whaling for 10 years and reward Japan, Norway and Iceland for years of defying international law. It could also open the door to whaling by other countries; Korea has already stated its interest in resuming whaling.

In addition, the deal does not base catch limits on science, gives no guarantees that the whaling nations won't continue to whale under legal loopholes, and breathes life into an otherwise dying industry. The deal also acknowledges that countries could not reach a compromise that would prevent whaling nations from trading in whale meat or products. Under the deal, hunters will be permitted to kill humpback, minke, fin, sperm, sei and Bryde's, whale species.
Please call President Obama, your Senators and let them know they we do not support lifting the ban on Commercial whaling for any reason.
"I am asking President Obama to vote against lifting the ban on commercial whaling next week in Morocco".
White House (202)456-1111.
And it is the Cousteau family that has done so much for education and conservation of the Oceans, Jacques Cousteau was a huge part of why whaling was banned in the 1980's according to an article about his amazing life's work by National Geographic...
Cousteau "intervened personally with heads of state and helped get the numbers necessary for the [International Whaling] Commission to pass the moratorium" on commercial whaling in 1986, Merriam said.
And Jacques Cousteau spoke personally of his affection with whales, of his encounters with them and why he felt so strongly about protecting them.
"Surely whales have more to offer us that 'seafood' for our cats, or stays for corsets, or ribs for umbrellas. Calypso's men are intensely aware of the whales' true value; we have seen these gray-black cylinders of flesh from underwater; we have been scrutinized by their cloudy blue eyes; our limbs have been spared the crushing impact of a female whale's fin. We have heard the whales sing. And we want – we very desperately want – to hear them sing again." (1976)
To think that now, as our Gulf bleeds oil and so many species face habitat loss, climate change threats, overfishing, plastic island, etc. that we can't stop from killing these animals for vitamins and pet food?
It is Phillipe Cousteau Jr. who has brought us those amazing reports of the underwater plumes first hand, diving beneath the surface, of which I wrote about here. And reporting relentlessly from the area, speaking of the horrors of what is happening to the ocean, and speaking out at every turn. He also has written about this, A world without whales, it is a thought that we should not even think about and his piece is about the acidification of our oceans, another threat whales face.
The water was the kind of blue usually reserved for color saturated photographs that hang on the walls of natural history museums; so deep and perfect that one would swear it was fantasy. All around us we could sense the mighty creatures even before they appeared out of the abyss. At first a faint shimmering of shadow alerted us to their presence until shadow gave way to form and first one, then two then eight graceful giants slowly emerged from the depths, their unmistakable form as familiar as any...humpback whales! Silently rising up from a deep dive, easily 50 feet long and over 40 tons each, their effortless ascent towards us is a sight not easily forgotten. While there is no way to know what they were thinking as they passed within a few yards away of my sister Alexandra and me, I like to think that they were as curious about us as we were about them. Regardless, coming face to face with a pod of humpback whales is a magnificent site that is at once both thrilling and humbling. I have traveled the world, from the frigid waters of the Arctic to the tropical paradise of the South Pacific and have been lucky to grow up witness to countless such wonders.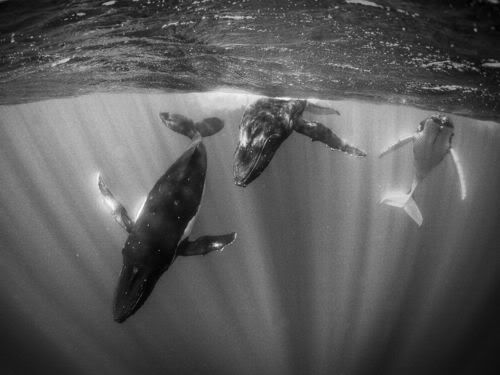 Please call President Obama, your Senators and let them know they we do not support lifting the ban on Commercial whaling for any reason.
"I am asking President Obama to vote against lifting the ban on commercial whaling next week in Morocco".
White House (202)456-1111.