Yesterday I posted my first diary from Kabul.
Today: challenges and progress in Afghanistan, and there are many of each as you all may imagine.
Construction is everywhere. Since my first trip in 2004 the city of Kabul has grown dramatically. One project that will start soon will sell 4-room apartments in a 35 story building for more than $100,000 each!
This mosque in Kabul is almost done and beautiful! And I was told today that Herat, another city here is one of the cleanest cities in the world! (not true of Kabul, the photo below shows the river full of PLASTIC BAGS and other trash!)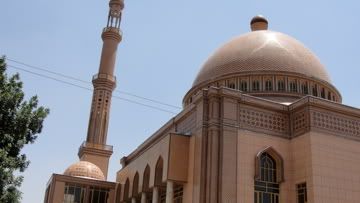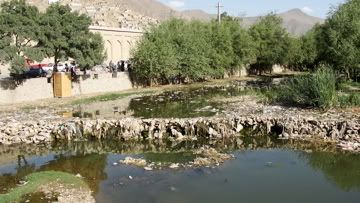 The traffic is obscene. They are now deconstructing a good road to rebuild, while many are still mud. It makes no sense.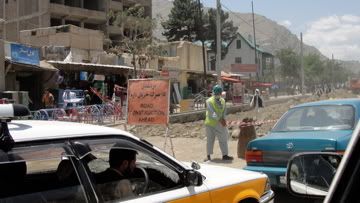 Yesterday I went to the Charahee Qambar IDP camp on the outskirts of Kabul where hundreds of people who fled violence in Helmand Province fled to escape the violence.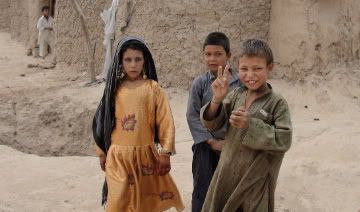 We received a grant from Children's Culture Connection/War Kids Relief to conduct a vocational training project in the camp to help the people have a way to earn a living. (You can learn all about this project that is training people to make fuel briquettes from scrap materials HERE) This has proven to be a very challenging project.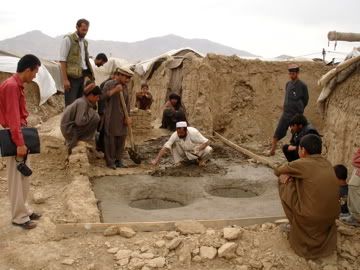 One of the problems is the culture of aid that many here (and elsewhere around the world) depend on, which in the long run causes some to lose any desire to work. While I was there a few guys with three cars and a few bags of hand outs showed up. They bring maybe a hundred dollars worth of stuff and take lots of pictures and make a big scene. This I believe is more for their benefit and politics than helping anyone.
We met a man (who did not want his photo taken!) for example who pulled my Country Director to the side to talk with him. He was very well dressed, with a new turban and watch and nice shoes. He asked my director if I could give him money as he was so hungry. I learned that he had married his second wife two days earlier (weddings here cost a fortune) and yet claimed he could not afford any food?! Dr. Zekria (my director) told him we WERE helping him as his brother was part of our training. He was not happy with that answer. We also met an old man who I was told spends his days smoking hash or opium and betting on fighting birds all day (when he is not sleeping) who also demanded I help him with cash. Neither got one Afghani from us.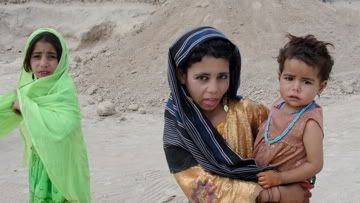 When we arrived none of the three teams we trained were around (except one guy who was ill) as some other big NGO was in the camp handing out stuff, and no one was working. The one guy there told us they were not happy as they only made $1 each for 2-weeks of work. This is not possible if they did the project as we told them, they could have made 20-40x that amount. (which is good here)
We learned that his two man team (family members are supposed to help) hired 4 others to do the work, and then they only worked maybe 2-3 hours a day, thus producing a tiny percentage of what they should, and giving away their profit! We explained all this to him, and asked why they did not follow our instructions but did not get a reasonable answer. Today my director went back to meet the elders and team members and they were all working! Progress happens here, but sometimes it is painfully slow to get there.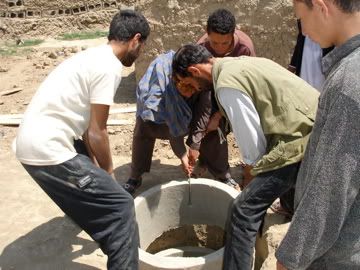 This is a common challenge in aid work. Obviously it is necessary to help people with food and clothing and shelter....but in our program we feed them, give them equipment, require they attend school (we provide a teacher) to become literate so they can actually operate a business, while we train them to run it.
The problem is that one day most of these organizations will leave, if all they do is hand out stuff and not provide education along with aid, the people will end up worse off in the long run.
I think this project will be very successful in the long run, today we learned that there are actually many others who want this training very badly. But breaking the aid habit (vs. training and education) is not going to be easy.
I get requests all the time from people asking if they can send stuff there. They don't need our old junk and let me tell you, often the stuff people donate is junk. When we brought over containers of boxes of donated goods in the past I was ashamed of what some Americans sent. (I even found dirty underwear in one box!)
Today I had a bit of a break and went to Babur's Garden, he was buried here in the mid 1500's, and the garden is being reconstructed beautifully, and many in Kabul enjoy it's space to have a picnic and visit with friends and just escape the city....this is part of the wonderful old Kabul that is painfully trying to come back.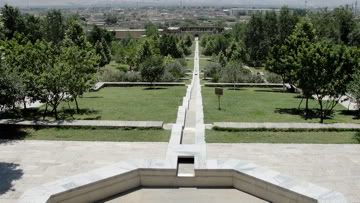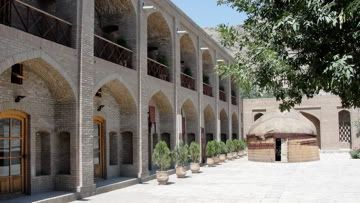 This Shah Jahan mosque (yes, the Shah Jahan of Tajmahal fame) was built in the 1600's and is all marble and beautiful, even with the holes left from the civil war bullets in 1993.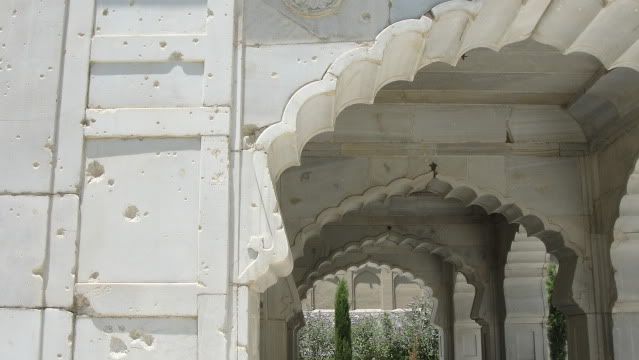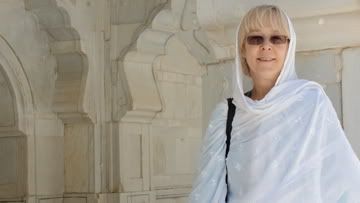 Tomorrow is the day off here, and I will visit the women's garden (no pictures allowed so I will not be able to share this) but I will work in the afternoon on finances (not my favorite part of this job).
I know that there are many here who appreciate this kind of work, and many others who have actually told me I am wasting my time (or much worse). But I fully believe that every person deserves an education and chance to make a good life for themselves, and the capacity is just not here yet for them to it all on their own.
I also feel we owe Afghanistan some assistance after we helped destroy their nation in the 80's (by sending arms along with Saudi Arabia and with Pakistan's help) and when the Soviets left, we left the most extreme fundamentalists (who did not all get along) with our weapons which they then used against each other, destroying Kabul and killing many.
I also believe in the value of meeting people from other cultures, faiths, and ethnic groups so we can about each other and learn how similar we are and how we can share our knowledge and history and grow together.
Today I watched kids play tag and hide and seek. (Though the girl below did not do a great job hiding!) I find it so interesting that no matter where you go, kids all play these games.
There is so many problems here, and so many successes....I am determined to be part of the successes and let the Afghan people know that many of us do not want our government to bomb them, but build more schools.
I think this is enough for today. I hope you enjoyed my photos and will agree with me that books, not bombs, is the way to go in Afghanistan!
If you want to learn more about what Afghans4Tomorrow does please check out our website or feel free to email me.