People want to know what they can do for the Gulf as many find themselves steeped further and further in anger and frustration. It's well founded and I think this all this pent up rage is what finds us struggling to grasp on to who we should blame, what's not being done fast enough, what can we do, what does this mean for our future, ecologically and energy wise.
There are so many answers and people aren't getting enough questions. Dying animals and sick workers is just the least of our worries. The future of our Country and how we are going to power our very existence without further destroying Mother Earth is an important question and we need more answers that go beyond nuclear, coal and gas.
This is a chance to set a new course, just as many horrible catastrophes have changed the course of human history, we can hopefully find a way to make this the dawn of something better for us, for our Children and for the planet.
So what can you do? Host a party. I know it sounds silly but hell, people want to learn more and they want to know what they can do, so tell them.
The Sierra Club wants you to host a beyond oil house party.
Outraged by the BP Oil Disaster? Help out by hosting a Beyond Oil House Party!

The Sierra Club is partnering with Brave New Foundation and award-winning filmmaker Robert Greenwald - producer of Outfoxed and Wal-Mart: The High Cost of Low Price - to produce a short documentary about the true effects that the BP oil disaster is having on the Gulf Coast, and why we need to end our addiction to oil.

The week of June 28th, hundreds of houseparties will happen all over the country as people talk with their friends about how we can help the Gulf Coast and move our nation beyond oil.

Sign up to host by June 21st, invite your friends, and we'll send you a free DVD of the 15-minute film, along with discussion questions and materials to help you take action after the film is over.

As a host you will:

Create your house party.
Invite guests.
Watch the documentary, discuss, and write letters to President Obama.
Report back - let us know how it went.

Sign up by June 21st to receive a host packet in the mail.

Please note, we will not mail host packets outside the United States. For those who live in areas outside the U.S., including Puerto Rico you may still host a house party. The documentary will be available to view online. All material included in our Host Packets will be posted for download in your Host Center.

Have a question? Contact club.events@sierraclub.org
Can't do that? How about sending people an email with a short commercial that shows exactly why we need to end our dependence on foreign oil?
Joel Benenson, a pollster for the Democratic National Committee has shown that fighting big oil is a political winner in a presentation he made to Congressional Democrats. This is how we can win the framing game according to Joel Benenson. Most of his polling in the report is over 60% for those who favor change. We need to channel this energy, and here are the tools, here is the opportunity, do something with the message, do it now.
As you know, the message matters. And I want a better and stronger climate bill to pass, not something that's been watered down, I want more than a big bill to subsidize more coal, nuclear and gas and put more money in sustainable and renewable energy that we can create and build HERE.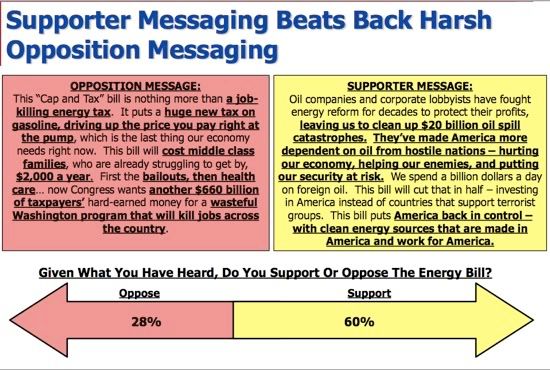 What else did the polling show?
Voters want Candidates to stop doing "Big Oil's bidding".
Voters want action, not delays on the bill, voting to delay the bill is even worse than voting against the bill.
Voters don't view this spill in isolation, but rather view it as a consequence of decades of inaction.
And even with concerns about the Economy, voters still want to pass real reform on energy and carbon pollution.
People get it, we need to spread the message far and wide and we need to talk to them, now. And we need to tell them how they can push their Senators, their Congressperson to pass real reform and if they don't how they can pass them out the door by voting in someone else.
Here is a commercial from VoteVets that's based on this polling, just compare the wording and the message, I was watching Rachel Maddow when it aired and put the two together.
If you want to see the ad yourself, donate to keep it on the air. More people need to see it.
So, here are some things you can do to talk about oil dependence and how we need to pass real reform, not just more of the same. American Presidents have been talking about getting of our dependence on foreign for decades and we've not gotten any further, how about we talk about it in our homes to our friends, to our families and to anyone who will listen?
Joh Stewart pointed out the history of a lot of Presidential talk on the whole dependence issue, lets turn talk into action.
And no, I can never figure out how to embed clips here, I get all the damn errors code crap. Dammit Jim, I'm a blogger not a programmer.