If we followed the Petraeus manual(Warning PDF) and "Boots on the Ground(Warning PDF)" we would have needed 560,000 combat troops as in trigger pullers people who kill people and break things (20 troops/1000 Citizens) in Afghanistan for the next 10+ years.
This diagram the obvious cannon fodder of Late night TV is a graphical representation of the COIN manual which McChrystal himself was quoted as saying "when we understand that slide we will have won the War"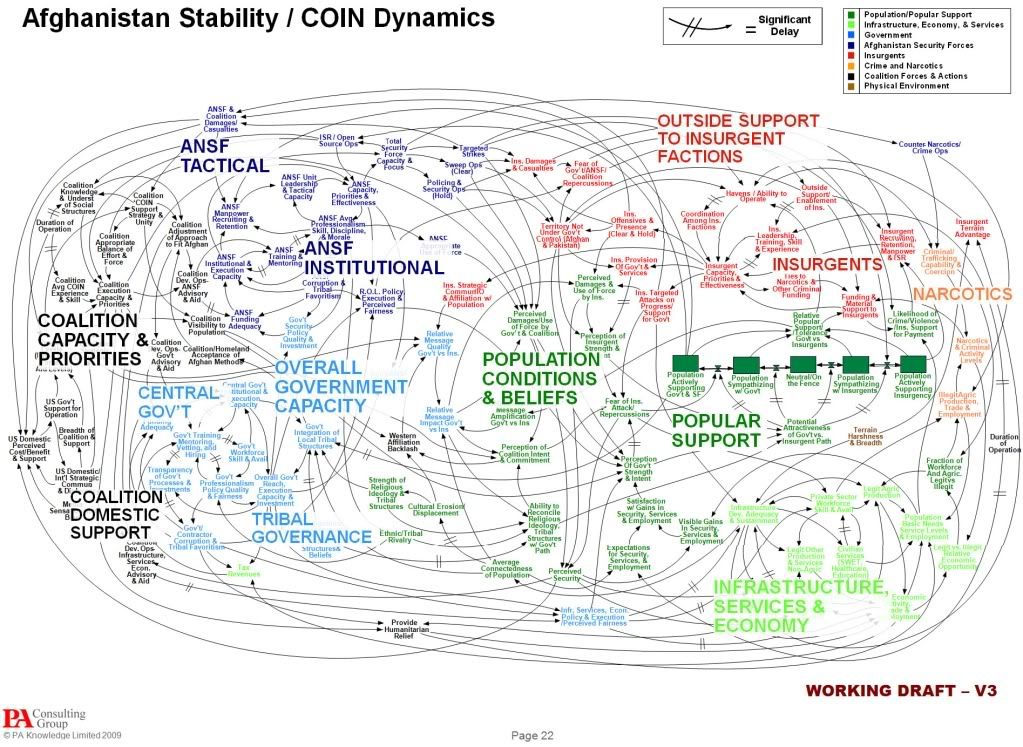 So came "plan M". We'd raise a Grand National Afghan Army made up of "Afghans" to go kill Afghan Taliban which are "Afghans" thus arranging for one group of "Afghans" to go kill another group of "Afghans" who kill back thus being the dictionary definition of Civil War. To accomplish this we sent 30,000 "troops" consisting of Medics Mechanic,Propaganda Experts(Psyops) and Military trainers.
The final deployment includes only three combat brigades and one training brigade — about 20,000 troops — augmented by 10,000 enablers: medics, mechanics, intelligence analysts, strategic-communications (that is, propaganda) experts.
Now The actual "Conditions on the Ground" are irrelevant to "Plan M". By July 2011 the plan is to have a Afghan Army of sufficient size to cope with any contingency. I suspect that systematically the new Afghan Army will be graded on a curve so that the 2011 date will be met. At this point once "Plan M" was started the General became obsolete.