Welcome to the eKos Earthship, your one-stop-shop for green diaries and series.
Tonight's editor: patrickz
••
••
Is this the year the United States finally puts a price on carbon? While Senator Lindsey Graham (R-CRYBABY) pouts, Reid and the rest of the Democratic Caucus have decided to go big or go home on climate change.
Meanwhile, Asian carp threaten to destroy the ecology of the Great Lakes, sea cucumbers warn us about climate change in the deep, and scientists put the pieces together in understanding the end of the last ice age.
This and more in tonight's edition of the eKos Earthship.
••
••
Beneath the fold you will find news and notes, community announcements, and our eco-diary roundup.
All views expressed by today's editor do not necessarily represent those of eKos or eKos listed diarists.


The South Carolina senator candidly said the ongoing Gulf oil spill precludes him from rejoining any such negotiation for months.
"I will work with the president, Democrats and Republicans to come up with an energy policy, but I'm not going to it in the middle of an oil spill when the political environment doesn't favor what I want," he told WVOC radio in South Carolina.

"I'm not going to do it between now and November when the oil spill dominates the politics and headlines."

emphasis added
No, it's okay, Lindsey. Really. We understand how hard this ecological disaster has been on you and your political goals. Take some time off. Take a vacation. Perhaps Tony Hayward has some spare room for you on his 52-foot yacht?
Am I being unfair? Perhaps. But if Graham is willing to put politics and personal feelings over some of the most important legislation of our time, then he probably deserves it.
Go Big or Go Home
In case you missed it, RLMiller brought us some good news yesterday:
Note a bold new strategy. Instead of combining climate with clean energy, then listening to conservadems whine that climate has to be ditched in favor of a clean-energy-only bill, Reid is unambiguously coupling climate with a politically popular Spill Bill. He's daring conservadems and Republicans to stand with Bad People and Beach Polluters, or stand with the American public.
Details are sketchy at best right now. But it looks like carbon pricing mechanisms from both the Kerry-Lieberman and Cantwell-Collins bills are being considered.
Whatever the details, we have to seize this moment. Tonight we have a special community announcement:
We've known for years that our fossil fuel addiction is poisoning our planet, but have never had the political will to do so before. At long last, policy and politics are aligning. Now is our moment. We won't have another . If a way of life in the Gulf of Mexico must die, let it mark the end of the era of limitless, heedlessly extracted oil.

Democratic Senators have found their political will at long last. Early climate bill negotiations, like healthcare negotiations, consisted of "water down, lather, rinse, repeat." By contrast, financial regulation negotiations tied Republicans to Wall Street, to Democrats' advantage. Yesterday, the Democratic caucus decided to go big. They'll tie a climate bill to regulation of offshore oil, and dare Republicans to choose: tighter regulation of offshore oil and of [delete italicized word] atmospheric carbon, or more Beach Pollution by Bad People. Senators will meet with President Obama on June 29. By July 4, Majority Leader Harry Reid will have cobbled together a climate/clean energy/spill bill, and -- if all goes well -- they'll have passed a bill before the August recess.

Democratic Senators need to hear support for both their climate strategy and tactics. They need to hear from us that we want them to remain unanimous in the face of certain strong opposition. DailyKos gives us a platform to amplify our voices. An even newer medium, Twitter, gives us the opportunity to flood cyberspace with scorn for Barton's Pals and the #GOBP. RLMiller (address in profile) is organizing an effort.
ScienceDaily (June 25, 2010) — Scientists still puzzle over how Earth emerged from its last ice age, an event that ushered in a warmer climate and the birth of human civilization. In the geological blink of an eye, ice sheets in the northern hemisphere began to collapse and warming spread quickly to the south. Most scientists say that the trigger, at least initially, was an orbital shift that caused more sunlight to fall across Earth's northern half. But how did the south catch up so fast?

In a review paper published June 25 in the journal Science, a team of researchers look to a global shift in winds for the answer. They propose a chain of events that began with the melting of the large northern hemisphere ice sheets about 20,000 years ago. The melting ice sheets reconfigured the planet's wind belts, pushing warm air and seawater south, and pulling carbon dioxide from the deep ocean into the atmosphere, allowing the planet to heat even further. Their hypothesis makes use of climate data preserved in cave formations, polar ice cores and deep-sea sediments to describe how Earth finally thawed out.
This research helps us understand the interplay between orbital forcings, the carbon cycle, and Earth's climate systems. Some may look at this as proof that all climate change (including the recent trend) is natural. Think again:
Scientists have long suspected that carbon dioxide played a major role in the last ice age but have had trouble explaining the early warming in the southern hemisphere, where glaciers in Patagonia and New Zealand were melting before carbon dioxide levels rose significantly. Some scientists suggest that a change in ocean currents, triggered by the freshening of the North Atlantic, caused this early warming. But computer models using ocean circulation to explain the rapid warming in the south have been unable to recreate the large temperature jumps seen in the paleoclimate record. Now, with the evidence for shifting southern hemisphere westerlies, the rapid warming is readily explained.

Richard Alley, a glaciologist at Penn State University who was not involved in the study, called the hypothesis comprehensive and convincing. "This subject has long intrigued policy-makers, and although the issue in no way changes the very strong evidence that adding CO2 to the atmosphere has a warming effect, the inability of the scientific community to provide a complete explanation of the natural CO2 changes across ice-age cycles may have led some people to more broadly question climate science. Testing this hypothesis will be very interesting, to see whether it successfully "predicts" the observed timing of CO2 and temperature changes in the south."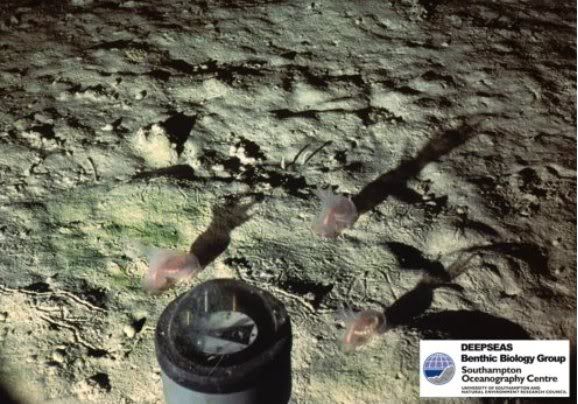 image of sea cucumbers on the ocean floor
from NOC
ScienceDaily (June 25, 2010) — Even in the dark abyss of the deep ocean animal communities can undergo rapid, widespread and radical changes. Scientists at the National Oceanography Centre are at the forefront of monitoring these changes and understanding the mechanisms responsible. Their latest research is published in a special issue of the journal Deep Sea Research II.

We often think of the deep ocean floor as stable, relatively unvarying environment untroubled by surface climate conditions. But long-term monitoring has shown that animal communities living at great depth on the seafloor can change radically over remarkably short periods, and that these events are ultimately driven by climate.
We are still attempting to solve the mysteries of the deep ocean. At the same time, we are running uncontrolled experiments with climate change and pollution. We are just now getting a sense of how sensitive these ecosystems are to surface changes. In the case of this research, massive 'blooms' of the sea cucumber Amperima rosea were observed over relatively short time scales, which were traced back to alterations in quantity and quality of the 'marine snow':
"Whether it is the quality or the quality of the organic matter, or both, that matter," says Dr Billett, "it appears that changes in the density of animals such as Amperima are related to phytoplankton productivity in the overlying surface waters, which is affected by climate change."

"Moreover," he says, "we know from the fossil record that deep-sea animal communities change over geological timescales. Knowing how species density and dominance change in relation to environmental variables in the present will help in interpreting the geological record and will allow predictions of how deep-sea fauna might alter in relation to climate change."
Another environmental disaster about to happen.....
Kossack moose67 highlighted an important and disturbing story about the first Asian Carp caught on the wrong side of the electric barrier designed to keep them out of the Great Lakes. This catch confirms earlier positive DNA tests. From moose67's diary:
Yesterday it was announced that an Asian Carp was caught by a fisherman in Calumet Lake which is directly connected to lower Lake Michigan beyond the protection of the electric barriers set in place to prevent access to the Great Lakes by these invasive fish. Their DNA had been detected here recently, but the Illinois Department of Natural Resources had not detected any actual carp. If you are not familiar with the Asian Carp, they have migrated up the Mississippi River system and pretty much out-bred and out-eaten all other native fish species. If they get into the Great Lakes, we can kiss the perch, the coho and chinook salmon, the lake trout, the muskie, the whitefish and the prized walleye good-bye. Our Democratic governor, Jennifer Granholm, and our Republican Attorney General, Mike Cox, have both urged the closing of the locks and shipping channels that connect Lake Michigan with the Mississippi system. The ships and barges that move cargo through this connector have fought to allow this channel to remain open. True - it would cost a bit more to transport goods by rail or truck instead of by water, but the damage to this precious ecosystem that would be caused by allowing these invasive carp to enter our waterways would be a much much greater cost. The courts and even our President have refused to step in to temporarily shut the locks to prevent the spread of these fish, and I urge you to contact your Congress-critters, the EPA, the Dept. of Commerce, the Dept. of the Interior, the President - whoever you think can bring some pressure on the decision makers involved.

WarrenS made a New Year's Resolution to write a letter advocating climate action every day. The result is over one hundred letters to congresspeople, newspapers, President Obama, and more. Warren has even had letters published in the New York Times and the Boston Globe.
Learn Warren's letter writing technique here. And be sure to steal his stuff!
From his blog:
The Boston Herald ran the same AP story on Feldman's ruling blocking the drilling moratorium. For a dose of idiocy, check out the comments. The Herald has yet to run one of my letters. Or maybe they have, and don't bother to call or confirm. How would I know?

Judge Feldman's opinion is logically flawed. The government wants to stop exploratory drilling until it figures out what caused the catastrophe in the Gulf — and the judge decides that the platforms are safe, because nothing's happened to them yet. Well, maybe that's it's done in Louisiana, but I learned that if something's broken, you stop using it until it's fixed. If my mechanic thinks my brakes are bad, it's irresponsible to go back on the road, even if I haven't had an accident. We don't know all the factors that brought about the catastrophe on the Deepwater Horizon, and it's a grotesque blunder to assume that because other drilling platforms haven't yet exploded and sunk, they must be safe. I suspect the judge's substantial investments had an influence; I have observed that oil, among its other malign side effects, appears to make people in positions of power act stupidly.
Warren S

Grist had a photo contest called "Follow a Drop of Water". The winners are posted at their website.

Twin Buttes Lake in the Big Hollow near Laramie, Wyo.
Photo: Teal Wyckoff

Santa, 6 months removed from his big night, asks us to help:
Please contact your all Senators and tell them it's time to pass a climate bill. We do not want a feckless energy-only bill.

WE WANT A CLIMATE BILL!!
Tomorrow is the Hands Across the Sand event. For more info, check out this diary:
June 26: Join Hands Across the Sand
By Dave Rauschkolb

It is my greatest hope that when Americans stand hand-to-hand on beaches on June 26 the message is loud and clear: NO to Offshore Oil Drilling, YES to Clean Energy.

No industry should be allowed to place the coastal economy of our coastlines, oceans, marine wildlife and the fishing industries at risk. The oil companies have had their way in the Gulf for too long.
Visit Hands Across the Sand to locate or organize an event at a beach near you. The website provides interactive maps of states and nations as well as a resource toolkit of downloadable banners, posters, logos, press releases and t-shirts. Scroll down the main page for a complete list of sponsors and partners.

What to do at a Hands Event:

STEP 1
Go to the beach at 11 AM in your time zone for one hour, rain or shine.
STEP 2
Join hands for 15 minutes at 12:00 forming lines in the sand against oil drilling in our coastal waters.
STEP 3
Leave only your footprints.
Advertise here!
If you would like to make an announcement for an upcoming diary or event, please e-mail us at eKos350atgmaildotcom. Please send us formatted HTML!

(All times Eastern!)

Today's eKos diaries:
| Author | Diary | Time | Tags |
| --- | --- | --- | --- |
| Liveblog | BP Catastrophe Liveblog Mothership:  #31 | 06/25/10 02:57AM Eastern | Recommended, Oilpocalypse, BP, Deepwater Horizon, Gulf of Mexico |
| bigjacbigjacbigjac | Protein | 06/25/10 07:30AM Eastern | overpopulation, nutrition, philosophy, green diary, eKos |
| FishOutofWater | Arctic Sea Ice Meltdown Accelerates: DK Greenroots | 06/25/10 09:12AM Eastern | Recommended, ekos, DK greenroots, environment, sea ice |
| Kaid at NRDC | Village Green: Thinking about the economics of sustainable communities | 06/25/10 11:05AM Eastern | sustainable development, green jobs, smart growth, revitalization, cities |
| worldforallpeopleorg | Whales: "No future, except extinction" - biologist | 06/25/10 11:19AM Eastern | extinction, chemicals, metals, whales, ekos |
| The Media Consortium | Weekly Mulch: As risks for oil and gas grow, USSF offers change | 06/25/10 11:32AM Eastern | BLM, BP, Cabot OIl and Gas, Colroado, community gardens |
| A Siegel | Washington Wilts While Arctic Melts | 06/25/10 02:33PM Eastern | george will, washington dc weather, weather, climate, climate change |
| jamess | May 2010 ... 393 ppm ... and CO2 is Accelerating | 06/25/10 07:10PM Eastern | Recommended, Carbon Dioxide, CO2, Carbon Footprint, Climate Change |
Yesterday's eKos diaries:
| Author | Diary | Time | Tags |
| --- | --- | --- | --- |
| RLMiller | Breaking: Harry Reid's High Stakes Climate Gamble | 06/24/10 07:18PM Eastern | Recommended, eKos, climate change, global warming, oil spill |
| Ellinorianne | International Whaling Commission - It is Time to Stop Whaling | 06/24/10 07:46PM Eastern | IWC, INternational Whaling COmmission, ekos, whaling |
| Vetwife | OK..Now there is Oily kids...SHUT DOWN THE BEACH | 06/24/10 09:00PM Eastern | oil, children, wildlife, ekos, danger |
| Cliche Rinpoche | Earth, the Story: Your blank slate | 06/24/10 12:33AM Eastern | brainstorm, environment, eKos |
| Fishgrease | Fishgrease: Booming The Bullsh*t | 06/24/10 04:23AM Eastern | Gulf Oil Spill, BP, dkos booming school, deepwater horizon, oil drilling |
| terryhallinan | Bringing Hot Water To Newcastle | 06/24/10 05:34AM Eastern | geothermal power, eKos |
| Liveblog | BP Catastrophe Liveblog Mothership:  #30 | 06/24/10 05:46AM Eastern | Oilpocalypse, BP, Deepwater Horizon, Gulf of Mexico, LMRP |
| Pam LaPier | Voices For Nature: The Whale Shark | 06/24/10 10:53AM Eastern | whale shark, shark, nature, gulf of mexico, endangered |
| CapeTown96 | Solar Decathlon - Europe | 06/24/10 11:21AM Eastern | Solar Decathlon, Climate Change, Good Government, ekos |
| rossl | EPA will hold 4 meetings on hydraulic fracturing (aka fracking)...where will you be? | 06/24/10 11:24AM Eastern | eKos, fracking, hydraulic fracturing, EPA, meeting |
| hester | BP to Alaska's seals, whales, polar bears: " You're Next" | 06/24/10 11:43AM Eastern | BP, Oil spill, Drilling moratorium, Alaska, Liberty project |
| NRDCActionFund | TX Oil Companies Try to Kill CA Clean Energy Legislation | 06/24/10 12:10PM Eastern | Texas, California, Clean Energy, Climate, AB 32 |
| HeyMikey | New Aussie PM: limit carbon emissions. Poll. | 06/24/10 12:24PM Eastern | Australia, global warming, climate change, cap and trade, eKos |
| Ella Arnold | California: Break the Oil Addiction Cycle | 06/24/10 02:00PM Eastern | Environment, Gavin Newsom, Fran Pavley, Meg Whitman, GOV-2010 |
| bdemelle | Gulf Coast Attorneys File RICO Class Action Lawsuits Against BP | 06/24/10 02:27PM Eastern | BP, BP Oil Spill, Deepwater Horizon, Deepwater Oil Drilling, Eastland Law |
| slinkerwink | It'd Cost You 7 Cents A Gallon To Ban Offshore Drilling! | 06/24/10 03:47PM Eastern | eKos, offshore drilling, Gulf of Mexico, oil spill, 2010 |
| Jed Lewison | FL-Sen: Rubio supports oil because it's safe | 06/24/10 04:20PM Eastern | FL-Sen, Marco Rubio, BP, oil, eKos |
| quaoar | One of the biggest fish kills in history of Endangered Species Act | 06/24/10 04:21PM Eastern | Alabama, Endangered Species Act, fish, eKos |
| jamess | Putting a Price on Carbon -- Polluting must No Longer be Free | 06/24/10 04:34PM Eastern | Rescued, Meta, Pricing Carbon, Living Downstream, Climate Change |
| rserven | On Being Philistines | 06/24/10 05:55PM Eastern | Environmental destruction, destruction of history, Bad neighbors, EKos |
| rebb | Bad Decision Overturns Drilling Moratorium | 06/24/10 05:56PM Eastern | deepwater horizon, oil spill, Outer Continental Shelf Lands Act, law, offshore drilling moratorium |
| Oke | BP Takes Another Life-Updated with Help Resource Info | 06/24/10 06:09PM Eastern | Recommended, BP, oil spill, suicide, environmental |
| moose67 | Another environmental disaster about to happen..... | 06/24/10 06:45PM Eastern | Asian Carp, Kennecott Mining, Yellow Dog Plains, Coaster Trout, Invasive species |

What is eKos?

The eKos project is an effort to distribute environmental content on Daily Kos to a broader audience. When a diary has the 'eKos' tag, its information is collected in a database, which is then published in eKos Earthships and the eKos Library. We also Tweet all eKos diaries using the @eKos350 account, and distribute an RSS widget for use in Daily Kos diaries and comments. Diaries listed on eKos do not necessarily represent the views of the eKos Rangers or any other participating diarist. Participation in eKos is strictly voluntary, please let us know if you do not want the eKos tag!

Tag Rules

If you want to help out with tagging, here are a few simple rules to follow:

If you see or write an eco-diary or front page story, tag it 'eKos'. and inform the diarist. Use of the tag is strictly voluntary, so always defer to the wishes of the diarist.

Fix the tag if it is wrong ('e-kos' or 'ecos' tags won't work).

Watch out for tag abuse. If someone other than the diarist removes the tag without justification, please put it back, and explain to them very politely why you did so. If there is still a disagreement, please contact us. If you see eKos tagged writing that is clearly not friendly to environmental causes, or which breaks site rules, please alert us via e-mail.

Site rules prohibit calling out other Kossacks by name or user handle in the title of a diary. Don't tag diaries whose focus is to 'call-out' or directly criticize other Kossacks or diaries in an insulting or inflammatory way. It is fine if the diary addresses a meme or argument, as long as it sticks to substantive issues.

If there are any other questions, comments, or issues, please e-mail ekos350atgmaildotcom.

Contact

You can follow us on Twitter

If you are interested in becoming a ranger or editor for eKos, or just want some more info, e-mail ekos350atgmaildotcom.

eKos Rangers

In no particular order:

Regina in a Sears Kit House
boatsie
Hopeful Skeptic
RLMiller
patrickz
Earthfire
Ellinorianne
A Siegel
dRefractor
SolarMom

Please give them some mojo if you see them, they deserve it!

Peruse the eKos Library to find previously listed diaries. You can also follow eKos on Twitter.