The self-proclaimed mastermind of the 1972 Munich Olympic massacre reportedly died in Syria last night.
Abu Daoud, the man who claimed to be the mastermind behind the massacre that marked the 1972 Munich Olympics, has died, according to the official news agency of the Palestinian Authority.
Abu Daoud took credit for the attack in 1999 memoir Palestine: From Jerusalem to Munich. Among the provocative claims in the book was that current Palestinian Authority President Mahmoud Abbas was responsible for arranging financing of the attack (though he wasn't aware of the purpose for the money).
When Stephen Spielberg's Munich was released in 2005, the terrorist mastermind complained that the film was biased and defended the massacre.
Daoud, 68, who used the nom de guerre Abu Daoud, said that he had yet to see the film, but believed that Spielberg's storyline pandered to the Jewish state. He complained that two widows of the dead Israeli athletes had been given a private screening of the film in Tel Aviv. "Spielberg showed the movie to widows of the Israeli victims, but he neglected the families of Palestinian victims," said Daoud. "How many Palestinian civilians were killed before and after Munich?"

Daoud offered no apology for the Munich attack and sought to justify the bloody outcome. "We did not target Israeli civilians. Some of them [the Israeli athletes] had taken part in wars and killed many Palestinians," he said. "Whether a pianist or an athlete, any Israeli is a soldier."
The man who instigated the only first act of terror in the history of the Olympics not only remained unrepentant about the slaughter of the Israeli athletes in Munich, but shortly before his death, he pledged that his descendants would follow in his footsteps.
"Today, I cannot fight you anymore, but my grandson will and his grandsons, too."
The response from Palestinian authorities was predictable. Representatives of Hamas and Fatah attended Daoud's funeral, and PA President Abbas wrote a letter of condolence to the terrorist's family that read,
He is missed. He was one of the leading figures of Fatah and spent his life in resistance [against the occupation] and sincere work as well as physical sacrifice for his people's just causes.
I would imagine that the families of the eleven Israeli athletes killed by Black September would feel differently.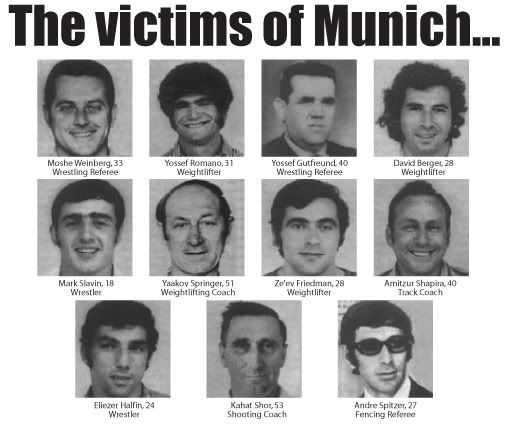 The Israeli government recently indicted two IDF soldiers for war crimes in Gaza. The Palestinian Authority honors their war criminals. This is the mentality of the people with whom Israel must make peace.
There is no evidence that the movement to boycott Israeli products is having any impact at all on the Israeli economy. However, if you are interested in making a symbolic gesture of support for the Israeli people--that is, supporting the BUYcott (h/t Mets102)--visit this website or this website for information about where you can find Israeli imports.