In yet another hilarious segment from Tuesday's Daily Show, Jon Stewart showed how wrong Republicans were for blocking unemployment benefits for millions of Americans, citing cruel, heartless, and most importantly, wrong comments on what it would do for our economy.
Well, in a twisted version of the famous Annie Hall scene with Marshall McLuhan, Jon has a trick up his sleeve when Fox & Friends starts whining about what Nancy Pelosi said about how it would help our economy and create jobs. He sought out noted economist Nouriel Roubini, whom Jon had kidnapped and locked in a broom closet.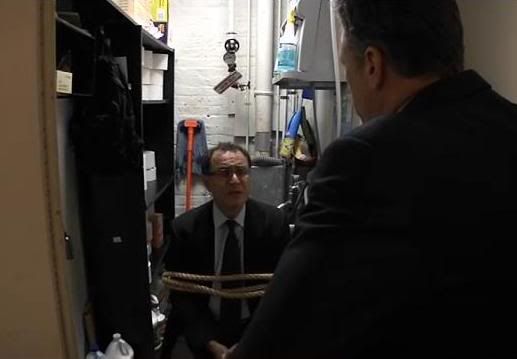 Video and transcript below the fold.
Of course, Wall Street wasn't the only one trying to get America to look on the bright side. Imagine if we hadn't had the stimulus.

BARACK OBAMA, 6/30/2010: It's hard to argue, sometimes, things would've been a lot worse. All right? So people kinda say, "yeah, but unemployment's still at 9.6". Yes, but it's not 12 or 13... or 15.

Yes, yes, I believe we can all agree as Americans, there are many numbers bigger than 9. I think we can thank our lucky stars it's not 35, or I don't know, 1,000%. I think we should remain thankful it's not a 1,000,000% unemployment.

Of course, things could also be better, like if everything had gone according to the administration's own projections from early 2009, which said that the stimulus would cap unemployment at 8%, with the 9-plus percent jobless rate we have now, the doomsday scenario if Congress didn't pass the plan.

Of course, not everyone in America has lost their job; for example, Christina Romer, the White House economist who made that chart. She, apparently still working. Although, wait until everyone reads her revealingly scathing review about the administration in this week's Rolling Stone.

Can't believe they went with that same cover two issues in a row. Very strange.

Well, at least the unemployed still have their benefits, which will help them keep their heads barely above water.

CHIP REID, CBS NEWS, 7/2/2010: The House passed a bill to extend unemployment benefits, but the Senate, believe it or not, failed by a single vote, then went home for a long Fourth of July recess.

Come on!! How do you let that happen?? What did the Republicans do this time, obstruct....

REID: One Democrat, Ben Nelson of Nebraska, voted no. If he had voted with his party, the bill would have passed.

Ah, so that's what the Republicans did, they sat back and let a Democrat fuck things up himself. Out of the Republican playbook, they decided to go with... #1. The thing is, extending benefits to jobless people seems like such a no-brainer. What possible argument could you make against it?

JONATHAN HOENIG, FOX BUSINESS CHANNEL, 6/2/2010: You're taking money from productive people, and giving it to unproductive people.

NEIL CAVUTO, 5/17/2010: ... many believe the 99 weeks of unemployment makes it less likely folks out of work will even look for work.

UNIDENTIFIED FOX NEWS WOMAN, 7/2/2010: This isn't creating jobs, it's creating inertia, it's creating apathy.

SEN. JON KYL (R-AZ), 3/1/2010: Continuing to pay people unemployment compensation is a disincentive for them to seek new work.

Ya hear that, people who have lost their jobs and are skatin' by on your $1,200 a month? The gravy train is over! Well, not so much gravy as the ketchup packet soup train is over. I'm looking at you, nearly a million people who no longer count in the unemployment statistics because you stopped filing or looking for a job due to despair and/or lack of shoes/no electricity.

Now, there are arguments for why unemployment benefits actually help the economy.

NANCY PELOSI, 7/2/2010: Now let me say that unemployment insurance, we talk about it as a safety net and the rest, this is one of the biggest stimuluses to our economy. Economists will tell you ... it injects demand into the economy, and is job creating.

To be fair, of course, that's coming from a woman who will most likely be unemployed very soon. But it's a straightforward point. Unless...

[cue dramatic prairie dog music]

What did they say now?

[FOX & FRIENDS, 7/2/2010]
ALISYN CAMEROTA: Nancy Pelosi came out and said something very curious, that is sort of hard to parse the logic.

PELOSI: Economists will tell you ... it injects demand into the economy, and is job creating.

CLAYTON MORRIS: I would love to know what economists say that.

What economists say that? You know what, I could just ask mine, he's always here. (runs off set to broom closet)

Stewart: Renowned economist Nouriel Roubini, do you agree that paying unemployment benefits can stimulate the economy and create jobs?

Roubini: Yeah, absolutely, I agree with her. Unemployment benefits are the only source of income for all these millions of unemployed workers, they consume it all, that increases demand, consumption, jobs, the economy, to not extend them...

Stewart: OK, thanks. (turns off lights)

Roubini: I'm thirsty. Water. Please, water.
Guess what clip is NOT going to appear on Fox & Friends anytime soon?