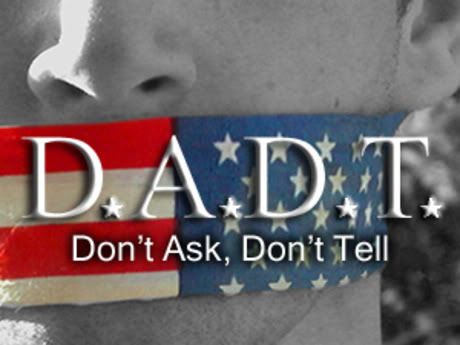 The Pentagon Working Group has released it's survey on the possibility of repealing the military's "Don't Ask, Don't Tell," policy has been released to the troops.
Inside you'll find an embedded PDF and many screenshots I've uploaded. My hope in posting this is to solicit opinions from the community. There many psychologists, pollsters, lawyers, sociologists, scientists and learned professors and more who frequent this site. People who are far, far more versed than I in the science of poll-taking, information gathering and wordsmithing. I hope they'll use their skills to interpret what they see below.
Breaking as I compiled this is reporting from Politico on some gay rights advocates' reaction to the survey:
"What the survey makes clear is that the anti-gay contingent at DOD has not given up. They don't think this is over."
Reading the survey, I'm inclined to agree, there is something to that.
Fair warning: graphics intensive. It's a modem-choker.
Jen DiMascio reports in Politico:
Some critics of the "don't ask" policy say that groups backing its repeal have been closed out of the survey process.

"I'm shocked that DOD refused to work with the pro-repeal groups on this. That tells you something. Some of the questions appear designed to elicit negative responses," said Richard Socarides, a senior adviser to former President Bill Clinton on gay issues.

"What the survey makes clear is that the anti-gay contingent at DOD has not given up. They don't think this is over. And they may just be able still to stop or maybe significantly delay repeal. Never underestimate the Pentagon bureaucracy when it comes to this. Just ask Bill Clinton," Socarides said.
There is certainly is much controversy over the survey, with one advocacy group, Servicemember's Legal Defense Network saying they cannot recommend that LGB troops fill this out. And another, Citizens for Repeal, recommending they do. It should be noted, SLDN as their name implies, is a legal defense network, and as such, lawyers will certainly always give you the most conservative advice that best covers you legally. The Pentagon has refused to guarantee immunity from DADT investigations to anyone who is inadvertently or maliciously outed. SLDN is familiar with the DOD's history on such cases.
And this Active Duty gay soldier shares his fear for his anonymity here:
When I [attempted to log-in], I received the message indicating that you must have a certificate to access the website. It was wanting my Common Access Card (CAC) sign in to access the site. I am using my civilian personal laptop so I do not have the proper software installed on my computer to log in with my identification card, as it is not military issued. This raised an issue with me.
After exhaustive writing on this subject, I have to confess. I haven't the strength to pour meticulously over this survey. It seems the ship has sailed and should the legislation survive a Senate filibuster—and a possible veto threat—the opportunity to deliver equal treatment, or deny it, to LGB troops will rest entirely at the discretion of President Obama, Robert Gates and Mike Mullen.
But my impressions are: The framing of the questions begins by mischaracterizing the policy change to the troops:
This law generally requires that a Service member shall be separated if the member is found to have engaged in, or attempted to engage in, homosexual acts.
In fact, all sexual acts, heterosexual or homosexual, in inappropriate settings are forbidden under Uniform Code of Military Justice article 125 and will remain so. The framing suggests the policy change will affect sexual activity in the armed forces. In fact, this is about identity not acts. Merely identifying yourself as being "one of them," is more than sufficient grounds for discharge, even if you are a virgin firmly committed to a celibate life.
The repeated frame of "if" the military repeals DADT continues to raise red flags about the Pentagon's commitment. And the phrase "believe to be a homosexual" have such a McCathyesque feel to them, my heart sank every time I saw it (which was a lot).
Questions like, "Would you stop attending unit parties if you knew a homosexual would be there?" beg the question, "So what?" If every troop decided to stay home from the company picnic, DADT would stay indefinitely? And of course, the shower room is brought up. We can send them off to war with insufficient body armor without a moment's pause, but Lord have mercy, we gotta ask them how they feel about another guy taking a look at their ass.
I feel like our LGB soldiers and repeal advocates have been punked. I feel like, the military is taking this nearly unprecedented move to set policy by survey, has made a grave error. I feel this is really just another way to put LGBT Civil Rights up for a popular vote. "Hey troops, do you think they should be treated equally?" Let's keep pitting the 90% vs. the 10% and see how that comes out. I guess this is the world our community has to live in. But it sucks.
"This is an extraordinary initiative," said Aubrey Sarvis, president of the Servicemembers Legal Defense Network, saying the military didn't poll troops when President Truman issued an executive order opening the military to blacks. Again, when women were allowed into the military academies in the 1970s, no survey was issued.
That this survey exists at all is demonstrative of a terrible failure of leadership to show real commitment to the issue of LGBT Civil Rights (affirmed just yesterday in MA district court). Leadership, by definition, leads.
Update 1: Chris Geidner of MetroWeekly has posted a short piece on the divide between advocacy groups and within the LGBT community on the safety of LGB troops participating. He quotes Alex Nicholson, Executive Director of Servicemembers United. While opining the survey is assures adequate anonymity (assuming LGB troops don't actually share anything personal) he takes exception to the tone:

"While it remains safe for gay and lesbian troops to participate in this survey, it is simply impossible to imagine a survey with such derogatory and insulting wording, assumptions, and insinuations going out about any other minority group in the military."
The Scribd pdf is available at Americablog here. It can be downloaded.
These are the relevant pages (10-31) that address the issue LGB troops, embedded at JPGs. You can view them larger here: