Sara R has produced many beautiful quilts but her finest work to date is now being donated to benefit INDN's List. Please enter the drawing as many times as you like to increase your chances of winning! The details are below the fold.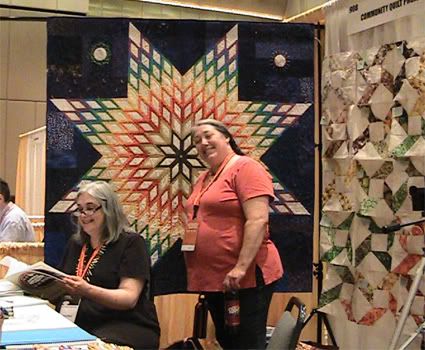 From Sara R's announcement diary:
The Community Quilt Project Supports INDN's List

"All My Relations"

It is with great pleasure that I announce a drawing for a quilt. The above pictured star quilt, "All My Relations", was made from 200 diamond shaped patches signed at the 2008 Netroots Nation in Austin, TX. An additional four signatures of prominent bloggers were appliqued in the four corners: Meteor Blades, Speaks Lightning (known as Ojibwa on Daily Kos), Winter Rabbit, and Dengre. A full list of signatories may be found here. My own design, I machined pieced and hand quilted this piece.
I made the quilt in a promise to navajo to make something to support Native American people. She chose the beneficiary – INDN's List, an organization supporting the election of Native Americans to public office. Please visit the INDN's List website and learn more about them!

Every contribution of $10 or more per day on this Act Blue page between now and August 15, 2010 will represent one chance in a drawing for the quilt on the last day of August.

The quilt measures 65" x 67", is made of cotton fabrics, cotton batting, and is decorated with Austrian crystals, Czech beads, and a piece of rutilated quartz at the center. The quilt is sleeved for hanging.


The quilt in a hoop for hand quilting

The quilt could be yours.

If you cannot donate, you may also enter by writing an essay of 50 words or less on this subject: "INDN's List's Mission -- Why it Benefits Everybody". Put the title in the subject line and email your essay on or before August 15, 2010 to communityquilts (at) yahoo (dot) com. If we find your essay to be topical, we will enter you for one chance in the drawing – one essay per person per day.

The quilt will be on display at the Community Quilt table in the Exhibit Hall at Netroots Nation – please come by for a closer look!

Thank you in advance for your support of INDN's List.

All My Relations.

Namaste,

Sara R
Here are navajo's closeups of 3 of the 4 special patches:
Since 2005, INDN's List has helped elect 45 American Indian candidates in 16 states. We have won 70% of our races and have brought about an unprecedented wave of electoral victories in Indian Country.

This November, all of that progress is at risk!

The Republican Party believes 2010 will be the year they retake legislative chambers across the country. They are spending record amounts of money on legislative races. And their money is targeting several candidates we worked so hard in the past to elect. They are also using Karl Rove style tactics to attack our elected officials and lie about their records.

The only way we can fight this attack is through your donations! Every single donation is vital. Please take a moment to donate $25, $50, $200, or whatever amount you can possibly spare.
INDN's List not only directly contributes to the campaigns of American Indian candidates across the country, but we also provide strategic guidance and tactical advice that allows American Indian candidates to run the smartest campaigns possible. That is how we have achieved so much success in the past. This year, with the proper resources, we can make sure our candidates are not overrun by Republican lies and Republican money.

We need your help today! Your contribution will be put to work immediately to ensure our candidates have the resources they need to fight back.
In fact, if we are able to raise enough money, we have a plan to actually win new seats this November. INDN's List has identified several races where Indian candidates have a real opportunity to win new seats. With your help, we can win legislative seats in states that have never had an Indian representative, like Wisconsin and Kansas. We have targeted a candidate running statewide in Arizona, which has never elected an Indian statewide!
Please donate now to help us not only defend our elected officials who are being targeted by the GOP but actually pick up additional seats! Let's continue the progress of electing American Indian candidates throughout America.

Yakoke,*

Kalyn Free
President, INDN's List

PS: This is the most important time for donations! We are making important targeting decisions and your donations will help us expand our map to protect our incumbents and challenge new seats where there is a great opportunity to pick them up! Please donate today to help make 2010 our best year yet.

*"Thank You," in Choctaw.
From the comments in the announcement diary:
Kalyn Free

Kalyn Free is a Choctaw woman who is also a very successful attorney specializing in environmental law. She ran in a primary against Dan Boren (the rightwing bluedog democrat) a few years back when the seat came open. As some here know the Boren family is very powerful in Oklahoma politics and also very conservative. Kalyn was beating Boren and it looked like she would win until the Boren machine broke out their dirty tricks and big warchest to spread some downright filthy lies about her. Oklahoma almost had a progressive Congresswoman in their delegation!

After that defeat Kalyn took it upon herself to work to make sure native candidates can recieve the help she wasn't able to get. She founded "Indins List" and has worked tirelessly to elect Native American democratic candidates. Indins List not only provides what monetary support they can they also recruit and train their selected candidates.

Kalyn is also one of three Native American members serving on the Democratic National Committee. I can't think of a more worthy political organization to donate to if one wants to support Native American candidates.

by cacamp on Wed Jul 14, 2010 at 07:13:45 PM PDT