All My Relations
Sara R
's quilts have touched the lives of countless Kossacks. Not just those needing healing for whom the quilts were lovingly made, but also others who have donated money and injected energy into the process. If you're unfamiliar with the background, you can learn more from a diary I wrote a couple of months ago,
Community power! Community quilts
.
Now Sara has undertaken an additional effort - raising money for progressive candidates. Here's how it works: You put up $10 or more or write an essay to enter a drawing to win the star quilt pictured on the right. The money then goes to the Indigenous Democratic Network, known as INDN's List, a group seeking to get Democratic Indians elected to public office. Their success won't just benefit Indians, it will benefit us all. Below the fold is an INDN video.
That's one of the reasons I'm especially partial to this project. The other is that I love that quilt. Not because my moniker's one of more than 200 on it, but because it is gorgeous and filled with the love that Sara put into making it. You can be assured that I've put some dough into the drawing, too.
So far, however, there are only 139 donors and we've only got $2355 of the $10,000 we want to raise by Aug. 15, just nine days away. You can donate at ACT BLUE. If you do it today, you'll also be entered in a mini-drawing for a dinner with me and a more famous guest at Netroots Nation 2011 in Minneapolis. If you win that mini-drawing but will not be going to Minneapolis but live in or near Los Angeles, I'll buy you dinner here instead. (But not at Spago).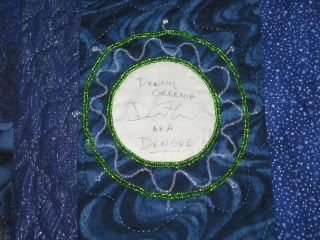 DENGRE
Two hundred people
signed the diamond patches in this star at Netroots Nation 2008 in Austin, Texas. You can read about
its creation here
in a diary by its creator.
Here's how you can own this beautiful work of art for yourself. Donate $10 or more to INDN's List and you will receive a chance in the drawing – in fact, you will receive a chance for every day you donate $10 or more between now and Aug. 15. If you cannot donate, you may enter by writing an essay of 50 words or less on this subject: "INDN's List's Mission -- Why it Benefits Everybody." Put the title in the subject line and email your essay on or before the Aug. 15, 2010, deadline to communityquilts (at) yahoo (dot) com. If we find your essay to be topical, we will enter you for one chance in the drawing – one essay per person per day. TODAY ONLY if you enter by donation or by essay, you will be entered to win the dinner on my tab in Minneapolis next summer.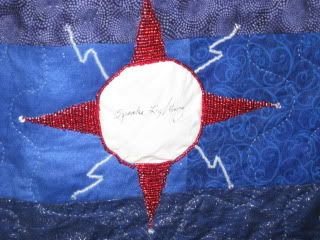 OJIBWA
The drawing for the star quilt will take place the last day in August. The drawing for the free dinner will take place tomorrow.
Quilt stats: 65" x 67", cotton fabric, cotton batting, pieced by machine and quilted by hand, embellished with Czech beads, Austrian crystals and a coin of rutilated quartz. It took months to make.
The drawing is coming at a very good time for INDN's List - and the money will go to a great cause. The prize is special, too, one that represents our whole community, working together. Please give if you can.