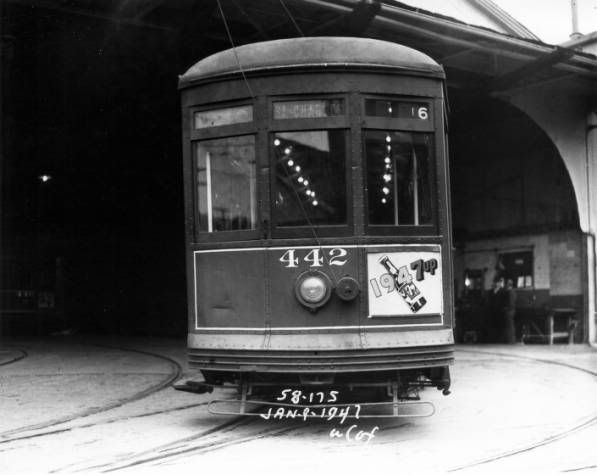 NOPSI 442, a Perley A. Thomas arched roof streetcar, entering Carrollton Station, January 9, 1947.
This Charles Franck Studios photo shows one of the original arched roof streetcars returning to the barn.
To replace some of their existing Brill double-truck streetcars, the New Orleans & Carrollton Railroad Company chose this design by Mr. Perley A. Thomas, who was then working for the Southern Car Company of St. Louis, MO. The design proved to be popular among riders in New Orleans. By 1923, Mr. Thomas had left Southern, setting up his own shop in High Point, NC. The newly-formed New Orleans Public Service, Incorporated (NOPSI) ordered additional streetcars from Thomas, and the legacy of the arched roof streetcars began.
NOPSI 442 is coming into the barn after running on the St. Charles line. Streetcars enter Carrollton Station from the Jeannette Street side and exit out the front, on Willow. Note the ad at the bottom right "1947up" - an imaginative way to promote the New Year.
Unfortunately, none of the 400-series streetcars have survived. NOPSI scrapped them, operating the 800, 900, and 1000-series cars around the city.