In this weekly series we have been discussing the benefits of a vegetarian diet including: better health , animal rights, frugal living, global food crisis, food safety and the immense contribution of meat production to climate change/depletion of resources.
What You Eat Is More Important Than Where It Came From
"Where you get your food from is a relevant factor in family food decisions, but what you are eating - and the processes needed to make it - is much more important from a climate change perspective,''
I was inspired to create this series by former Beatle and vegetarian advocate Paul McCartney(Macca) who partnered with the Meatless Monday campaign to promote less consumption of meat. We not only discuss the advantages of a vegetarian diet we also do some cooking, share recipes and listen to great Beatle/McCartney music!
Kudos to the St. Vrain Valley School District(Colorado) for being the latest to join the Meatless Monday campaign!
The last few weeks of summer seem an eternity here in Florida. My kitchen is still too hot to even think of turning on the oven so grilling outdoors is our best option for using the beautiful bounty of summer vegetables and fruits available. Happily, grilling is also the best way to bring out the delicious flavors of the end of summer crop.
Yes, you can have burgers on Meatless Monday and here's how:

GRILLED PORTOBELLO MUSHROOMS
yummy! These can be just as delicious cooked on an indoor grill.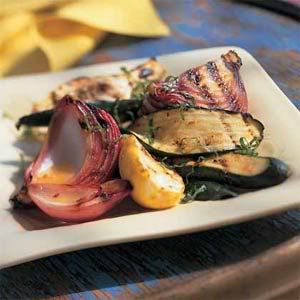 GRILLED MARINATED VEGETABLES
The perfect accompaniment to the grilled portobello burgers or for use in sandwiches or salads.
Here are some vegetable marinades. To use mix your marinade in a zip lock bag then include your prepared veggies. Marinade for about 15 minutes then place on medium/hot grill. Extra marinade can be using for basting. You need to watch these as they will cook and char very fast.
SPICY ORANGE and CILANTO
* 2 tablespoons olive oil
* 1 tablespoon orange juice
* 1 tablespoon orange marmalade
* 1 tablespoon chopped fresh
cilantro
* 1 teaspoon red pepper flakes
ASIAN
* 2 tablespoons light soy sauce
* 2 tablespoons seasoned rice wine vinegar
* 2 teaspoons minced fresh ginger
* 1 teaspoon sesame oil
BROWN SUGAR and BOURBON
* 2 tablespoons soy sauce
* 2 tablespoons bourbon
* 1 tablespoon brown sugar
* 1 teaspoon cayenne pepper
LEMON and GARLIC
* 1 tablespoon olive oil
* 2 tablespoons lemon juice
* 1 tablespoon lemon zest
* 1 teaspoon minced garlic
* Salt and freshly ground pepper to taste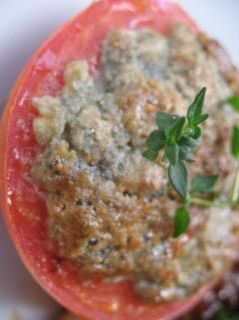 GRILLED TOMATOES with BLUE CHEESE
Perfect use for end of summer tomatoes
* 4 large tomatoes, cut in half crosswise and seeded
* 3/4 cup crumbled blue cheese
* 1/4 cup Parmesan cheese
* 2 tablespoons olive oil
* 2 tablespoons fresh basil or oregano, chopped
Preheat grill for medium heat. Scoop out seeds from tomatoes. Combine cheeses, and basil in a small bowl. Fill tomatoes with mixture. Top each tomato off with olive oil. Place tomatoes skin side down on a disposable foil pan or triple thick foil sheet. Cook for 12-15 minutes, until tomatoes begin to soften and cheese has melted. Remove from grill and serve.


GRILLED CORN ON THE COB
If you are planning a beach picnic, I will let you in on my secret for perfect grilled corn. First fill a bucket with sea water when you first arrive at the beach add your ears of unshucked corn and let soak for an hour or two. Place on hot grill for about 15 minutes, covered. Disclaimer: I have not grilled corn in this way since the gulf oil gusher so here is another recipe which I know also produces great grilled corn.
GRILLED CORN ON THE HUSK
If the ears have many layers of husk on them, peel off the first few only, leaving a few layers for protection.
Soak the whole cobs in a pot of cold water for 15 minutes. Be sure the ears are completely covered with water. This will provide extra moisture for cooking and will steam the corn kernels inside the husks.
While the corn is soaking, preheat the grill to a medium temperature (350 degrees F).
After soaking, remove the corn from the water and shake off any excess water.
Begin by pulling the husks of the corn back (but do not completely remove them). Remove and discard only the silk.
Brush the kernels with olive oil or butter. NOTE: I've used butter instead of olive oil, but I think butter is best applied after the corn comes off the grill just before you eat it.
If desired, before you re-wrap the corn in the husks, add a little garlic, chopped onion, nutmeg, salt, and black pepper. For an international twist, try using herbs such as basil, cilantro, or oregano.
Then reposition the husks back over the kernels and tie each ear with a piece of loose husk or twine.
Place the prepared ears of corn on a medium heat grill, rotating the corn as needed to keep it from getting charred too much on one side. After a couple of turns, place the corn husk on an indirect heat (moved to the side of the grill) or on the top shelf of your grill, and close the cover.
Allow the corn to slowly continue cooking for approximately 15 minutes.
As soon as the husk picks up the dark silhouette of the kernels and begins to pull away from the tip of the ear, the corn is ready to come off the grill. Don't overcook the corn or it will become mushy. You know when you've gone too far if the corn cob flexes easily in your hands.
Remove the corn from the grill. Be careful and wear oven mitts as the corn will be very hot!
Grasping one end with a oven mitt or dish towel, peel the husks and silk from the top down (like a banana). They should all come off in one piece. Ashes will get on the corn, but this is ok. If the corn is too hot to handle, do this part in the sink under warm running water.
Once you've removed most of the silk, rinse the corn under warm running water to remove any excess ash and silk.
Serve with butter and enjoy!


GRILLED PEACHES
Peaches are in season now and grilling only brings out the delicious flavor. Serve with ice cream as above or use in a salad.
* Peaches, 1 for each person
* 1/2 cup sherry vinegar or balsamic vinegar
* 1/4 cup brown sugar
* juice of 1 lemon
* 1/4 teaspoon freshly ground black pepper
Halve the peaches, remove pits. Drizzle with about 2 teaspoons of the lemon juice. Cover with plastic wrap and set aside.
In a small saucepan, combine vinegar, brown sugar, remaining lemon juice and black pepper. Boil until reduced by about 1/2.
Place peaches cut-side down on a hot lightly oiled grill. Cover and cook for about 2 minutes, or until there are grill marks. Turn over and baste the cut sides with the vinegar mixture. Cover the grill and cook for about 3 more minutes, or until softened.


SPINACH and GRILLED PEACH SALAD
* 3/4 cup pecans, toasted in dry hot pan on stovetop
* 2 ripe peaches, grilled as above
* 1/4 red onion, thinly sliced
* 4 cups baby spinach, rinsed and dried
* 1/4 cup poppyseed salad dressing or any dressing of choice
.
Peel peaches (if desired) and slice into bite-sized segments. Combine peaches, spinach,onions and pecans in a large bowl. Toss with dressing until evenly coated, adding a little additional dressing, if necessary.
"My Girl Is Red Hot" early cover by The Beatles

"Mother Natures Son" The Beatles (Paul McCartney)

Here is Paul McCartney in performance at the White House receiving the Gershwin Prize.
What have you all been cooking? Please share your recipes and fave Beatle/McCartney music here!