"What I'm asking you is to keep making your voices heard. To keep holding me accountable." --Barack Obama, Netroots Nation 2010
We must hold you accountable, Mr. President, because despite the passage of the Patient Protection and Affordable Care Act, Americans remain under siege from the for profit insurance corporations.
You promised to stop the economic assault on the American people from skyrocketing premiums, but this has not happened. It does a struggling family no good to hear that in 2014 there will be some subsidies to pay for junk insurance. They need affordable healthcare now. They really thought the Democratic Party would take their side, but this didn't happen.
Voters are angry because they fear for their economic future--keeping their job, finding a job, keeping their home, paying the mortgage, and yes, paying that skyrocketing insurance premium extortion.
Now, since on your watch, the U.S. has reformed its system to be a completely 'market' driven form of health care — if you are worth little in the 'market', then your health and your life is also worth little.
In a prime time news conference in July, 2009, President Obama made the case for healthcare reform and explained that reform was essential to the economic recovery and to control skyrocketing premiums and out-of-pocket costs.
"If we do not control these [health-care] costs, we will not be able to control our deficit," Obama said. "If we do not reform health care, your premiums and out-of-pocket costs will continue to skyrocket."
And here's the worst news, Mr. President, as we've predicted, with skyrocketing premiums, employers are shifting more and more of the costs onto the shoulders of workers. The truly grim report is from the Kaiser Family Foundation.
Here's the take home message. And this could not come at a worse time for struggling Democrats, cause like it or not, Democrats own health insurance reform.
Lots of Americans may lack great intellectual skills, but they do know some sort of healthcare bill passed with great fanfare and they are mad as hell that it has done zero to control their costs. This is why so many of us pleaded with the morons in Washington DC to frontload the damn bill. So we got some "immediate benefits" which have done next to nothing in the cost arena.
As health care costs continue their relentless climb, companies are increasingly passing on higher premium costs to workers.

The shift is occurring, policy analysts and others say, as employers feel more pressure from the weak economy and the threat of even more expensive coverage under the new health care law.

In contrast to past practices of absorbing higher prices, some companies chose this year to keep their costs the same by passing the entire increase in premiums for family coverage onto their workers, according to a new survey released on Thursday by the Kaiser Family Foundation, a nonprofit research group.

Workers' share of the cost of a family policy jumped an average of 14 percent, an increase of about $500 a year. The cost of a policy rose just 3 percent, to an average of $13,770.
As you know, had the Democrats not been the party which bent over for the insurance corporations, we might be in somewhat better shape going into the midterms. Had the president remained true to his words, we might not be facing an electoral tsunami. But we are, and voters are reacting to real financial pain, and this includes a health insurance reform bill which is all happy words and and little or no beef.
What a God damn shame that Democrats didn't capture all the citizen rage. Instead they flim flammed and sold out on real healthcare reform, and allowed this populist uprising which Democrats should own, to be appropriated by the Teabaggers.
Even worse #1: for all this money we are shelling out, our healthcare is by no means the envy of the world, our outcomes are deplorable.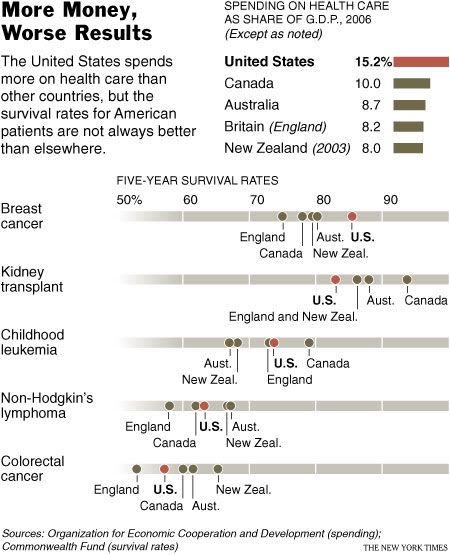 Even worse #2:
Jesus Christ on a crutch,look at the charts (especially chart # 2 on how healthcare dollars are allocated) and the report from the Bureau of Labor Statistics on healthcare spending.
We're paying more for insurance and less for healthcare. Well of course we're skimping on heathcare, we can't both pay the monthly premium extortion and then pay co-pays and deductibles, and then be consumers of healthcare.
The nature of households' health care budgets changed between 1998 and 2008. The share accounted for by health insurance premiums increased while the shares accounted for by medical services and by medical supplies decreased. The share accounted for by prescription drugs increased between 1998 and 2003 but was lower in 2008 than in 2003. (See chart 2 and table 1.)
Could it be that we exceptional Americans pay, not for healthcare, but way more than any other country to the insurance corporations? And you know the sad fact: The cost of universal health care in other developed countries averages 10 percent of the GDP while we pay 17+ percent and leave millions without coverage.
This next part makes me sad because it is just so lame.
Here is how OFA is explaining the benefits of health insurance reform state by state. OFA really needs to do better than this, are you listening Team OFA??!!
I wish I could believe in it, I wish it were accurate, but tragically it isn't, and it flies in the face of the skyrocketing premiums and cost shifting facing almost all Americans. And just so no one can say that I don't present the White House side of the story, here is what Stephanie Cutter wrote on the  WH blog yesterday. Naturally, she didn't include the Kaiser study.
Here is the response from Dr. Don McCanne at PNHP to the Kaiser report. His words are far more eloquent than anything I could write.
"By design, the Patient Protection and Affordable Care Act (PPACA)will have the least impact on employer-sponsored health plans. Congress did not want to disturb these plans that seemed to be working reasonably well,in that they covered more of us than all other programs, and were already generously funded with employer contributions.

This annual report on employer health benefits is even more relevant this year since Congress,through PPACA, has deemed that we will be living with these plans for decades to come.

The report brings us terrible news. Premiums continue to rise at intolerable rates, and more of the premium costs are being shifted to the employees.Employers also are requiring greater cost sharing on the part of their employees, especially in the form of higher deductibles.

Employees are paying more for less protection.
With the poor economy employees need greater relief, yet employers are seeking relief for themselves by placing an even greater financial burden on their own employees.

This is a one-way trend. Employers will continue to seek ways to reduce the costs of their health benefit programs, and an ever increasing amount of the burden will be borne by the employees. Should we really be leaving these decisions in the hands of the employers?

Drew Altman, president and CEO of the Kaiser Family Foundation, said, "The new law helps a lot of people in a lot of ways... but in general it left employer-based coverage alone. That is what the politics of health caredictated and what the American people asked for." (Kaiser Health News, Sep2)

If Americans really prefer their employer-sponsored plans, then why are they so relieved when they get to go on Medicare? How much more burden will Americans have to bear before they change the politics and start demanding Medicare for all?"
As long as funds hold out, I'll continue to tell the stories of the millions of Americans left out of healthcare reform, certainly between now and 2014, and for many even after 2014.
The next Free Clinic is on December 7th in Charlotte, North Carolina.
With your support I'll be there to record the stories of working and unemployed Americans who simply cannot wait until 2014 to access healthcare.
If you want help us with a small donation we're immensely grateful to you.
The funds donated to the Progressive Congress Action Fund, a 501(C)4 not for profit, will be used to advocate on behalf of the progressive agenda, to advance progressive legislation, and may include payments to individuals engaged in fund raising.