Welcome to the eKos Earthship, your one-stop-shop for green diaries and series.
Beneath the fold you will find news and notes, community announcements, and our eco-diary roundup.
Peruse the eKos Library to find previously listed diaries. You can also follow eKos on Twitter.
Tonight's editor: ellinorianne
Please remember to rec the BP Catastrophe Liveblog Mothership: 104
And don't forget to read tonight's Ecojustice,EcoJustice: Tribal chiefs help rape victims.
All views expressed by today's editor do not necessarily represent those of eKos or eKos listed diarists.


UN Secretary-General's message to Pacem in Maribus XXXIII International Conference on Oceans [delivered by Ms. Patricia O'Brien, Under-Secretary-General for Legal Affairs]
I am pleased to send greetings to the Pacem in Maribus XXXIII conference, which is celebrating the fiftieth anniversary of Intergovernmental Oceanographic Commission of UNESCO. I also wish to convey my appreciation to the Government of the People's Republic of China for the various important world events it has hosted this year.

The theme of this year's Conference, "Oceans, Climate Change and Sustainable Development", highlights the centrality of the marine environment to human well-being. Perhaps most significant is the role that oceans play in regulating the global climate -- generating oxygen and absorbing carbon dioxide from the atmosphere.

Among those on the front lines of climate change are coastal communities -- in particular people living in Small Island Developing States. Halting the decline of coastal ecosystems such as mangroves, salt marshes and seagrasses, can help to mitigate the adverse impacts of climate change while providing numerous social and economic benefits to hundreds of millions of people.

This Conference is an occasion to take stock of the many benefits that we derive from the oceans. As we are becoming increasingly aware, these benefits are not limitless. Indeed, in many cases, they are in peril.

Last year, I drew attention to the plight of the oceans, and our collective responsibility to protect them, in the inaugural message for World Oceans Day. With so many people depending on the oceans, it is vital that we pursue universal participation in the 1982 United Nations Convention on the Law of the Sea, the world's "constitution for the oceans". We need to preserve the productivity and essential ecosystem functions of the oceans as a basis for a prosperous and sustainable future for all.

I wish you a successful Conference.
We must recognize the importance the oceans play in our very existence, from it's ability to regulate the earth's temperature to the ability of it's richest life form, phytoplankton, to sequester carbon.
There are real consequences to the things we are doing, Report: Ocean 'Dead Zones' Increasing in US
Released Friday, a joint report by the Environmental Protection Agency, the U.S. Department of Agriculture, the U.S. Geological Survey and the Virginia Institute of Marine Science finds that the number of so-called "dead zones" in U.S. waters is 30 times more expansive today than it was in 1960.

The rise of hypoxia -- a lethal drop in oxygen levels in water to the point at which fish and plant life can no longer survive -- is largely attributable to man-made activity such as pollution and fertilizer runoff into the nation's waterways, but it is also found to be occurring because of climate change, the report concludes.

Perhaps most alarming, hypoxia is now a serious problem along all of the nation's coasts as well as in the Great Lakes, the report said, impacting biodiversity and resulting in huge economic losses for the country's fishing industry.
Mississippi Shrimpers Find Oil Throughout Waters, Refuse To Trawl
Older news but I couldn't find anything about it, it's important to keep our eyes on the Gulf, this is proof that the waters are not as clear as BP would like us to think.
The goal was to prove to the public that their fishing grounds are contaminated with both oil and dispersants. Their method was simple – they tied an absorbent rag to a weighted hook, dropped it overboard for a short duration of time, then pulled it up to find the results. The rags were covered in a brown oily substance that the fishermen identified as a mix of BP's crude oil and toxic dispersants.

...

"Why would we lie about oil and dispersant in our waters, when our livelihoods depend on our being able to fish here?" Miller asked IPS. "I want this to be cleaned up so we can get back to how we used to live. But it doesn't make sense for us or anyone else to fish if our waters are toxified. I don't know why people are angry at us for speaking the truth. We're not the ones who put the oil in the water."

This reporter watched Miller and Stewart conduct eight tests in various places around Mississippi Sound. One of them was less than a quarter mile from the mouth of Pass Christian Harbor, and another was less than one mile from a public beach. Every single test found the absorbent rags stained with brown oil.
18% of Grade Schools in Japan Feed Whale to Kids
What's most alarming about this is not just that the Japanese continue to whale under the guise of research but that they are feeding toxic whale meat to their kids. It can easily be compared to the subsidies in the US for products shipped to our schools that wouldn't meet standards in fast food restaurants.
It turns out that a surprisingly high number of grade schools in Japan are serving their students more than just a well-rounded education. According to the results of a survey released today, whale meat is back on the menu at about a sixth of Japan's public elementary and junior-high schools. In recent years, the nation has stirred the ire of environmentalists for continuing to hunt whales despite a decline in the meat's popularity -- to feed their kids, apparently.

According to a report from The Japan Times, the survey conducted by Kyodo News found that 5,355 public primary and junior-high schools served cooked whale meat to its students at least once during the 2010 school year -- amounting to about 18 percent of public schools in Japan. Just a few decades past, whale meat was much more present in the country's public schools, but it had become less common as international restrictions on whaling help curb the market. But now kids are eating it again.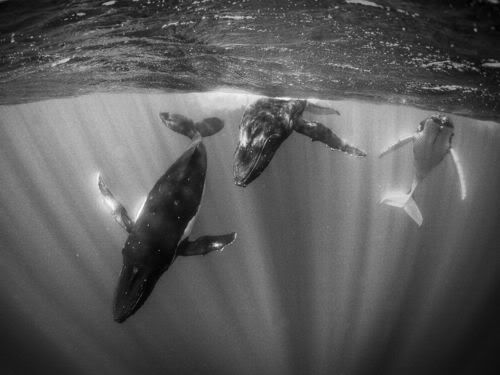 But there was some other good news this weekend, Oceans: A Win—Over the Long Term—For the Whales in Japan
The anti-whaling movement scored a partial victory today in Tokyo, where two Japanese activists affiliated with Greenpeace were convicted of stealing whale meat, but were given a suspended sentence. Junichi Sato and Toru Suzuki were found guilty of stealing 50 lbs. (23 kg) of whale meat from a delivery company's warehouse in April 2008, meat that came from Japan's whaling research program. (Though commercial whaling is banned by the International Whaling Commission, Japan is allowed to kill hundreds of whales a year, supposedly in the name of science.) Sato and Suzuki—whose treatment by Japanese authorities in the runup to the trial drew criticism from the UN Human Rights Council—were given a year in prison by the Aomori District Court in Japan, but won't be serving jail time.
Although Greenpeace saw it in a totally different light, as they were right to. It's a step, but the Japanese will continue to ignore the ban on commercial whaling and continue to slaughter whales.
Junichi Sato and Toru Suzuki, known as the Tokyo Two, exposed widespread corruption in Japan's whaling programme – in return, they have been handed a one year suspended prison sentence. However, despite the harsh punishment the two anti-whaling activists stood in court as heroes today, having successfully put whaling on trial, both in court, and in Japan's national media.
zoom

Responding to the verdict Junichi said, "While the court acknowledged that there were questionable practices in the whaling industry, it did not recognise the right to expose these, as is guaranteed under international law. The International Covenant on Civil and Political Rights, on which our defence was based, supersedes domestic criminal law, but the judgment did not properly take this into account."

"This sentence is totally disproportionate and completely undeserved," added Toru. "We set out to reveal the truth about the government's whaling programme, but instead have been punished, while those behind the misuse of public money walk free."

Greenpeace is appealing this totally unjust, politically motivated sentence. Junichi and Toru have taken great personal risks to investigate and expose embezzlement at the heart of Japan's tax-funded whaling industry. They intercepted one of numerous boxes of whale meat embezzled from the whaling programme as evidence. These boxes were taken for private use by the crew of the Nisshin Maru in violation of the whaling programme's regulations, and this amounts to a misuse of public funds.

However, instead of investigating and arresting those behind the whale meat embezzlement scandal, Junichi and Toru were detained arbitrarily, forced to live under onerous bail conditions and put on trial. After more than two-years of political prosecution the court has convicted them of "theft" and "trespass", while the criminals behind the whale meat embezzlement walk free.
What's Killing the Babies of Kettleman City? Maybe it's the toxic waste dump. Maybe the pesticides, or the diesel fumes, or the arsenic. How a small-town mystery could change the way we look at pollution.
There are between 30 and 64 births each year in Kettleman City. In 15 of the 22 years since California's public health department began tracking birth defects, all babies in the town were healthy, and in five other years, only one birth defect occurred. But in the last two years and 10 months, residents say, at least 11 babies have been born with serious birth defects. Three eventually died; another was stillborn. Most have cleft lips or palates, and some have other, graver maladies. "When my child was born," Magdalena says, "I thought she was the only one with a deformity. But when it began happening to other babies, I realized there was something abnormal in my community."
What's heartbreaking is how pollution impacts the lives of human beings in very real ways, from the few years that are taken off of the lives of Southern Californian's because of smog to those who face challenges from their first breath of air outside the womb. What are we doing to oceans, our cities and our very planet is not something that started just in the last decade, it's been going on for much longer, but when will we collective find the will to say, enough?
Some quick links!
Aquatic conservation efforts pay off. Clean-up of Potomac River offers hope to environmentalists worldwide.
California bags the plastic bag ban but makes solar leap
Diverse water sources key to food security

LONDON, ENGLAND - AUGUST 27: Kim O'Connor, an aquarist at the Sea Life London Aquarium, feeds the animals as she dives in the tropical display on August 27, 2010 in London, England. The London Aquarium is home to one of Europe's largest collections of global marine life and contains over one million litres of water. The aquarium attracts around 750,000 visitors to it's displays per year and also operates an extensive breeding and conservation programme. (Photo by Oli Scarff/Getty Images)
Help Pakistan
Greg (Three Cups of Tea, Stones Into Schools) Mortenson's non-profit (CAI) recommends supporting a local (Pakistani) group to which donations will likely have a large, immediate, and lasting impact-


Human Development Foundation
http://www.hdf.com
(800) 705 1310

From their page about the flooding:

HDF is committed to work towards relief and reconstruction efforts in flood affected HDF program areas including Mardan and Tandoo Muhammad Khan. HDF already has the existing infrastructure and a team of trained employees and volunteers in place. Currently there is need for basic necessities like tents, blankets, cooking sets, utility containers, soap and bedding as well as, basic healthcare.

More details and videos at their site and their YouTube channel.

• • • • • •

Other groups that deserve support as well.
:

:

With an estimated 6 million people in need of humanitarian assistance, I am concerned that so far the international community hasn't responded with the speed or on the scale warranted by a disaster of this magnitude.

• • • • • •

From the US State dept.

How You Can Help:
Text "SWAT" to 50555; $10 goes to fund for flood victims



(All times Eastern!)


What is eKos?

The eKos project is an effort to distribute environmental content on Daily Kos to a broader audience. When a diary has the 'eKos' tag, its information is collected in a database, which is then published in eKos Earthships and the eKos Library. We also Tweet all eKos diaries using the @eKos350 account, and distribute an RSS widget for use in Daily Kos diaries and comments. Diaries listed on eKos do not necessarily represent the views of the eKos Rangers or any other participating diarist. Participation in eKos is strictly voluntary, please let us know if you do not want the eKos tag!

Tag Rules

If you want to help out with tagging, here are a few simple rules to follow:

If you see or write an eco-diary or front page story, tag it 'eKos'. and inform the diarist. Use of the tag is strictly voluntary, so always defer to the wishes of the diarist.

Fix the tag if it is wrong ('e-kos' or 'ecos' tags won't work).

Watch out for tag abuse. If someone other than the diarist removes the tag without justification, please put it back, and explain to them very politely why you did so. If there is still a disagreement, please contact us. If you see eKos tagged writing that is clearly not friendly to environmental causes, or which breaks site rules, please alert us via e-mail.

Site rules prohibit calling out other Kossacks by name or user handle in the title of a diary. Don't tag diaries whose focus is to 'call-out' or directly criticize other Kossacks or diaries in an insulting or inflammatory way. It is fine if the diary addresses a meme or argument, as long as it sticks to substantive issues.

If there are any other questions, comments, or issues, please e-mail ekos350atgmaildotcom.