There is a custom in Pakistan. When you make the acquaintance of someone and develop a relationship, when they have gone out of their way to be helpful and kind, there is a gift given.
To us it may only seem like a rectangle piece of wool, but what it says is a whole lot more. . .
Help Pakistan is a group dedicated to getting needed humanitarian support to flood ravaged Pakistan, and disseminating information pertaining to the floods to the dailykos community at large. Our goal is getting donations to those people who need it most.

If you have a negative comment pertaining to Pakistan, its people, its culture, or its relationship with the United States, please refrain from making it here. If you would like to be a part of our group, please click the picture at the bottom of this diary.
You have seen this rectangle piece of wool wrapped around Pakistanis who survived the 7.6 magnitude earthquake in 2005

They are called chaddar; like "chowder" only with an "ah" sound in place of the "ow" sound.
They are often confused with the Iranian chador or Arab Abaya and even the Subcontinent's Dupatta. It's that often colorful long rectangle piece of cloth you see Hindu, Muslim, Christian etc. women from the Subcontinent wearing.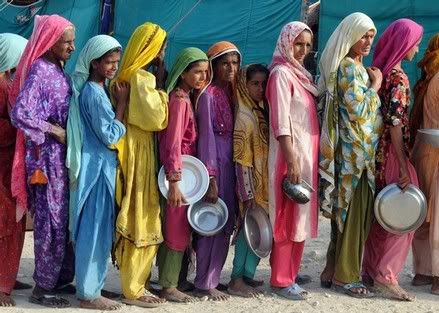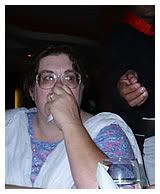 I was even wearing a Dupatta in the picture in my Help Pakistan diary "Food Glorious Food [Paksitan]". That white piece of cloth I'm wearing over my shoulders in a "V" shape is a dupatta, and that is one of the culturally appropriate ways of wearing it.
But a chaddar is not a chador, or abaya or a dupatta (though it may be worn like one). The biggest reason of why it is not, is that a chador, abaya, and dupatta are strictly clothing/garment accessories for women. A chaddar is for both.
The best description I can give using a western frame of reference is that a chaddar is a cross between a shawl and a blanket/throw.
Men's chaddars are very plan. They can come in brown, dark brown, black, green and gray and may have a decorative stitching on the end.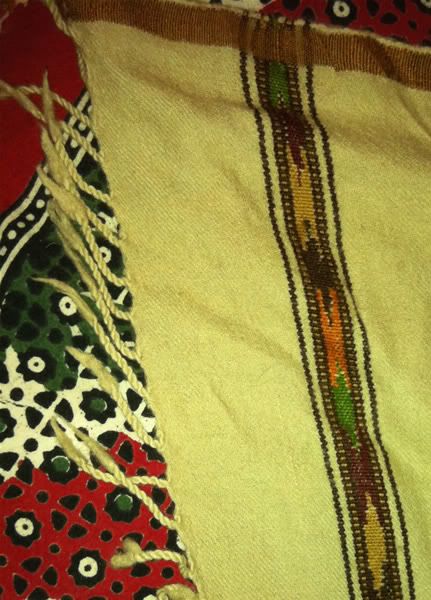 This is my husband's chaddar (all my boys have their own). It is very wide and very long and when the house gets chilly, he will pull on his chaddar.
My daughter and I have several and they are not plain at all.
The first chaddar I received was a gift from my friend now living in Karachi.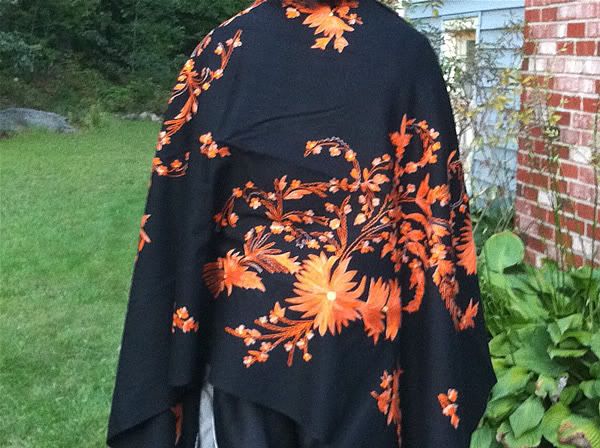 (these photos have been taken with a camera phone and I don't seem to have the resolution to make closeups. My 14 yo son is graciously modeling this one. (I'm a little embarrassed, I should have ironed it before the picture)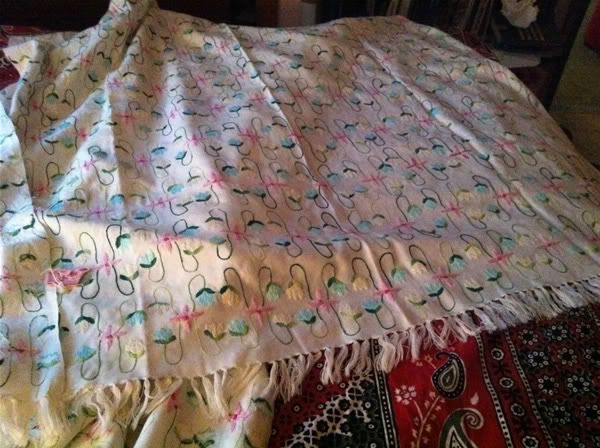 This is my white/cream colored one. It is very wide and very long.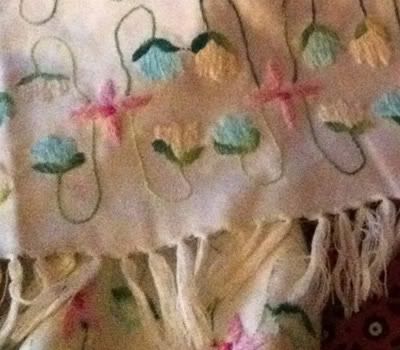 The best close up I can get.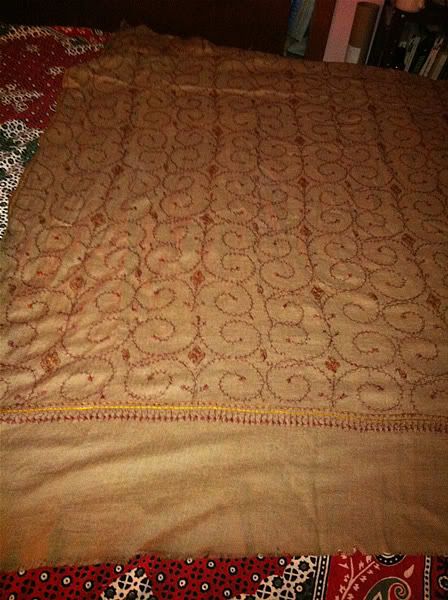 This is more lightweight than my others. But even lightweight it kept me warm in the mountains above Abbottobad in 2008. I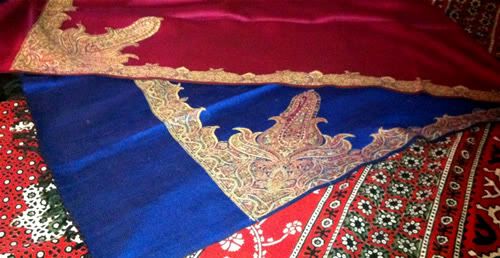 This is a "reversible" chaddar. One side is blue and the other red.
All my chaddars have been gifts from friends and my Pakistani in-laws. When my in-laws came to California in 2007 for a wedding they brought many chaddors with them to give as gifts to kind strangers and people they struck "connections" with. As my sister in law put it, "It is our way."
They have also sent chaddars to my mother and father, and many others. We have given chaddars to a family friend MD who looks in on my parents, and a friend dying of end stage liver disease among others.
There is a message behind this gift, "their way" if you will. Something we may over look or nort understand. The gift of a chaddar says that the giver wishes you warmth, comfort and health. A wish that is sadly in short supply in the world.
It is their way.
A wish that is often absent from comments from Americans as to the suffering and devastation from this flood.
A recent comment on this video
fuck da bitches of porkistan burn da koran everyday!
warning: This next video may be a hard video to watch. People drown in this video.

a comment on this video
pakistanis deserve death like dogs.

video posted yesterday. Comment posted not even an hour ago
What a retarted ass muslim cock sucking bitch. fuck angelinie jolie. go shove a quran up your pussy and suck allahs shriveled penis. by the way muslims need to get fuck up here in america. Lets stand against them and detroy their fukin mosques and fuckin rag head dirty filthy asian mutts of the face of America. Go back to your own fuckin country, we americans will not tolerate muslims in america. FUCK YOU
I'm tired, emotionally exhausted, I can find no comment other than disgust.
I didn't realize how emotional I would be about what the chaddars given as a gift mean ... until I got to this part of my dairy ... and the contrast with the hate and apathy demonstrated toward Pakistan and Pakistanis.
*****************
The flood has torn out infrastructure, roads, wells, pipe lines, electrical lines. Not to mention homes, savings, a future.
Millions of Pakistanis lack access to drinkable water. 3.5 million children, are now at risk of contracting water borne diseases like Cholera, Gastroenteritis, Measles
Typhoid, Shigellosis, Hepatitis A and E
And vector (mosquito) borne diseases like Malaria and Dengue Fever. As the water is receeeding mosquitoes are finding more places to lay their eggs.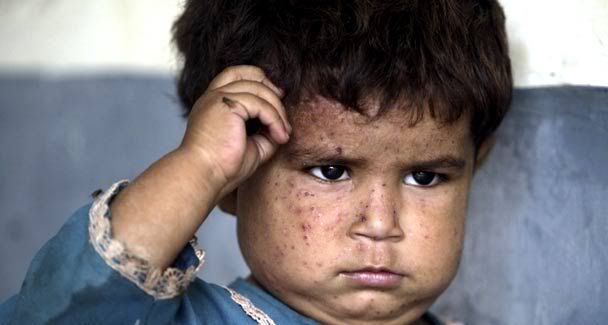 A girl, who survived heavy floods, suffers from mosquito bites in a camp set up for displaced people in Nowshera. —AP Photo
They need medical supplies, food, shelter, clothes, and soon coats and chaddars. This disaster is on a scale unimaginable. The people of Pakistan need the worlds help.
If you've given, thank you. If you continue to give, thank you. Please don't stop and encourage others to do so as well.
If you cannot give any more or any at this time because your situation is such there are things you can do.
Write letters to the editor of your local newspaper asking that more attention be paid to the floods. Like wise your local TV station and national TV stations too.
In yesterday's dairy passionateprotagonist had many suggestions too:
1. Support independent relief organizations. Pakistan-based groups are needed to fill in the gaps for government and military aid. Local groups have a high rate of success in getting help to neglected areas and disbursing aid from international groups.

2. Confront and prevent climate change. Pakistan's floods are the latest in a series of recent climate caused ecological disasters. We must address the causes of climate change by demanding that WE (our leaders, ourselves) focus on reducing carbon emissions and invest in renewable energy.

3. Support the progress of women. Aid to women empowers women, increases literacy, and thereby alleviates poverty among women and families. The Global Fund for Women is doing great work with women's groups in Pakistan.

4. Call on the U.S. government to decrease military spending and increase humanitarian aid. The United States spent over $100 billion on Pakistan-related military efforts in the last year. Approximately $150 million has been pledged to Pakistan flood relief efforts.

5. Tell Congress to relieve Pakistan of debt. The U.S. should lead the international community by offering Pakistan a moratorium on debt repayment and should offer assistance in the form of grants, rather than loans. Please sign the debt relief petition below. Additionally, the U.S. should remove the 17% tariff imposed on textiles and clothing from Pakistan. More than one-half of Pakistani people are employed by growing cotton or weaving/sewing it into cloth. Ending the tariff would result in a $5 billion per year economic surge from textile exports.
We need to pay attention and we help Pakistan right now. If for nothing else than they may be the canaries in the climate change coal mine.
Please help.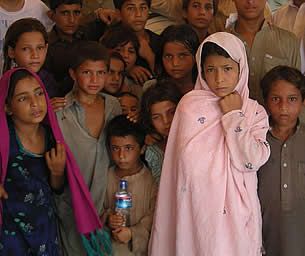 In the early days we focused on organization that gave direct support. That list is here:
• • • • • •
Greg (Three Cups of Tea, Stones Into Schools) Mortenson's non-profit (CAI) recommends supporting a local (Pakistani) groups to which donations will likely have a large, immediate, and lasting impact-


Human Development Foundation
http://www.hdf.com
(800) 705 1310
DONATE

• • • • • •

:
DONATE

:
DONATE

:
DONATE

:
DONATE

Toll free: 1-800-FOR-KIDS (1-800-367-5437)
Text: "Text FLOODS to 864233 (UNICEF) to donate $10"

:
DONATE

ShelterBox tents in Shishkat upper Hunza, Pakistan

• • • • • •

From the US State dept.

How You Can Help:

Text "FLOOD" to 27722. Your $10 will go to the State Department Fund for Pakistan Relief that Secretary Clinton announced August 19, and is part of a new effort to bring attention to the need for aid.

Text "SWAT" to 50555 ; $10 goes to United Nations High Commissioner for Refugees fund for flood victims
• • • • • •
We are looking at what may be the worst humanitarian crisis the world has seen in a century, and the worst Climate Change disaster yet.

Some of us at Daily Kos use a Google group to help organize for the crisis in Pakistan. Anyone who would like to get involved or get alerts when a new HELP PAKISTAN diary is posted, please join
( CLICK THE PIC )